Features
Riot Fest & Carnival Chicago 2013: Saturday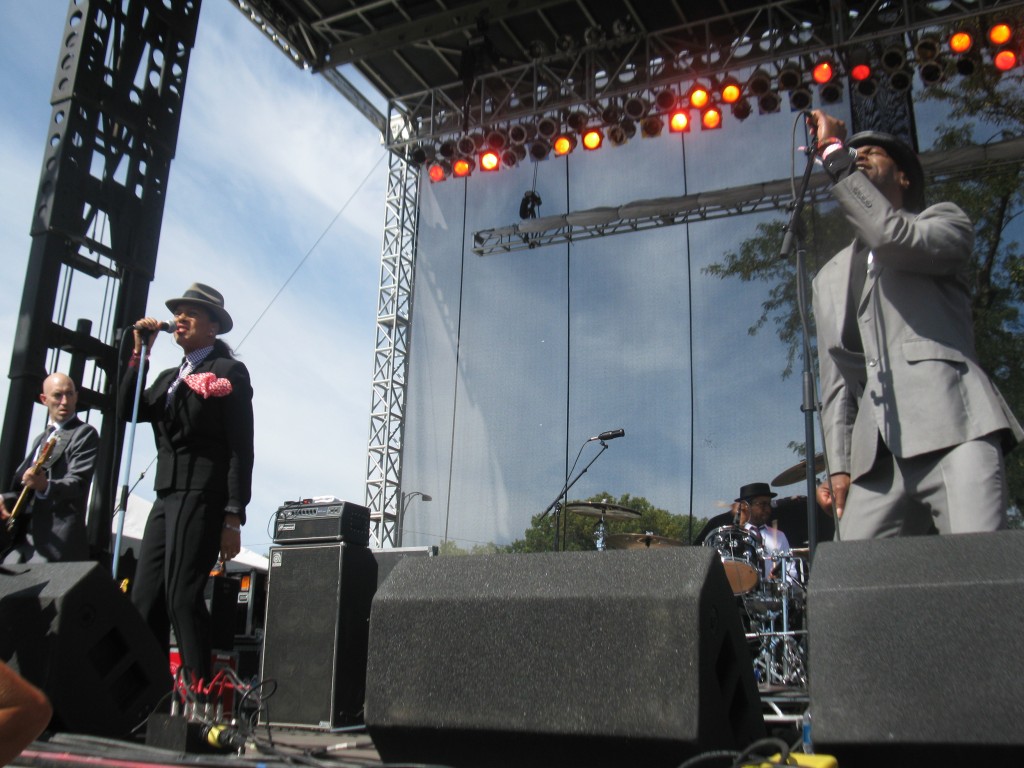 Saturday started off as a much hotter day at Riot Fest, before settling into the same temperance that sent the masses home a little early on Friday. But the outcome was different on the second try; people came ready, and stuck around. It was worth coming prepared, for Saturday boasted an even more stacked lineup than Friday, if that's possible. Perhaps the best thing about Riot Fest this year, though, is how well-organized, well-laid-out and generous an atmosphere its organizers have managed. Everyone's just nicer here than at your average music festival. Anyway, without further ado, Heave's coverage of Saturday. Your writers are as follows:
AD – Amy Dittmeier
PG – Patrick Gill
NL – Nico Lang
DSM – Dominick Suzanne-Mayer
——
Best early throwback: T.S.O.L.
A common refrain heard from the crowd on the fringes at T.S.O.L.'s early-day set: "I can't believe these guys are still around!" Well, judging by some of his onstage ranting, neither can frontman Jack Grisham. T.S.O.L's invective-heavy, hardcore-rooted punk may never have allowed them to ascend to the heights of contemporaries like Bad Religion, but they're still here. At one point about midway through the set, Grisham mentioned that, more and more often now, he returns from tour to loads of phone calls informing him that more friends have passed on. But on he goes, clad in a blazer and shouting about governmental melodramas. T.S.O.L. stuck to the more conventional parts of their catalog, to such a point that it's easy to forget how many different subgenres and styles the band have worked in over the years. But sometimes the basics work the best. This wasn't the best set of the day, but it was a good reminder of something a lot of punks forget when they grow up: Just because you stopped listening, doesn't mean the bands stopped playing. DSM
Set of the Day (Nico): Public Enemy
Public Enemy was one of the weekend's biggest question marks, a band a little out-of-step with the rest of the lineup. How would the classic New York rap group play to a mostly white audience of Chicago suburbanites? And, more importantly, would Flavor Flav be there to witness it? Any doubts I had about the performance, however, were quickly squelched, as Public Enemy barrelled through what wasn't just the show of the weekend so far, but one of the best I've seen — rivaling last year's Stooges show. Chuck D and Flav, who dedicated the show to the late Terminator X, did everything right: the song selection was flawless and the joyous, rambunctious act moved with lightning speed. Whereas many acts are trying to relive their glory days, Public Enemy's never left. The band showed exactly why we still need them today: to bring the noise. NL
Biggest Disappointment : Flag
I don't know what I was excepting out of Black Flag, but it was more than what I got. The crowd was there for the most part, but I just checked out. Blame the sun and a long morning, call in to question my fandom. I can't really be bothered. The set seemed to rattle and roll on.  All Keith Morris-driven force without anything extra. There were a few lulls between songs as well; this could have helped break up some of the monotony, but I can't even tell you if there was any talking between bandmates or with the audience during the breaks. I stayed on the fringes, and maybe being closer could have gotten me in the spirit, but something just seemed lackluster. PG

Most Hit-and-Miss Set: Blondie
Of every band at Riot Fest, Blondie has suffered most by age. Deborah Harry just isn't the performer she used to be, and dressed in an outfit that made her look like Karl Lagerfeld, the Riot Fest cameras studiously avoided a close-up. Her vocals came off as tired and the delivery a little lifeless, the opposite of the raw energy her current tourmates X effortlessly gave off. The band blew their wad by playing their most up-tempo hits ("One Way or Another," "Hanging on the Telephone") early, which meant that the rest of the set felt strangely muted. The sonic dreamscapes of "Atomic" failed to connect live, but the scat rhythms of "Rapture" more than made up for it. Seeing Deborah Harry rap, now into her 60s, was nothing less than awesome. I wish the rest of the set could have felt the same way. NL
Best Set To Lay Down In the Grass To: DeVotchKa
DeVotchKa was bliss. It might not make sense to you that a bunch of punks have embraced an ethereal gypsy jazz, multilingual folk contingent. Take a seat in a little shade, or at least near it, and let DeVotchKa wash over you. They were as good as a massage. People were dancing and laughing and everyone not relaxing further back from the stage was clapping and singing along. At one point a woman in front of me turned around and offered Dom and I the rest of her garlic fries. I had no shame, I had a picnic. PG

Best Veteran Set: Guided By Voices
Guided By Voices is one of the most prolific bands in rock and roll, releasing 19 albums over their three-decade career. They are always releasing new material, and the breadth of their catalog was immediately apparent, in a set that was heavy on new tracks but pulled from just about everything. Their more lo-fi stuff didn't translate for the audience ("I Am A Scientist"), but "Teenage FBI" unsurprisingly killed live. The show was a no-fuss, no-frills production with Robert Pollard and company showing up just to play the songs, leaving behind much of the audience interaction you expect with live shows. However, with a band so workmanlike, you can see why: They are just there for the music. And if English Little League, their new album, ends up the band's last (as Pollard has suggested) the show indicates what a legacy they have to leave behind. NL
Best Set, Personally (Patrick): Rancid
Rancid has been formative in my life. To see them live has been something I have wanted to do since middle school, when I fell asleep to my local college radio ska and punk show named after one of their most popular songs—"Time Bomb." I don't think my brother has ever had a car without either …And Out Come The Wolves or Let's Go in heavy rotation, and when I think about freedom I think of riding in my brother's truck all over the Central Coast. That's why I feel uncomfortable saying they had the best set of the day, objectively. No one would trust the grown-up kid who had tears streaming down his face as Lars took the stage for a solo performance of "The War's End." He's biased.
This considered, Rancid crafted a set for the ages. They plucked from all points of their 21 years, skimping on Indestructible save for "Fall Back Down," which I don't like recorded but have found I enjoy live.  The massive crowd rumbled along to "Roots Radicals," "Olympia, WA," "Saint Mary," "Salvation,"  and finally "Ruby Soho."  They gave people exactly what they wanted and seemed to love doing so.  They also seemed completely grateful to each other and all the friends and crew members that have been with them. PG

Best Set, Objectively (Patrick): The Selecter
It was hot and dry, and a sizable crowd gathered together at the Riot Stage, but no one seemed aggravated or was jockeying for best position. This was a dream to begin with. Then, strolling out in immaculately tailored gunmetal gray suits, the men of The Selecter, and finally in a fitted black suit with purple gingham shirt, flame-red pocket square, gray fedora, and red plaid loafers: Pauline Black. She is the performance and style godmother of Janelle Monae. She and her men are constantly moving, riffing off each other and building the positive energy. Though their dancing is primarily synchronized or complimentary to the other bandmates, they never look inorganic. Everyone on stage is about unity, in the band, in the crowd, in the world we walk out into. 
Though the music did venture deeper into dub (Remember dub before people confused it with dubstep? Remember the beautiful world we lived in?), nothing lagged. Black and her crew blasted through "Three Minute Hero," the greatest anthem for combatting a monotonous life, and crooned through "Missing Words," their iconic song about losing love, with equal care and passion. When they asked if we were righteous, we yelled "Yes!" When she said we were going to "Skaville,"  I yelled "Please!" PG

Most Misguided Throwback: Violent Femmes
Violent Femmes had a brilliant idea: How do you deal with an audience who only came to hear one album, their eponymous 1983 debut? Just play that record from front to back. The classic punk rock disc just turned 30, and Gordon Gano played the whole thing front to back as a tribute, while reminding many in the crowd they weren't alive yet. The problem was that it was brilliant in concept, but a folly in execution. That album is front-loaded with many of the band's best-known songs ("Blister in the Sun," "Add It Up") and many in the crowd left after hearing the songs they came for. Gano could have rectified this by playing the back half of the disc with an uptempo flair to keep up the energy, but the band played it mellow and bluesy, as if they were on VH1 Storytellers. I liked their performance, as it gave the band a chance to showcase their still-flawless craftsmanship, but the subdued atmosphere quickly lost the crowd. You have to know your audience, and they clearly didn't. NL
Most Sway-worthy: X
Watching X is like your mom or dad casually mentioning that that relative you don't really talk about is a punk rock legend. You freak out. Nico mentioned they look like your average Venice Beach beatniks.  To hear what comes from them takes you aback for a second. Then you start to shake, and move, and you're smiling.   
They amble on the stage, comfortable enough to shuffle and swing like they're playing for their friends, without sacrificing precision or energy. They aren't too concerned with stage patter, and stated this early on; the only thing said after this beside "thank you" and that they loved Chicago was a strangely stated support of capital punishment against the five men in India who raped a woman to death (before "Johnny Hit and Run Paulene," a song about a survivor of a serial rapist). That statement seemed to be the only thing off in their set.  Exene Cervenka and John Doe's harmonies are intoxicating.  They entwine just as they have since 1977. PG

Worst Veteran Set: Dinosaur Jr.
Every year at Riot Fest might now feature a Built to Spill, a classic band whose energy just doesn't translate to the space — at all. The landslide winner of the "Please Kill Me" prize went to Dinosaur Jr., who replaced Built to Spill's interminable jam band set from last year with irritating noise rock feedback. All of their songs ended up sounding the same, and there was no life to the music. You can take a shit on the stage or kill a goat, but the one thing you can never do during a show is be boring, and that set was about as thrilling as C-SPAN. I actually saw one woman fall asleep standing up. I envied her. Pitchfork once reviewed Jet's Shine On by embedding a video of a monkey peeing in its own mouth, but that's more engagement than Dinosaur Jr. deserved. Instead I just left. NL
Most practiced headliner: Blink-182
Blink-182 has hit a strange point in their careers, one where they're about two decades in and despite spending nearly half of the past decade on hiatus, have become bigger than they were when they left. The once-jokey, oft-debated band have been around long enough for revisionist approaches to their work, declarations that they might be a lot more important than people thought when they were cracking wise about MILFs and the like onstage. At the core, for all the ill-fated side projects and shaky transitions into being adults and yet still playing songs like "First Date," the band have long been excellent pop songwriters. For all the debates about punk credibility, they've always been more of an alt-rock band with a serious ear for hooks. The generation of which I'm a part grew up having "The Rock Show" burned into our frontal lobes, and sure enough, the singalong last night was massive.
However, there's always two sides to the longevity coin, and the flip side here is that Blink's headlining set felt stiff throughout. They're old pros at playing to crowds of this size; during their heyday they were playing to sold-out stadiums, and even now they can still pack an ampitheatre for one of their shows. Considering that they've also only put out one album since 2003 (2011's Neighborhoods), Riot Fest is the perfect venue for a career-spanning set. And their selection was good; it was great to see a set so heavy on material from their 2003 self-titled record, which is both the biggest outlier in their discography and arguably their best album. Songs like "Violence" have a maturity and pop to them that suits the band well, and "Always" will eternally be one of their great singles. But little of that pop came out during their Riot Fest set. Everything, down to the onstage repartee for which Blink has long been famous, felt canned and practiced. It was a fine enough set, but for all the shakiness of Fall Out Boy's Friday set, the latter band at least clearly isn't at home with this whole rock star thing yet. There's something charming about that. Blink, by contrast, have been at the top of the mountain for a good while now, long enough that there's not really anything that exciting or fresh about it. Despite a more-than-enthusiastic reception, Riot Fest felt like just another show for Blink-182. DSM
Spare observations:
DSM: In addition to everything mentioned above, I caught a bit of Glassjaw's midday set over at the Rock stage. Daryl Palumbo's voice is still as haunting and bizarre as ever, but something about the set was off enough to render it largely forgettable. I'm going to say it was the sound, which was heavy on the low end and lost a lot of the tech-heavy flourishes that've made Glassjaw such a lasting and interesting band.
Best deal of the weekend: Windsor Ice Cream Shop. You can get a huge scoop (or two, or three!) for not a lot of money at all. Hit them up.
As I post this, it's Sunday morning. And it's raining. Put on your ponchos and let's finish this one strong, everyone.
Coming tomorrow: Our wrap-up of Riot Fest & Carnival 2013, with The Replacements. And other bands that are also great, but seriously, the fucking Replacements.