Music
Guided by Voices are back to their classic roots with new album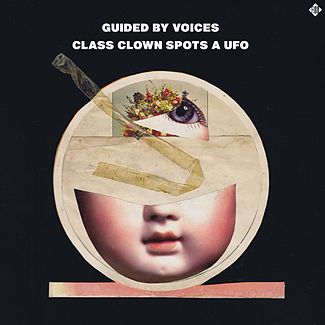 Class Clown Spots a UFO Guided By Voices
Release Date: Jun 11, 12
1
2
3
4
5
6
7
8
9
10
Robert Pollard is terrifying. How can one man be such an elegant and seemingly effortless songwriter? He's written thousands of songs, released tons of albums, has played in a bunch of bands, but his greatest and still most significant era of music still exists during the "classic lineup" of his most well-known band, Guided By Voices. This "classic lineup" has recently reunited, originally just to perform, but even more recently to be a fully-functioning band again. Somehow, out of nowhere, Guided By Voices prepped and released their first "classic lineup" album last December, for the first time since their 1996 album, Under The Bushes Under The Stars.
But one reason in particular as to what makes this incantation of GBV so classic, is the supporting cast that Robert Pollard has for his monumental band – Robert's brother Jim on bass, lead guitarist Mitch Mitchell, terrific drummer Greg Demos, and perhaps the almost-as-brilliant-as-Pollard rhythm guitarist, Tobin Sprout. This lineup made classic albums like Bee Thousand, Alien Lanes, and the aforementioned Under The Bushes Under The Stars, yet their album released in December of last year, the comeback album, Let's Go Eat The Factory, was a bit of a disappointment. Fortunately, GBV is back, and better than ever with their second reunion album, Class Clown Spots a UFO.
On CCSAU Robert's just as brilliant as ever, but for the first time since Alien Lanes, Guided By Voices has quite a few astonishing tracks from Tobin Sprout as well. First, let's talk about Robert Pollard's best tracks. The album opens with the epic and strange "He Rises! Our Union Bellboy." The following track "Blue Babbleships Bay" is very silly, but surprisingly satisfying, though the album really kicks into classic-Pollard gear with the title track. "Class Clown Spots A UFO" might be one of the best rock songs I've heard in quite a while. The echoing vocals, perfect melodies, and dueling guitars are perfect for the strange-topic-ed but beautiful power-pop track. The perfect concert-moment happens when multiple vocals come in after a cut-out of everything but Pollard's vocals of "Up, up we go now."
Co-authored by Mitch Mitchell, "Tyson's High School" is a really great psych-rocker. It's a song with Stooges-like rebellion, but Sgt. Pepper's-like melody. Tracks fifteen and sixteen are even better. Number fifteen on CCSAU is the campy, moody, but catchy "Jon The Croc." Pollard screams, "Let him cry-y-y like a crocodile around you now," which is surprisingly catchier than one would think. Following that is "Fly Baby" which was co-authored by Greg Demos, and is the perfect sad drunken tune. But the one best of the Robert Pollard tracks comes with the magnificent closer, "No Transmission." Another great rock song, that could possibly rival "Class Clown Spots A UFO," "No Transmission" opens each verse with the song title, and the guitar gets bigger and better in between each one
As for the Tobin Sprout songs, they're the best I've heard from him since his terrific debut album, Carnival Boy. His first is "Forever Until It Breaks", which has a wonderful Echo & The Bunnymen-like instrumental minimalism to it. It is quite an odd yet beautiful track filled with minimal lyrics "we walked along the water" throughout the verses and supportive and strong synths. The next one from Sprout is even better; track nine, the Harry Nilsson-like short track, "They and Them." Immediately following is "Fighter Pilot", but Sprout shines once again on the hauntingly-country-like "Starfire." The last of these Tobin Sprout tracks is the slow, short, and incredibly sad "Lost In Spaces." "Lost In Spaces" is another very Harry Nilsson-ish track, but where "They and Them" recalled the silly Pandemonium Shadow Show, "Lost In Spaces" plays like the ethereal and somber, Knnillssonn.
With the Tobin Sprout tracks, the Robert Pollard classics, and co-author-ings along the way, Class Clown Spots A UFO is a classic album that proves the admirability of this recently reunited "classic lineup." "Class Clown Spots A UFO" and "No Transmission" are sure to be fan favorites during live shows, but I think slower tracks "Forever Until It Breaks" and "Fly Baby" still have the potential to be just as fun if done correctly live. These songs will be a nice addition to legendary songs like "As We Go Up, We Go Down," "I Am A Scientist," and the ultimate rocker "Office of Hearts." Robert Pollard & Co. are back in a big way, and if Let's Go Eat The Factory didn't catch your attention, this one surely will. Class Clown Spots A UFO is twenty one tracks filled with old-school but perfect Guided By Voices style, and pure, power-pop prowess.