Features
Riot Fest & Carnival Chicago 2013: Friday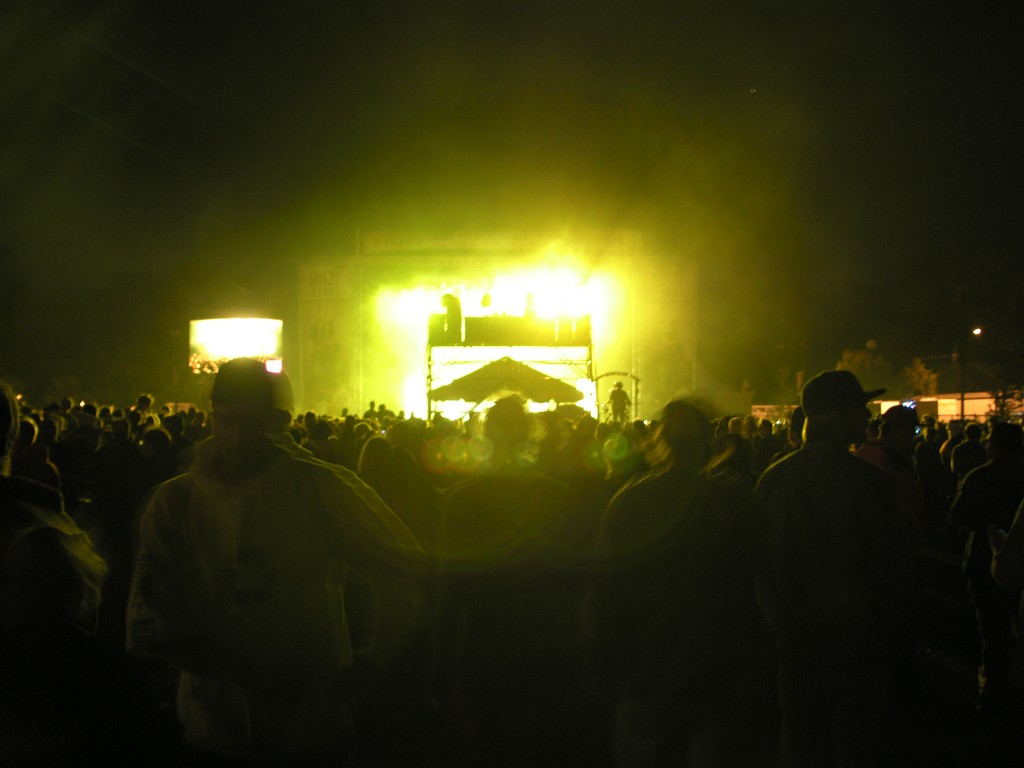 Since expanding last year into an outdoor festival, Riot Fest has become one of the summer's prime destinations, pulling exciting acts and even making all that fairway stuff you normally stroll briskly past at festivals worth checking out. Don't believe us? There's a John Stamos carving made out of butter. But the focus of Riot Fest is still very much all things punk rock, even if the festival has expanded over time to become more inclusive of all facets of that nebulous thing known as the modern punk scene. Heave is there all weekend, and though we might not be able to Tweet as usual (Humboldt Park is overwhelmed with smartphones this weekend), staff writers Patrick Gill and Nico Lang are on the case, bringing you coverage of the finest that this weekend has to offer, and everything else too. Heave management as represented by features editor Dominick Suzanne-Mayer and music editor Amy Dittmeier will be contributing in brief as well. Your key for coverage:
AD – Amy Dittmeier
PG – Patrick Gill
NL – Nico Lang
DSM – Dominick Suzanne-Mayer
——
Worst At-The-Gate Experience: "JESSICA!"
A drunk young woman would not stop yelling "JESSICA, JESSSSSICA, Jessica, JESSICA, are you coming in yet! Jessica.  I want to see the Smoking Popes!" It was like an anti-advertisment that almost made me not want to see that set. (I'm sorry that was a bald-faced lie, I really wanted to see that set.) Still, The Smoking Popes don't deserve that.  They put on a good go of it, though the sound—especially on the vocals—was shaky, which is unfortunate given the fact that they enjoy crooning.  Neil Hennesey's drums shined through, though, as they should in the pop-punk you love.  Along with their synchronized pogoing.  PG
Best At-The-Gate Experience: Saul Williams
As soon as we crossed the threshold into the park and before the glowing midway, cutting through trees and the first few rides, I see Saul Williams on screen closing out his set, espousing unity and reminding us of the power we all have.  We had already heard him line breaking, throwing down what I estimated to be 15 or more minutes of pure slam-style poetry with no backing track.  He then told us all he wasn't selling merch at the tents, but out of his backpack.  He would be roving around, we could see him and talk later.  DIY, y'all, DIY.  PG
Most Masterfully Crafted Set: Bad Religion
Greg Gaffin of Bad Religion conducts.  It's the best way to describe his mannerisms; his hands swing, his face is expressive and lively, the fact that his voice is unflinchingly the same as it has been on records since pretty much everyone in the audience's childhood makes it seem like he's taking a bow to a finely tuned violin.  All of this is a testament to the whole band's level of craft. These men have been at it for years, and have still managed to distill fury and passion into tight, aggressive, and incisive songs.  Even their banter is to the T, while still feeling organic.  They also used songs the crowd knew and loved as guiding moments through the set: "I Want To Conquer the World" near the beginning, "21st Century Digital Boy" in the center, "Sorrow" near the end.  In between there was no lag, and the title track from their latest album, True North, promised how far this band can continue to go. PG
Most Relentlessly Positive Human Being (Possibly In The World): Andrew WK
You thought Heave wasn't going to the Andrew WK set, that there couldn't possibly be any more said about this man by this site.  I feel sorry for you and how wrong you can be. 
Well I, Patrick, had never seen him before.  I refused to pass him up.  He could have been a one-note novelty act with his incessant Party-centric lyrics and songs—there could have been a lot of bad ad campaigns by Party City based on this one man—but in the 10 years since I Get Wet, he has let the world know how beautiful it is and how awesome the people who come out and support music and stay positive can be.  To see him you have to look through a sea of pumping fists, and even then he's most often banging his head or banging on a piano. Try to make fun of this man; it is impossible. He will have you converted to the least jaded lifestyle just by pointing from the stage in your general direction. 
Cherie Lily, whom after Googling I learned is also a leotard aficionada and performed beside WK, is married to him.  He dedicated "She Is Beautiful" to her.  They head bang in unison.  I now know what love is.  Her outfit and demeanor was that of a potential champion women's wrestler and a disco-era comic book heroine.  Similarly, WK onstage lands somewhere between Iggy Pop, the wrestler Mankind, and Beethoven.  It's a golden triangle. PG
Most Affable Distraction: Yellowcard
At Riot Fest, Yellowcard was busy promoting an acoustic version of Ocean Avenue, a cash-in on an album that came out ten years ago. That told you everything you needed to know about the set. Yellowcard went for nostalgia, and based on audience response, they succeeded, as the crowd was clearly into hearing the handful of songs they knew from the band. At its best, the band felt charmingly dated, but also recalled those guys from your hometown who never left and  never grew up, even as beards and paunch bellies set in. Here, it was "Ocean Avenue" forever — which, like a high school reunion, has a certain appeal. However, on a weekend that promises a long-overdue Replacements tour and the immediacy of Against Me!, the set felt unnecessary, like Warped Tour's leftovers from a decade ago. It was pleasant, like the buzz from a warm Natural Light, but eventually you have to sober up and move on. NL
Least Changed, To Best Results: Andrew WK
Twelve years have passed since the release of Andrew WK's I Get Wet, and I mean it as a compliment when I say that Andrew WK hasn't changed a bit. On that stage, it was still 2001, and WK looks exactly the same as you might know him: long hair, dressed in all white and hair thrown every which way. ABBA once said that they stopped making music because they didn't want to become their own cover band, but this was a time capsule in the best sense of the word, as he ecstatically bounced through his well-known anthems "Party Hard," "She Is Beautiful" and "I Get Wet." WK's unbridled energy and positivity make him a joy to watch onstage, like a kid who just mastered the guitar for the first time — and can't get enough of it. Last year's Jesus and Mary Chain show was marred by the band's lack of enthusiasm for the set and each other. They just didn't care anymore. However, Andrew WK never fell out of love with rock and roll, and judging by the passionate audience, it never fell out of love with him. NL
Best Head Turner: On Your Marx
While hustling like an orc to battle, over loam and through wood, from Andrew WK to the front for Bad Religion,  I passed the Rebel Stage, where punks were skanking to a flautist and full horn section.  It was a two woman-fronted ska band, people.  I stopped and wept with joy, as if Andrew WK had not just made me such a happy man.   I scribbled down the stage and time, and how it made me feel.  I found out they were a local outfit by the name of On Your Marx.
This is a more relaxed reggae track than what they were bringing, although I could only stay for about a song. 
I plan to keep tabs. PG
Best Friday Set (Lang Category): Joan Jett and the Blackhearts
The day's best set by far belonged to Joan Jett, one of rock and roll's elder stateswomen. Dressed head to toe in her signature black leather, Jett commanded the stage with a quiet workmanlike confidence that built from thrilling to powerful. Performing with The Blackhearts, Jett belted out classics like "Do You Want to Touch Me?" and "I Love Rock and Roll" to an audience expecting her to shut up and play the hits, and she did so beautifully. However, her masterstroke was to play "Cherry Bomb," a song she sang with Cherie Currie during their time in The Runaways. Despite Currie's absence, the song still killed live, even if the audience of young Riot Festers might have been less familiar with it. (This was a problem all day, as the bands were much older than the crowds they played to.) But what made Jett's set really special was when she brought out Laura Jane Grace of Against Me!, the transgender rock star whose recent coming out divided fans of the band. Many expected that Grace would come out to perform, and our expectations were more than exceeded. Playing "Soulmates to Strangers" with Grace on backup vocals, the set was a piece of heaven, the absolute best that live music has to offer. Although many bands were stuck in the past on Friday, Jett dared to give us something new. NL
Best Duet: Joan Jett and Laura Jane Grace
Is it possible to be coquettish and entirely dressed in pleather? Yes, and Joan Jett is.  She mugs and preens and rocks.  Her Blackhearts are stoic, but get lively through the set.  As smart as Bad Religion, if not more, she blasts out some of her notable works first: "Cherry Bomb," "I Love Rock 'N' Roll," "Do You Wanna Touch Me?"  Then people uninterested in deeper cuts are free to leave.  They shouldn't, but they do. 
For the short time photographers can be up front, she plays them well.  Being up there, I saw her get down on the stacks in front, playing around, and when she's behind the mic I saw her making sure she spent equal time looking at each cluster of us, as if singing to us.  It reminded me of something I read a while back about how Jett doesn't talk about her sexual identity because she wants every person in the crowd to think she's singing to them, no matter their gender or how they identify.The duet came in maybe five songs in.  She recently penned a song called "Soulmates to Strangers" with Against Me! frontwoman Laura Jane Grace.  They perform it together from time to time.  After Jett introduced her, the crowd cheered, and Grace shuffled out smiling.  You can tell these women admire each other deeply and love the music they make.It's a pretty heartbreaking song about separation from someone you felt destined to be with.It's rough and tender.  PG
Best Set To Only See The Aftermath Of: GWAR
GWAR is written in the waves of brick-red cornsyrupy stains seen across the faces and shoulders of so many.  I was up in line with  photographers before Joan Jett, when a dude came barreling through, dried but still with the red caked on all exposed flesh and his shirt. He was a fellow photographer so his friends stopped him, a cigarette was dangling wanting to be ashed as he repeated "It got on the lens man, all over my lens.  I mean you can hurt me, kick the shit out of me, but don't hurt the lens.  Then – splorch—right on it." 
He thought he understood what was going to happen.  He needed a poncho.  PG
Biggest Surprise that Shouldn't Have Been A Surprise: Atmosphere
Again, while getting my pass early, the gorgeous music of Dessa was lopped off in my head by some belligerent dude stating how he thought he was going to Riot Fest, not to see shit like this.Apparently because of the cool cooing background, the ooos and ahhhs, he classified whatever was going on behind him at the moment to be "Bruno Mars or some shit… it sounds like radio pop shit."  So, ooos and ahhhs aren't behind the chorus of nearly every pop-punk song?  It's good to know I've had auditory hallucinations for the past 10 years. 
This made me concerned and interested in how hip-hop acts like Atmosphere would be received.  His inclusion, Saul Williams', and Public Enemy's did strike me as a slight deviation from the roots of the Fest.  But if you look at these artists' work, theirs is a socially conscious kind of hip-hop, a dedication to self-made art and political activism, which is in keeping with the punk spirit of the event.From what I saw from my distant vantage, there was nothing but love for Atmosphere, courtesy of a roaring crowd that reached back what looked like 100 yards.  It made me smile.  He delivered an excellent set, mellowing yet still invigorating.  I am pretty sure he is the Altoid of rappers.  I mean this with the most respect and love. PG
Best Way to See a Band You Don't Like, Part One: Sublime With Rome
This originally was going to just say "Sublime with Rome, from by the funnel cake and rides." Because from there it's a little muffled from the trees and tents, transforming the voice of Rome into that of Bradley Nowell. 
Some people don't understand the cult of Bradley. Growing up adjacent to and in some degrees part of Northern California surf culture, I do; Nowell was from Long Beach but travelled the coast frequently.  He was that guy you saw parked facing the ocean in a rusted-through-the-floorboards  truck, smoking, watching the waves.  I also get I should like Rome, as he is from Fremont/Oakland, but I just hear whatever he does as a heavily rehearsed imitation.  Maybe I'm glorifying what most people write off as bro shit, but Nowell had a tortured streak that twisted and squeezed out some pretty beautiful music.  The crowd seemed to like it, though, and that was enough. 
Best Way to See a Band You Don't Like, Part Two: Fall Out Boy
This changed by the headliner, though.  I have never been a fan of Fall Out Boy.  Do you know who you need to see Fall Out Boy with if you don't like them?  A dense field of Midwesterners, mostly Chicagoans.  They come alive for them.  Incredibly grateful for the years of support, these men powered through old and new hits.  Though at points they were a bit awkwardly strung together, the older dance punk with the newer arena rock, you could see them working hard to give back what they were getting.  Lulls were there because of newer songs, a too-long clip from an Iggy Pop interview, and a ridiculous montage that flashed picture of THE BEATLES, TUPAC AND BIGGIE, JANIS JOPLIN, PRINCE, MICHAEL JACKSON, HENRY ROLLINS, THE SEX PISTOLS, and finally, womp womp, FALL OUT BOY.
I chalked it up to them trying to infuse hip-hop's confidence into their newer, bigger sound.  The earnestness made some things forgivable.  Even more it made me have fun.  When they played songs like "Sugar We're Going Down," you have fun, you sing along because you at least know the tune.  When Pete Wentz decides to interject during "Saturday" with his hardcore voice, your heart flutters.  You forgot he could do that.  PG
Least Favorite Friday Set (Lang Category): Fall Out Boy
Although many would call The Smoking Popes' set the worst of the day, that dubious honor, for me, went to Fall Out Boy. The Smoking Popes couldn't control their bad sound. That was on Riot Fest. But Fall Out Boy could control totally sucking. Of their "old stuff," only "Sugar, We're Going Down" felt properly anthemic, outshone by newbie "My Songs Know What You Did in the Dark (Light 'Em Up)" being conducted by giant flames in the background. The set went for bigness, attempting to transport the feel of a stadium onto Humboldt Park, but it failed, feeling overblown and pretentious. The set was like bad Coldplay, marred by maudlin arena rock that characterizes the band's new sound and songs the audience didn't know what to do with. On stage, they didn't sound like Bono; they sounded like a bunch of wankers. The most telling moment came during "Save Rock and Roll," where the band put together an unintentionally hilarious slide show of their favorite musicians — legends like Janis Joplin and Jimi Hendrix — but then ended on themselves, as if rock and roll were leading up to this moment. If that's true, it might not need saving. Rock and roll is dead already. NL
Stray observations:
NL: I didn't see most of it, but what I caught of Atmosphere's set was gorgeous, from his lyrical delivery to a backdrop that looked like a sunset. For next year, the fest would be wise to get more of this and less Sublime, a band I forcibly skipped. Riot Fest is attempting to bridge the gap between its all-white, suburban crowd and a more diverse audience, and Atmosphere provided a stunning view of the future.
Dark Matter is selling coffee. For the addicts among us, do not forget this piece of information.
Along with the expected set of attendees — Hot Topic University graduates and kids in leather jackets — Friday brought an array of the undead. Punk rock zombies wandered the grounds, flanked by young women in Jason Voorhes masks. I bet they were going to the Fall Out Boy show.
The Red Eye tent is nearly impossible to find, but just follow the carnies and you'll get there eventually. You cannot ask anyone where it is, because they will not know for some reason, but that's where the phone chargers are. Also: Do not look directly at the carnies. They will steal your soul.
Yesterday was colder than a Tom Cruise honeymoon, which few shivering festival goers seemed all that prepared for. Today and tomorrow will also be on the temperate side and Sunday promises rain, so prepare accordingly.
DSM: Since our intrepid crew touched on pretty much everything there was to see on Friday, I'll just add a few things. I enjoyed Yellowcard more than Nico did, though not a single thing he said about their set is wrong. To me, instead of using "Warped Tour" as a pejorative point of comparison like a lot of people have over the past few months about Riot Fest 2.0, I see it as the absolute zenith of Kevin Lyman's dream. Instead of travelling to parking lots, the punk festival has now become an immersive experience, one where I could've conceivably watched Yellowcard play "Ocean Avenue," gone on a ten-minute stroll and ended up at GWAR. Except for the part where I've now seen GWAR twice and just cannot do it again, it's pretty cool that such things are on the table.
It was funny seeing which packs of crowd were in attendance to see whom, because you could tell. The aforementioned punk zombies were there for Danzig and Doyle, and probably little else outside of GWAR and maybe Andrew WK. (Serious fact: Legitimate metalheads fucking love Andrew WK.) In a sobering moment, the youths were there to hear Fall Out Boy's "old stuff," and a lot of the local Chicago punks seemed to gravitate in Joan Jett's direction as the night went on. And, I don't know, people who greatly enjoy weed were probably way into Sublime. (I'm sorry. I just do not get it.)
Also, the food spread. Riot Fest has killed the game this summer, because wherever your tastes land on the carny-food-to-gourmet-trucks spectrum, you're covered.
Coming tomorrow: Blink-182 plays their biggest Chicago show in quite some time, Rancid and Public Enemy play at the same time and force everyone to make a Sophie-level choice, and ska makes its presence felt at Riot Fest. SemiHidden=