Music
Six must-see acts at Riot Fest 2013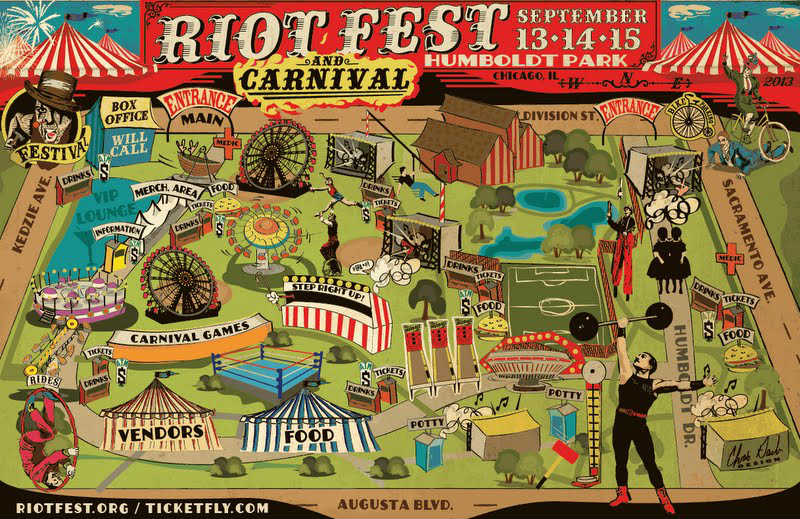 Chicago's festival season is drawing to its inevitable end, but don't tell the folks at Riot Fest. Boasting what may be Chicago's most interesting festival lineup of 2013, Riot Fest in its new outdoor incarnation is offering up a mixture of legends, cult heroes, Warped Tour-era third-wave emo, hip-hop and more. As always, we at Heave will be at the festival all weekend, so keep an eye on our Twitter account and this fine website itself! In the meantime, here are our top six (one for good luck!) must-see acts at Riot Fest 2013
Dessa (Friday, Riot Stage, 4:15)
One of the most popular members of the hands-in-everything Doomtree crew, Minneapolis artist Dessa fuses soulful vocals with a powerful presence and steely resolve that draws from her other work in slam poetry. She can also spit some serious fire when called upon, though, which makes her live show an absolute blast to watch. Though she's on the road pretty frequently, her shows are always a treat, and a perfect way to kick off your Riot Fest weekend. (She was also just added to the Sublime With Rome aftershow at Concord Music Hall, if you're headed that way or want to check her out elsewhere this weekend.)
Fall Out Boy (Friday, Riot Stage, 9:45)
It was vaguely amusing but mostly disheartening to see the amount of posturing that happened when Riot Fest dropped the first wave of their schedule earlier this year and people saw Fall Out Boy near the very top. The cries of "poseur punk" and "whiny emo music" rang true like they haven't since about 2005, and for a moment most of us in the Chicagoland area were able to rally around the hometown heroes as they did before. It also doesn't hurt that FOB have released a major single this year ("My Songs Know What You Did In The Dark") and haven't been around for a while save for one immediately sold-out Riviera show. Bullshit aside, Fall Out Boy have always been a blast as a band, even when they've expanded their sound over the years to sometimes mixed returns. And this is Riot Fest, so if Rise Against's headlining show last year was any indication, we may just indeed get some of the old stuff, such as cuts off the now-decade-old Take This To Your Grave. (A decade. Mother of God.)
X (Saturday, Roots Stage, 1:45)
What's a Riot Fest without some time around one of the bands that was there when it all began, maaaaan? X have been touring quite a bit throughout the 2000s, recently doing full-album performances of their 1980 debut Los Angeles. Despite having not released a proper full-length since 1993, X still holds up with their mixture of rockabilly, roots rock and chord-heavy energy. This is one of those rare times when you get to hear a classic, enduring band play none of that new stuff that you don't care for as much, and all of the old stuff you want to hear the most. (Bonus pre-festival research: X appears in the fantastic film The Decline of Western Civilization, which you should check out at some point this weekend.)
Violent Femmes (Saturday, Roots Stage, 8:45)
In the pantheon of bands who simply killed it right out of the gate, look no further than the recently reunited Violent Femmes, whose self-titled 1983 debut may have a certain deal of ownership over the later foundation of folk-punk. Though "Blister in the Sun" has become ubiquitous at this point, it's a record full of phenomenal material, with the vicious breakup anthem "Kiss Off," and "Add It Up," which may be the sexiest non-Prince song ever recorded. Their discography has jumped between genres and trends over the years, but look for them to follow the lead set by Elvis Costello last year and dig up some of the best stuff.
Reggie and the Full Effect (Sunday, Rise Stage, 1:00)
It's always been hard to pin Reggie and the Full Effect down. Since its inception as the solo project of The Get Up Kids' James Dewees, it's fluctuated (not to be confused with Fluxuation) between jokey synth-pop about gloves and music videos depicting the initial pairing of peanut butter and jelly, and dark, disclosure-heavy emo about lost relationships and personal failures. Their 2005 record Songs Not To Get Married To is still one of the best albums of its era, and after a hiatus of several years Dewees is working on a new, Kickstarter-funded LP. Whether he plays any of the new material, or allows for a Common Denominator cameo during his brief early-day set, it's going to be interesting for sure.
Against Me! (Sunday, Roots Stage, 2:35)
The discourse around against me took a massive turn early last year, when it went from punks opining about their supposed decline into radio rock (even if both of their albums with Sire were pretty good) to talk of frontwoman Laura Jane Grace's coming out as transgender. Despite recent unrelated lineup changes, and Grace's recent declaration that she's mainly keeping Against Me! alive to get out a message through their forthcoming sixth LP Transgender Dysphoria Blues, look for this to be one of the weekend's best sets. It's one that should be savored, AM! long having cemented themselves as one of the finest punk bands of the new millennium and likely drawing to an end in the near future. With an independently released album coming for the first time since their debut, AM! might go out the way they came in: fighting the good fight against inequality of all kinds.