Music
Video Vultures: Manufactured Rebellion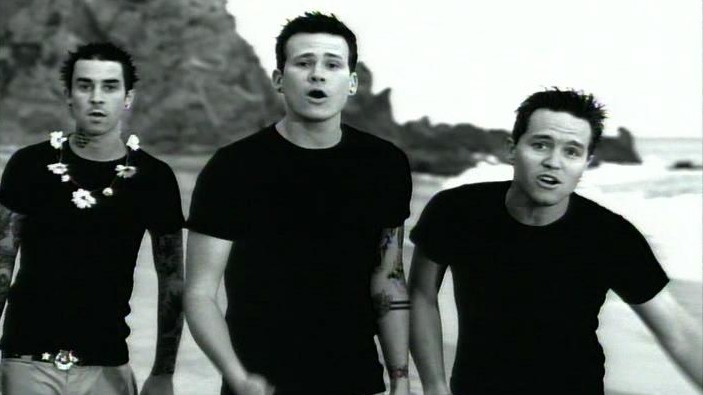 In Video Vultures, Cory Clifford takes a look at different music videos and ties them together through musical, political and cultural similarities.
At the end of the day, credibility is often more subjective than you think. In the late 90s and early aughts, credibility in music was a blurry line of existence that most youths had no awareness of at the time, leading to them being consistently duped by superficial edginess and alternative modes of operation. Though nostalgia is still attached to that era's uniquely awful cloud of mainstream media, one can't help feeling a little embarrassed for contributing to the success of people who are now almost universally considered hacks.
But yet the "edgier" artists often decided to poke fun at the teen idol pop stars or buzz bands of the time, through a weird, dress-up music video that would often play on TRL just before the bands they were lampooning. One of the less severe cases of this style comes with Blink-182's "All The Small Things":
Reasons why this style tends to work so well:
1. The musicians being lampooned tend to be highly recognizable.
2. The musicians doing the lampooning are only slightly less successful than their subjects.
This works when done by a band like Blink-182, who write tongue-in-cheek pop-punk. Depending on the conservatism of your parents, this style offered enough raunchiness to warrant a sense of credibility that other pop groups didn't possess. This made them able to mock more parent-friendly groups. The video is definitely entertaining, and is absolutely sure to get plenty of laughs as Blink-182 parade around in non-casual boy-band gear, poking fun at chart-toppers like N*Sync and Backstreet Boys. While Blink's corniness can easily be laughed about in today's climate, this specific parody video is fairly innocent, and in retrospect is nowhere near as biting as it could have been. Meanwhile, another pop-punk titan, Sum 41, decided to take a different route and parody bands that were actually acclaimed.
Sum 41, everybody! Canada's favorite pop-punk band (sorry, Billy Talent) were a pretty big success back in the day, and whether you're a fan or not, they definitely had a few good songs in their repertoire. And while Sum 41's videos for "In Too Deep" and "The Hell Song" were fun and sort of silly, "Still Waiting" isn't really silly or fun, but boring and full of a sweeping sense of insecurity. Poking fun at bands like The Hives, The Strokes and The White Stripes, Sum 41 adopts new names (member and band-wise) to coincide with the hipster-chicness of the aforementioned. The group does a blatant parody of The Strokes' "Last Nite" video, and it never for one moment comes across as clever or even that biting, which I'm sure was the intention.
It's interesting, especially in hindsight, to look back, because Sum 41 is the perfect example of a rock band that became more and more diluted with each passing single, while bands like The Strokes in particular have managed to reach legendary status, and continue to sell out large venues and festivals around the world. Eminem, on the other hand, made at least one parody music video that's undeniably iconic for early 2000s hip-hop. "The Real Slim Shady" is entertaining enough to not be as cringe-worthy, but unfortunately the same can't be said for "Without Me":
"The Real Slim Shady" video surely has its gross moments (in particular, the Tommy Lee & Pamela Anderson spoof), but "Without Me" is unbearable to watch because it allows Eminem to not just make fun of musicians–who he does, especially his infamous beef with Moby–but the culture of mindless reality TV fans, who also buy Eminem's records. Though I can understand that controversy sells, and that at the end of the day Eminem is still a talented MC, he's the epitome of developed rebellion that America fell for time and time again in that era of mass media. Furthermore, it makes the viewer assume that Eminem is "realer" than the television and music he's cynical about. While parodies are always welcomed, and if done correctly can be hilarious, the unfortunate case of the "musician cultural parody" video, is that it gave already bloated and spoiled musicians the assumption that they're more than musicians, that they're actually (purposefully) funny.
It's a sad paradox, because in the overworked, over-privileged and superficial world of pop douchebaggery, people are going to be more interested in the afterthought of the music video (the controversy being stirred up by the subjects offended), than the actual video itself. But not all parody music videos are bad; some really are hilarious, and make for a consistently entertaining couple of minutes. In today's musical climate, where fakes are usually easier to spot than before, music videos have to seem genuine. Unfortunately for video directors that love a good parody, it may seem harder than ever. The young have keener senses about the corporate push of rebellion and other somewhat anti-corporate things as each generation passes. For many current twenty-somethings, though, we still once adored and ate up every stupid moment of poorly done parody.