Features
North Coast Music Festival 2013: Sunday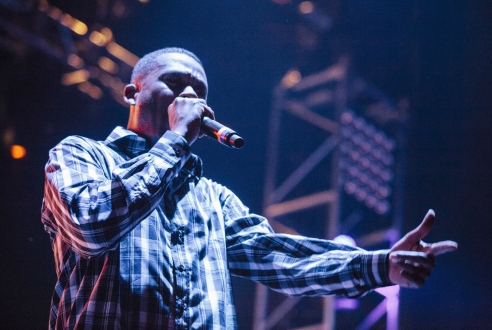 (Photo credit: Chandler West, Time Out Chicago)
The third day of North Coast saw the hottest temperatures of the weekend, rapidly followed by yet another storm warning that ended the party just a little bit too soon. Despite that, spirits stayed high, and so did many of the patrons. Sunday also offered arguably the weekend's most diverse assortment of acts, a true reminder of North Coast's continued standing as one of Chicago's most interesting festivals. Without further ado, let's get to our (superlative-heavy) wrap-up!
Hypest/most unassuming crowd: Danny Brown
That Detroit MC Danny Brown drew a massive crowd at North Coast isn't a huge surprise if you've ever heard his music. Brown walks a strange line between the party rap that's so fashionable at the moment, genuinely harder-than-hell survivalism and pensive meditations on the sort of drugged-out culture he's both celebrating and mocking, often in the same breath. So he's a perfect rapper for his time, and also for the final day of North Coast, when people are struggling to stay hyped through the home stretch even as they're pushing their bodies to the limit. It doesn't hurt that much of his new material from the upcoming LP Old seems directly aimed at the EDM crowd. Among the new tracks came "Dip," which co-opts the already-immortal Kanye demand "Don't let me get in my zone" as he delivers bars well within his wheelhouse, ones primarily focused on hard living and earning his spot. He even brought out SD to do the remix of "New World Order," on which he contributed a verse. For as genial a presence as Brown offers, though, the set was less focused on his spastic lyrical delivery and more on banging bass, occasionally drowning out his bars altogether. Why drown out one of current hip hop's most unique voices?
Best early-day surprise: whysowhite
Full disclosure, before I offer thoughts on the early-afternoon set by local funk-rock act whysowhite: I did college radio a few years ago with co-frontman Charlie Moonbeam. That aside, the eight-piece act played in a rough slot at North Coast, when the people are still filtering in and reclaiming their sea legs, but still put on an excellent 45 minutes of squelching full-band funk. There's something vaguely hippie-ish about whysowhite that's offset by how self-effacing they come off onstage. This was probably best evidenced by their nostalgia-baiting but nevertheless effectively danceable cover of the theme from All That. (If the reference is lost on you, congratulations! You're too old to be at North Coast.) Their set was welcoming from start to finish, Moonbeam and fellow vocalist Big Fat Nick trading raps and harmonies alike about beautiful women in Logan Square and other mellow, charming topics. If their stage presence is just a bit on the goofy side, it's clearly on purpose, and a blast to watch. Keep an eye out for them.
MOST BASS FOREVER JESUS CHRIST: Datsik
Datsik makes dirty dubstep that will rattle your body. There's no better way to describe his set on Sunday. If you like it, this was a gem. If you don't, it wasn't for you. That having been said, compared to last year's North Coast, Datsik feels almost like a rarity. Where dubstep was exceedingly prevalent, now he stands as one of the few representatives of the genre at this year's festival. Most notable about his set was how, even by dubstep standards, the bass at the Coast stage was so loud that my vision was actually blurring at points. So that works, I guess?
Most disarmingly atmospheric: Purity Ring
Canadian twosome Purity Ring may qualify as an electronic act, but despite the sometimes wobbly bass, they're more interested in delicate, dreamlike textures that carry over into their live peformances, which feature a self-fashioned tree of hanging lights. Their show is also reminiscent of Beach House's, though the similarities stop at a male-female duo making deceptively simple music. Vocalist Megan James is a commanding presence, offset nicely by how delicate and almost precocious she was when addressing the crowd and thanking them for their presence. Like Zola Jesus, an artist with which Purity Ring definitely shares some DNA, there's a lovely dichotomy between how gentle James' voice comes off and how much power it claims when juxtaposed with Corin Roddick's beats, which seem to endlessly fluctuate in and out of crescendo. If you need a better encapsulation of Purity Ring, consider the moment in their post-sundown set when they played their haunting cover of Soulja Boi's "Grammy" while lightning flashed in the distance. At once nod-worthy and disorienting, their set was a definite highlight of this year's festival, and a welcome departure from the general aesthetics of the weekend to that point.
Sunniest disposition: Madeon
As festival audiences go, North Coast is arguably Chicago's best at staying riled up no matter how far into the weekend they've gone. Case in point: Madeon's set, which gave the day a needed jolt of upbeat adrenaline. Where so many of this year's electronic artists have specialized in oppressively heavy styles via one genre or another, the 19-year-old French producer brought a relentless energy to his set that carried the engaged crowd through to the evening. It's amazing what asking people to dance, without music that SCREAMS AT THEM AND DEMANDS AGGRESSIVE AND SEXUAL DANCING RIGHT THE FUCK NOW, can accomplish.
Best throwback set, while it lasted: Wu-Tang Clan
I seriously considered just typing "WU-TANG CLAN AIN'T NOTHING TO FUCK WIT'" as a review and leaving it at that. But to expand on the surviving original lineup's full crew reunion show, it was everything the considerable North Coast audience wanted it to be. The Wu-Tang Clan have become one of those culturally ubiquitous acts where liking them is a declarative statement about a person's own interests, whether it translates to "I got really into hip-hop because of this act!" or "I'm a white person from the suburb who likes black things!" What gets lost in all the Chappelle's Show bits and solo careers, though, is how truly legendary the core Wu group truly was. Enter The Wu-Tang (36 Chambers) turns 20 in November, and it's a testament to the enduring power of that record that a crowd that largely wasn't alive when it dropped was rapping along to every word of "Da Mystery of Chessboxin'" last night. The songs off 36 Chambers are part of the cultural consciousness now, to the point where you don't have to know who the Wu-Tang Clan is to get wild. But if you do, the "this may not happen again" scope of last night's show makes it all even more satisfying. And even if a second rainstorm ended the set, and North Coast 2013, a little early, then hey. We still saw the goddamn Wu-Tang Clan.