Features
North Coast Music Festival 2013: Saturday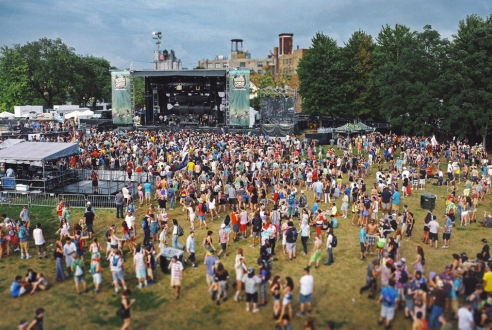 (Photo credit: Chandler West, Time Out Chicago)
The second day of Chicago's North Coast Music Festival saw far bigger crowds than the first. Cell phones hardly worked, the food lines were huge, and a mass of humanity got buck in response to the mid-festival malaise that seemed to grasp many in attendance as the day went on. But Heave soldiered on, and found a good amount to write home (or to the internet, anyway) about. Keep following Dominick Suzanne-Mayer on Twitter at @HEAVEdom for updates throughout the day today, reception permitting.
A Brief PSA Before We Begin
If you haven't heard, news broke early this morning that the third day of New York's Electric Zoo, America's other big Labor Day EDM festival, was cancelled after two festgoers overdosed and died, and four others are in critical condition as of this writing. Yesterday at North Coast, I personally saw a kid that couldn't have been older than 13 or 14 get carted out of the festival while drooling on himself, as his friends refused to tell security what he'd had. You guys. Seriously. First of all, and let me put emphasis on this, North Coast Music Festival is not the reason any of this is happening, and I do not blame them in the slightest. North Coast has been a blast to cover every single year, and when this stuff happens, they'll be the ones to take the punishment. Just remember that. In the 1990s, when MDMA first became synonymous with rave culture, it wasn't the people taking and selling the drugs that ultimately shouldered the blame. It was the festivals and electronic music in general that became the media's go-to pariahs. It's fine to go hard and party and all that. Hell, being a huge fan of Andrew WK, I wholeheartedly endorse it. But when your idea of a big weekend out involves consuming amphetamines at alarming rates in an effort to prove that there's no future except for right now, it's time to take a very long, pensive look in the mirror. Now back to my coverage of dance music.
Most likely to frighten the uninitiated: Porn & Chicken
Porn & Chicken has moved from being an item of bemused conversation in Chicago to having a full-blown cult following as of late. It's likely because of resident DJs Orville Kline and Jai-Sephora's increasing embrace of current EDM trends; one indignant Yelp review bemoans the supposed decline of Porn & Chicken into a sausage fest for dubstep-loving bros. Grousing aside, the collective puts on a strange but ever-entertaining show, which feels like a hybrid between a burlesque routine and a strange hallucination midway through a stoner comedy. The name ended up being a partial misnomer at North Coast, as there was plenty of chicken via a dancer in a feather suit, but the porn was merely softcore. There were, however, showers of sparks for those in the front rows, as well as various DJs coming down to the photo pit to grab people's phones for one-of-a-kind Instagram videos. It was all pretty gimmicky, the pulsing house throughout giving way to remixes of System of a Down's "Chop Suey!" and the erstwhile Bonecrusher jam "Never Scared." But gimmick or not, it got the people going on a hazy, hungover Saturday afternoon, in a still-muddy field, and that's no small feat.
Best encapsulation of current hip hop: Flatbush Zombies
Who's to blame for the current spate of MCs who're popping Molly and sweatin', whose primary lyrical interests include the acquisition and usage of various drugs, bad bitches and the like? It's easy to point at Danny Brown, but he's pensive about the substance abuse to a point where he's commenting on it. Then there's A$AP Rocky, but he's moved on to collaborating with every gifted rapper in America and elsewhere. Maybe it's just that the entitled teenage audience for current hip hop is too tempting a demographic for struggling talent to pass up. Whatever did it, it's here now, and Brooklyn crew Flatbush Zombies are perfectly representative of it. There's a playfulness to the trio's stage presence that undercuts the addled nihilism of most of their music. Meechy Darko, Zombie Juice and Eric Arc Elliott periodically recalled The Pharcyde during their set, their bleak verses supplemented by demands aimed at the crowd about how "I'm tryna see mosh pits, I'm tryna see blood, I'm tryna see some titties." The songs were hardly distinct, a mélange of cloud rap tropes peppered with shoutouts to harder drugs from time to time. It's hard to gauge the extent to which Flatbush Zombies are kidding, but that's hip hop in a nutshell right now.
Best yearly hip hop veteran, 2013 edition: Nas
Nas last came through North Coast in 2010, its inaugural year, as part of his Distant Relatives project with Damian Marley. While that set was enjoyable enough, there's no exact substitute for hearing Nasty Nas deliver some of his classics in person. And that's what he did on Saturday night, closing out the Coast stage with a rapid-fire hourlong montage of his greatest hits. "I Can," "One Mic," "Hip Hop Is Dead," "Hate Me Now" and so many others filled the set, and Nas was engaged if going through the motions just a tad. His attempts to hype up the crowd took a while to gain traction, but it hardly mattered. It's impossible not to throw up hands when the ominous bassline to "N.Y. State of Mind" kicks in, and given the current EDM trend of having one foot firmly planted in hip hop culture, much of the crowd was more than ready to get down to the early set of Illmatic classics. You couldn't help but wish that he'd cut out a few hooks and deliver a few more full bars, especially when Nas' lyrical prowess is what's kept him around for such a long time, but this was a set for casual and dedicated fans alike. And on that basis, it was one of the highlights of the weekend so far.
Additions that defy reason, part one: Gramatik
It's not that Gramatik put on a particularly bad set at North Coast. In fact, he came very close to earning the "Best Reprieve" superlative just for how nice a departure his set was from the big-room fare and trap posturing that's characterized quite a bit of the festival so far. His beats are dreamier than that, dabbling in trance swells on occasion while primarily keeping to pounding kick drums that wouldn't be out of place on a mixtape. It's that, for some reason, his set was supplemented with live guitars, which was an interesting fusion of sounds for about five minutes and then took the steam out of much of his set. The same wah-wahing funk riffs over each song led to much of the set bleeding together. Again, this is a shame given the interesting textures offered by his production. Here's hopping his New Year's Eve set in the city features him a lot more prominently.
Additions that defy reason, part two: Big Gigantic
I'll be brief on this one, as I didn't catch all of Big Gigantic's headlining set. However, who would've thought that the pairing of dirty dubstep and Gerry Rafferty saxophone solos would've led to Big Gigantic becoming a major player in the festival scene? Wonders never cease.
Worst attempt at gate crashing: The kid on the bathroom stalls around 2:30 p.m. yesterday
But seriously. While walking around waiting for Porn & Chicken to start, a massive gate jump took place. This was ill-advised because a) as I mentioned yesterday, security has really stepped up its game this year and b) it was a tricky climb. You had to get over a fence and safely over the portable toilets. One gem saw a kid get caught, refuse to come down, skip across the tops of the toilets as though he were crossing a river. He attempted to jump over a security guard, and was taken down firmly for his troubles. S3, I owe you all a beer when this weekend is over.
Coming tomorrow: Our wrap-up of North Coast Music Festival 2013! Wu-Tang Clan re-enters the 36 Chambers, Purity Ring make lovely melodies, and the party rages on.