Culture
Pitchfork Music Festival 2013: Sunday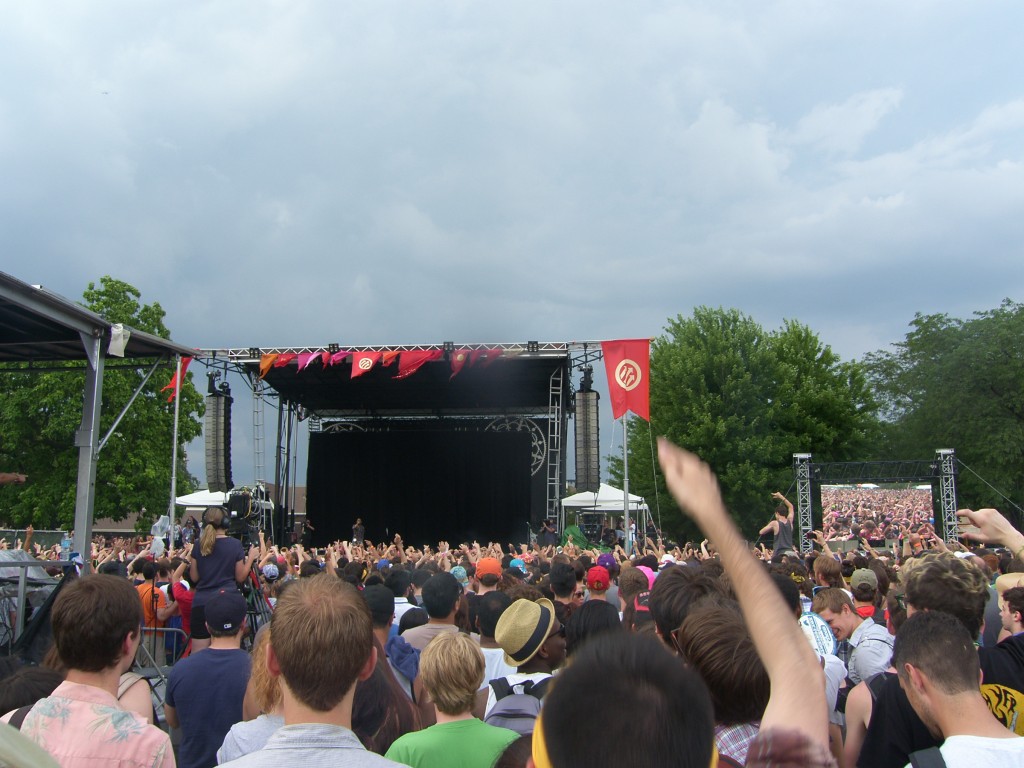 The third and final day of the 2013 Pitchfork Music Festival was the perfect closing ceremony to one of Chicago's guaranteed best weekends. The festival was more packed than I've ever seen it, but although there were large crowds, there was nothing but love in the air. There was nonstop dancing, plenty of singing along and a wave of positivity hitting everybody's ears and minds. There was a little bit of rain at midday that cooled things down for everybody, and was just enough to make the rest of the day incredibly enjoyable and comfortable. (Note: Features editor Dominick Suzanne-Mayer contributed to this coverage as well. His posts are marked with a DM.)
Best Sermon: Killer Mike
Killer Mike played an early afternoon set at the Green Stage, and he ensured that everyone knew that this was his chance to really speak to the people, be real to the people, and let Chicago know that he loves our city. He shook his stuff all throughout his set, and slayed hits like "Big Beast" and "Kryptonite." But the most exciting part of Killer Mike's set was when he played R.A.P. Music's most critically lauded song: "Reagan." A song/critique about the late U.S. president, it led Mike's DJ (TrackStar) to put on the perfect Ronald Reagan mask. It was like Reagan himself was there ironically getting buck to a song about his presidential failings.
(DM: The glory continued on to El-P's set, which was less his set and more a showcase for he and Killer Mike's Run The Jewels project. This was Mike's Pitchfork; we just stood and watched in awe.)
Biggest Dance Party: M.I.A.
M.I.A. knew she had to make a huge impression. She even let everyone know early that she was filming the music video for a new song. But most importantly, M.I.A. knew that after a Lil B set at the same stage, she was going to have to make everyone help her blow the entire park up with noise. Though she only had a few people onstage with her (two super fun juke dancers/drummers and a backup singer), the vibes from her and her crew were enough to make the packed park of people bump, grind and shake it like they just didn't care.
(DM: This is also the most packed Pitchfork has ever been for one set, I'd guarantee it. Were it not for the sound technicians turning M.I.A.'s backing tracks up to system-blowing, drowned-out levels, this would've been the set of the weekend as well just for the energy on hand.)
Best Frontman: Foxygen
Sam France is an energetic little madman, and everybody was having such a blast watching him help create a legendary performance for he and the rest of Foxygen. Between silly banter/fake fighting between Sam and co-founder Jonathan Rado, and even at one point scaling the ladder-like side of the stage, France showed Pitchfork that he really wanted to bring "it" for them. They played a wonderful selection of songs from both Take The Kids off Broadway and their new album, the grandiose We Are the 21st Century Ambassadors of Peace & Magic, and France, Rado and the rest of the band wailed on their guitars, slammed on their drums and keys, and Mr. France even abused his forehead several times with the microphone.
Most Chi-Town: Tree
29-year old Tree and his drill crew kicked things off on Sunday at Pitchfork, and they blew everyone away with their own unique subgenre: SoulTrap. Tree let everybody know that since it was Sunday, this was the crowd's church service, and the gospel was getting up to get down with one another. He played awesomely hyped-up versions of songs off both Sunday School mixtapes, and really impressed a sizable, first-act crowd.
Most "Based" Performance Ever: Lil B aka The Based God aka Pretty Bitch aka Beezus
Lil B officially blew the lid off Pitchfork, and molded a footprint into the heart of Chicago that seemed to be much needed. Aside from Killer Mike's wonderful preaching on helping to stop urban violence, Lil B's "Based" ways lit up the crowd with more positivity than any other act I've ever seen in Pitchfork Music Festival history. Plus, Lil B did what The Based God does best: talk about "fucking bitches," loving everybody, partying, being "Based" and being a symbol for peace. The crowd went insane for the Bay Area hyphy rapper, and even left some people begging for more. Lil B doesn't perform as regularly as some rappers do, so the next time he comes to Chicago, this performance at Pitchfork will help him book a gigantic gig for an even bigger, longer Based party.
Most Chilling Performance: Yo La Tengo
Yo La Tengo performed beautifully. And all the harmonies, instrument switching and occasional psychedelic jams were exactly what the day's lineup needed among a crowd of party acts. Ira Kaplan even jokingly claimed that "this wasn't the first time Yo La Tengo opened for R. Kelly"; supposedly they toured with him in Europe in '96, though you'd be surprised by how many people didn't laugh and took it seriously. The beginning and ending of Yo La Tengo's set saw some of their noisier, more psychedelic songs, but the middle was the perfect moment for Yo La Tengo at a music festival. There was light rain at the beginning of "Autumn Sweater," and it eventually turned into a sunshower that atmospherically (along with the passing CTA trains) helped create a quiet ambiance for Yo La Tengo's dynamic, acoustic slew of songs.
Ultimate Rated-R Performance: R. Kelly
R. Kelly headlined on Sunday, and controlled thousands of people with ease. Kelly's finesse was tenfold, his backing band was incredible and the list of hits played was immeasurable. He opened up with "Ignition (Remix)," and people went crazy! There was so much bumpin' and grindin' (he later played the remix to "Bump 'N Grind" as well), and as he broke it down at points to prove his showmanship, he brought it back up to let the crowd continue to "Bounce, Bounce." But R.'s best moments were when he went acapella. Halfway through his set, he began to freestyle-sing about different things such as who he wanted to take home tonight, his amazingness and my favorite: "I need a towel…for my face, cause I'm sweatier than a mothafucka…oh yeah I'm sweatier than a mothafucka." There were scores of balloons let into the sky, and during the closer, his mid-90s Space Jam-jam "I Believe I Can Fly," the balloons took the shape of doves, and it actually made for a gorgeous moment in Chicago. For all the fighting, political licentiousness, and hard living we endure in the heart of the Midwest, there are moments like this performance, where people of all races, religions and creeds can get together and sing a sensual song like "Sex In The Kitchen" or tender ones like "I Wish." There was love in the air, and R. Kelly led us all into a uniquely Chi-style togetherness.