Features
Pitchfork Music Festival 2013: Saturday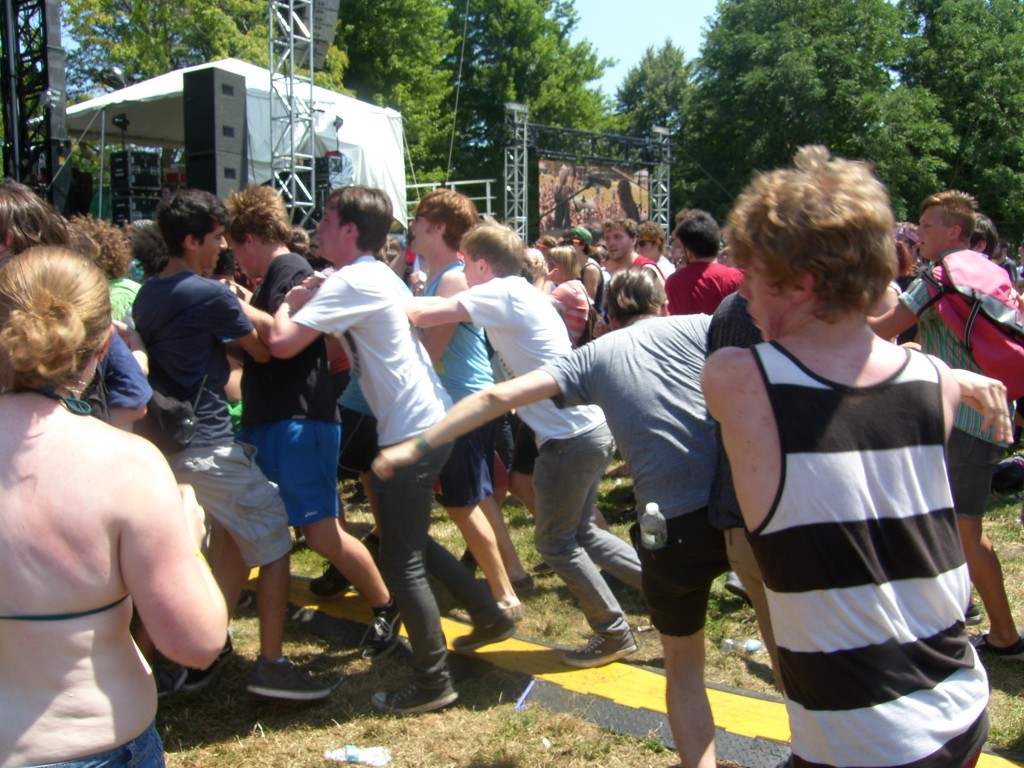 Day 2 of Pitchfork saw moshing crowds, hula hoopers, and plenty of singing along, all under the soundtrack of quite a bit of guitar feedback. I shook it to some new favorites, found a new appreciation for a veteran yet young band, and sang adoringly along to two bands that were seminal in my formative music-listening years.
Note: Features editor Dominick Suzanne-Mayer contributed to this coverage as well. His posts are marked with a DM.
Best Crowd Control: Solange
Solange Knowles played late in the day and she and her backing band brought synth-funk rhythms, a lot of soul and plenty of cool guitar noises. Solange had a blast pumping fists and shaking to her first few songs, but demanded at the very beginning of her next set of jams from True, Sol-Angel and The Hadley Street Dreams that the crowd start grinding, or as she suggested, some "real, low, middle school-like grinding." The crowd was entranced by the soulful songstress, and her music sounded much more stadium-ready than most of the acts at Pitchfork.
Music I Could Imagine Soundtracking A Hunger Games film: Julia Holter
Julia Holter's album Ekstasis is already quite the laid-back, mellow collection of songs, so her set was very similar. But the best part was that Holter and band were at the forest-like Blue Stage, where the demeanor of her music gave off a feeling like heroine Katniss Everdeen might be part of the crowd surviving only on music and free water from the H&M tent (oh, and her insane combat skills). Holter's typically artful, somewhat lo-fi sounds proved just as interesting live, as she performed with a full band.
Rain-Danciest: Belle & Sebastian
Saturday headliners Belle & Sebastian delivered a solidly twee performance, jamming through two decades of hits. Stuart Murdoch's iconic and tender voice illuminated the sun-burnt crowd, and the band's horn section, bass and drums created the ultimate dance-y atmosphere and had people smiling from ear to ear. Where Friday headliner Bjork's performance was an artist vs. the audience art performance, Belle and Sebastian's eventual rained-on set showed what a beautiful pop band does best: make people dance and be happy.
(DM: Also, once the rain came and stuck around for the last 45 minutes of the set, people started dancing like they were at a wedding reception. I'm pleased to say I was part of what has to be the politest circle pit anyone's ever started to "If You're Feeling Sinister." Also, B&S are totally one of those bands where you don't know how much music of theirs you've heard until you see them play a long-form set. The audience participation was on point as well, with Murdoch frequently calling front-row fans onto the stage to dance, recite verses and more. Wonderful stuff, and that's coming from a longtime skeptic of the band.)
Best Mosh Pit: White Lung
One of the day's openers was Vancouver's fem-centric punk rock group, White Lung. Mish Way's stage presence was incredible, and the band was a tight as ever. The real show-stealer during the set, though, was the incredible energy of the kids (and one angry old punk) moshing front and center. Through White Lung's short and speedy set (they played barely 25 of their allotted 45 minutes), the moshpit kept going, as the aggression from Way's Avengers-like howls inspired a group of twenty or thirty to collide with another better than any other act of the weekend so far.
Best Stage Presence: KEN Mode
Though I wasn't familiar with KEN Mode prior to Pitchfork, I was, among others as well, enthused by the growling vocals of guitarist Jesse Matthewson and his wide-eyed insane looks when he went into KillEverythingNow mode. The onslaught of sludge, tube amp feedback and technical drumming secured a wide array of headbanging and plenty of cheering between songs. Matthewson really strove to put terror into the entire front row, staring them down like a serial killer as he chugged away at his guitar.
Best Embodiment of the Word "Intense": Savages
Savages are about to explode. Mark my words. The English post-punk quartet's debut record Silence Yourself might be the most fully-formed debut since Interpol's Turn On The Bright Lights, and their Pitchfork set only helped to stoke the flames. Frontwoman Jehnny Beth managed to draw easily the day's biggest reactions from the crowd without any sort of banter or gesticulation. They simply went to town, Beth howling through lines like "Do not speak!" and "Don't let the fuckers get you down" with rare primacy. The entire band was airtight, and when Beth bowed to the audience at the end of 45 blistering minutes, I'll be damned if the whole congregation wasn't converted. DM
Most Adoring Audience: The Breeders
The classic lineup of Kim Deal, Kelley Deal, Jim McPherson, Josephine Wiggs and Carrie Bradley was back in full force, performing The Breeders' sophomore album Last Splash 20 years after its release. The Deal sisters' guitar work was brilliant as always. Kelley really wailed on the guitar, and Kim's classic rhythmic chug perfectly complemented her sweet and pretty voice. Bradley definitely stole the show at various points, being the ultimate butt-shaker and playing keyboards and violin ever so brilliantly. Perhaps the best part of the entire set was how often the fans were screaming out for each member of the band with "We love you Jim!" and even at one point "I missed you Josephine!." The Breeders weren't the headliners, but on reaction alone they probably could've been.
Most 80s Sounding: Merchandise
Merchandise rocked at the Blue Stage, and showcased their Floridian version of Madchester and C86 psychedelic post-punk. Dressed in leopard print, Merchandise frontman Carson Cox purveyed the audience with similar cockiness to late-80s British pop groups, and sang like it too. Their exploding new wave-ish jams didn't elicit the response that the group used to receive on the DIY circuit, but I for one couldn't help but rock out to one of the weekend's most effect-friendly sets.
The David Yow Award For Snark: Pissed Jeans
Pissed Jeans do not make nice music. If the name didn't let you know upfront, five minutes of their live show would amply prove this point. The Pennsylvania noise rockers specialize in assaultive walls of feedback-heavy, hardcore-tinged blasts of snotty attitude, perhaps best embodied by frontman Matt Korvette, who kicked off the set hollering about how "We got that Bjork money!" in a cockeyed commentary on how out of place a band like this is at an increasingly commercial festival. (He would also go on to rip apart several Tito's Homemade Vodka tank tops onstage before demanding more from the stage crew.) But the band isn't just theatrics; when Korvette ripped off his sunglasses to ferally scream "I wanna see your eyes!" at the audience, you believed every word. DM
Most Fun: Parquet Courts
Parquet Courts know how to put on a show. With good reason too, as co-vocalist Andrew Savage has played around the country in former bands Fergus & Geronimo and Teenage Cool Kids. This also isn't the band's first time playing Chicago. But this was possibly Parquet Courts' first time playing a big music festival, and they lived up to and then exceeded the expectations of their album Light Up Gold and rocked everybody's minds away. The vocals between Andrew Savage and Austin Brown showed two parts of the perfect indie rock voice: sparse, snarky, a little angry and a little kitschy. The band had an incredible set, and closed with a fantastic version of "Stoned and Starving."