Features
Heave (was) at Primavera Sound 2013 (Pt. 2)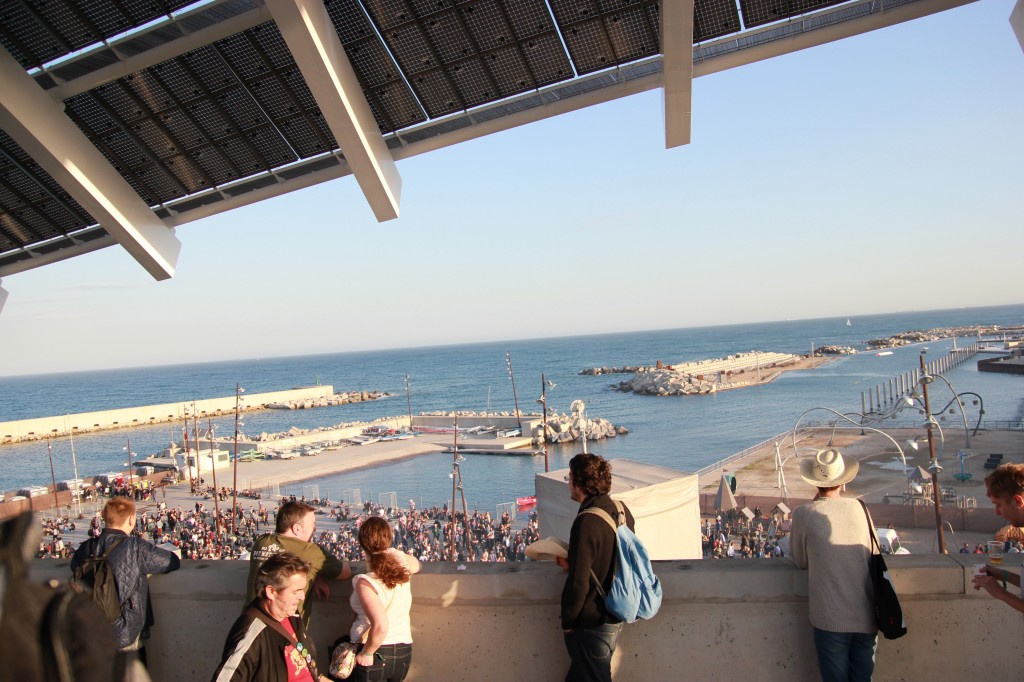 This is part two of a three-part look back at Heave writer Jonathan Mondragon's trip to Barcelona for Primavera Sound 2013. Part one can be found to your right.
(Note: All photos courtesy of Jake Karlson.)
The Breeders
Primavera marked an early stop for the recently reunited The Breeders on their lengthy tour playing their indie rock classic Last Splash in its entirely. From brief rockin' opener "New Year" to the classic bassline of "Cannonball" to fuzzfest "Roi," all the way to excellent countryish closer "Drivin' On 9," the album's performance was just as memorable as the audience expected. For the encore, the band played a few other non-Last Splash Breeders tracks, a lovely cover of "Happiness is a Warm Gun" by The Beatles and a take on Guided By Voices' "Shocker in Gloomtown." Kim and Kelley Deal looked energized and excited to be sharing music from the band's heyday, even charmingly attempting to speak some Spanish to the attentive and cheerful Catalan crowd. Be sure to catch The Breeders performing this classic record when they come to your city!
Shellac
One of two Chicago legends playing (the other being The Sea & Cake) was the Steve Albini-fronted, ever-irreverent and badass Shellac. Guitarist/vocalist Albini, bassist Bob Weston and drummer Todd Trainer have been at it for years, rarely touring and overall rarely playing shows, their last album having been released 6 years ago. Taking these factors into consideration, it was a treat for Shellac to be playing in Barcelona of all places. Noise, sarcasm, primal, pounding drums, and rumbling bass abounded. Essential tracks such as "Squirrel Song," "Canada" and "My Black Ass" were played with a fury uncommon for veteran musicians. Between songs, Albini took to the mic to simultaneously thank and heckle the crowd (as he usually does), at one point declaring, "Man, this city is fuckin' beautiful. You are all beautiful. This is the most fuckable crowd I've ever seen!" They closed with excellent Excellent Italian Greyhound closer "Spoke," leaving me, and probably the crowd, wanting more.
Jim Jarmusch & Jozef Van Wissem
One of the more curious acts to play at Primavera Sound this year was none other than acclaimed film director Jim Jarmusch, who recently has been collaborating with Dutch composer and lute virtuoso Jozef Van Wissem. The duo, along with SQÜRL drummer Carter Logan, plowed through instrumental pieces from the recent Jarmusch/Van Wissem collaborations. Best described as noisy, feedback-driven shoegaze-influenced "post-rock," the group's sound was massive and commanding. Jarmusch's dual-amp setup included a small practice amp set to unleash a huge, somewhat musical feedback. The set was not entirely instrumental, however, as near the end, they performed an unknown folky track in the style of The Velvet Underground's "Candy Says," featuring Jarmusch's own vocals. Having not previously heard any of the duo's music, I greatly enjoyed this set and highly recommend seeing them live sometime!
Neurosis
Six long years have passed by as I've tried to see Oakland, CA art-sludge titans Neurosis, and never would I have expected to see them in Barcelona. Although brief, their set was packed full of songs from the recent Honor Found in Decay, the previous Given to the Rising and 1996 world-ending classic Through Silver in Blood. As is common with Neurosis, the stage volume was punishing, using it for a physical effect while not sacrificing sound quality. Frontmen/guitarists Steve von Till and Scott Kelly sounded spot-on, playing off of each other expertly ("We All Rage in Gold") and delivering growls so menacing (as in the climax of "At the Well"), the first few rows had their jaws agape for plenty of their set.  Even bassist Dave Edwardson's beastly roar made an appearance on older material, such as "Eye" and the outro to "Locust Star." Drummer Jason Roeder's unique and impressive drumming style stood out, equally evoking tribal styles and virtuoso jazz drumming. Midnight on the Mediterranean during a full moon might be the coolest and spookiest place to catch a Neurosis set, and they definitely came out as one of the best bands of the entire weekend.
Blur
A massive dilemma appeared for me in the form of whether to see Swans or Blur, and considering I may never have a chance to see Blur again, I went with the obvious choice. Since the band's 2003 breakup, frontman Damon Albarn has been quite busy lately with various projects (Gorillaz, The Good, The Bad & The Queen, and various operas) and guitarist Graham Coxon has been putting out a few solo records. As for bassist Alex James, he has reportedly been living in the countryside making cheese, and David Rowntree has been working as a lawyer. Needless to say, many people expected Blur to never play again, much less sound as good as they did that night. They opened with "Girls & Boys," which set off a miles-wide dance party, and played a great selection of tracks across the band's discography, even including Leisure track "There's No Other Way," and somber Think Tank ballad "Out of Time." "Tender," from 13, included a full gospel choir, what seemed to be the entire crowd singing along, "waiting for that feeling to come." The encore included the only new track "Under the Westway," futuristic classic "The Universal," ad, of course, "Song 2," where the loudest "WOO-HOO!" in recorded history was heard. For being old, out of the usual practice regimen, and probably still hating each other at least a little bit, Blur put on an impressive show and featured probably the most energetic crowd of the weekend.
The Knife
3:20 a.m. at Primavera Sound brought with it the usual delirium and exhaustion. This was perfect for a set by Swedish enigmas The Knife. Off the heels of their recent double-album terror-masterpiece Shaking the Habitual, the "band," consisting of not only brother/sister duo Karin and Olof Dreijer but over 25 other members, delivered a set of material heavy on the Habitual, though also featuring a track from the first, self-titled record ("Bird"), as well as the title track of their 2006 record Silent Shout. With the inclusion of such an impressive amount of performers, everything from dancers, to additional singers, to people playing custom instruments, whose description completely escapes me. The atmosphere was key here. Smoke machines and lights were strategically set up to both mask the performers and enhance their performance. An overall eerie and dreamlike ambience, coupled with the very late hour, made for a surreal, at times frightening, set from a band (that I am glad I saw) that has never toured outside of Europe.