Features
Heave (was) at Primavera Sound 2013 (Pt. 3)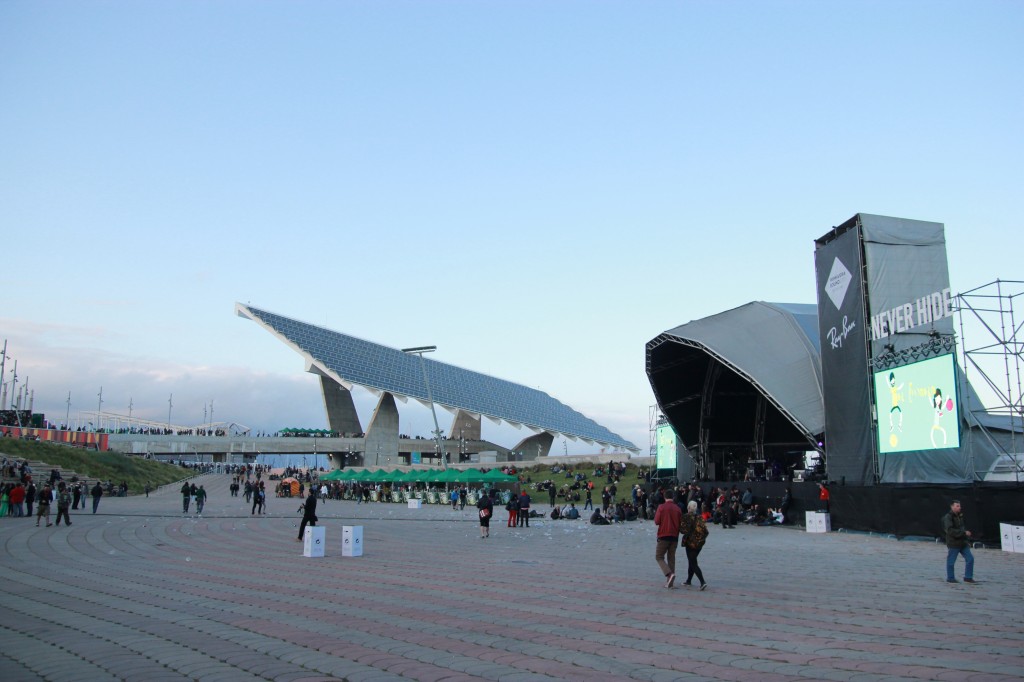 Heave writer Jonathan Mondragon was able to catch most of the biggest acts from this year's Primavera Sound in Barcelona. This is part three of his coverage; parts one and two can be found to your right.
(Note: All photos courtesy of Jake Karlson.)
Mount Eerie
The first act of the third day was Mount Eerie, Phil Elvrum's post-The Microphones solo project that has experimented with everything from isolated, melancholy folk to monstrous black metal textures. Their Primavera Sound set featured Elvrum (who usually tours with a rotating lineup of musicians) with an all-female backing band of two bassists and a vocalist/"drummer," whose kit included a cymbal and an electronic drum pad. The group mainly performed songs from 2012's companion albums Clear Moon and Ocean Roar, though also threw in a Microphones track ("Ice") and a track from 2009's black metal-influenced Wind's Poem ("The Hidden Stone"). For a songwriter known for his tender voice and folky compositions, Mount Eerie's set was one of the heaviest of the weekend, rivaling even the mighty Neurosis. Drop-tuned and fuzzed-out guitar and basses helped to recreate the heavy, noisy textures found on the most recent three albums, and even through the heaviness there was a calming beauty to the set, especially on tracks such as "The Place Lives" and "Clear Moon." The curious lineup of musicians made it hard to recreate every single texture on the albums, perhaps, but these new arrangements were interesting and wonderful to witness, and proves Elvrum can effectively present Mount Eerie's sound in many different forms.
The Sea & Cake
The only other Chicago act at Primavera, jazzy indie rockers The Sea & Cake, featuring Tortoise bassist Douglas McCombs and drummer John McEntire, played a late-afternoon set at the ATP stage. Their set consisted of tracks from the group's newest album Runner, as well as from previous records Oui and Nassau. A mainly mid-tempo affair, as the band usually is, the mood was laid-back and summery. Singer Sam Prekop sounded great as ever, his gentle voice amplified over the winding guitars and snappy drums. McEntire's drumming stood out as more reserved than he is in Tortoise, though at points he broke out impressive and jazzy fills that were met by cheers from the audience. What might have been the only downside was bad sound. The rest of the weekend at the ATP stage had excellent sound, but The Sea & Cake's stage volume was painfully loud and piercing. It was hard to enjoy a band so relaxed and mellow when every note made the audience shudder. All in all, a great set from a renowned Chicago band.
Wu-Tang Clan
At 10:20 p.m., the crowds gathered at the Primavera main stage for the one and only Wu-Tang Clan. Featuring most members minus the departed Ol' Dirty Bastard, the group plowed through 6 classic tunes from Enter the Wu-Tang: 36 Chambers and set aside some time for DJ Mathematics to showcase some of his impressive skills in scratching, even doing some spins while not missing a beat and taking off his shoes to scratch with his feet. The group was both fierce and enthusiastic, rapping with energy and (with limited success) starting various chants. The most humorous aspect of the set overall was seeing the Catalan citizenry attempting to figure out exactly what the RZA was yelling at them, whether it be "What up, Barcelona? I wanna see some hands in da air! Ya'll ready for dem hahd-core beats??" or "Yo, this fest is dope, Primavera! I wanna see some asses shakin'!" Overall, the confusion didn't seem to stop any people from waving their hands in the air or shaking their asses. What did seem to tick people off was when, after saying "Barcelona" for the whole set, the RZA somehow began saying "Barcelonia." There was booing and laughing, but I don't think the RZA knew why. Either way, the Wu closed with an impromptu cover of "Come Together" by The Beatles, and got everyone in the crowd singing along. \/\/
Liars
NYC art-rockers Liars played a 1 a.m. set at the Pitchfork stage. Moody blue lighting and smoke machines made for a hazy and tense atmosphere while the band (playing as a trio, as opposed to their usual four-to-six person touring lineup) cranked out tune after tune. Being a big Liars fan, I was very excited, seeing that their recent sets included material from all of the band's many, many and vastly different incarnations, whether it be their early dance-punk, mid-era drum-centric ambient krautrock experimentation, or the more recent, but not current electronic-tinged post-punk. Instead, the band chose a set heavy on newer, sinister, completely electronic material off of their latest release WIXIW, as well as new songs, a song off Sisterworld ("The Overachievers") and one from the Salem Witch Trials-influenced album They Were Wrong, So We Drowned ("Broken Witch"). Shoddy sound, an overall awkward atmosphere, a heavily drugged-up audience and the (unfortunate) dance party vibe of the set made for quite an uncomfortable Liars set devoid of the band's usual energy and antics. Frontman Angus Andrews was mostly behind a synthesizer, instead of jumping around onstage antagonizing the audience like usual. There had to be at least one disappointing set in this amazing festival, and though I'd still like to see Liars again, this set was ultimately forgettable.
My Bloody Valentine
The final act I saw, headlining the final day at the Heineken main stage, was recently-reunited 90s shoegazers My Bloody Valentine, who just released their first album in 23 years, m b v, and were playing once again at Primavera since their official reunion in 2009. Immediately, I noticed the band's rig onstage, which consisted of ten (yes, ten) amps for guitarist Kevin Shields and eight for vocalist/guitarist Bilinda Butcher. I knew right away that the volume would be what every legend about MBV shows promised. The band came onstage and immediately opened with new track "I Only Said" before going into classic Loveless track "When You Sleep." Looking around in the crowd, it was easy to tell that people were in disbelief at what was in front of them, and between all of the jumping and screaming, you could see that even a band as motionless as MBV could get a crowd pumped. The band's set included material from new album mbv, magnum opus Loveless, debut record …Isn't Anything, and even some more obscure tracks, such as "Honey Power" from their early Tremolo EP. The real highlight of this set was "You Made Me Realise," during which the band famously includes a 10-20 minute "holocaust section" where the band turns their amps to full volume and makes as apocalyptic and piercing a wall of noise as they can, before choosing to end their set. I was about 15 rows from the front during the majority of the set before choosing to step out of the crowd before "You Made Me Realise," and I'm glad I did, because even at 500 feet back the holocaust section was deafening, and I can only imagine how painful it would have been if I stayed so close to the stage. All in all, definitely the highlight of the festival, and save for some Kevin Shields diva behavior (he yelled at the sound guy in between almost every song), it was exactly what I wanted out of a My Bloody Valentine festival set.
——
Plus, as a bonus, some video we caught, courtesy of Jake Karlson:
Heave Media Primavera Sound 2013 Sampler HD from Jonathan Mondragon on Vimeo.