Music
The 6 Must-See Bands at Pitchfork Music Festival 2013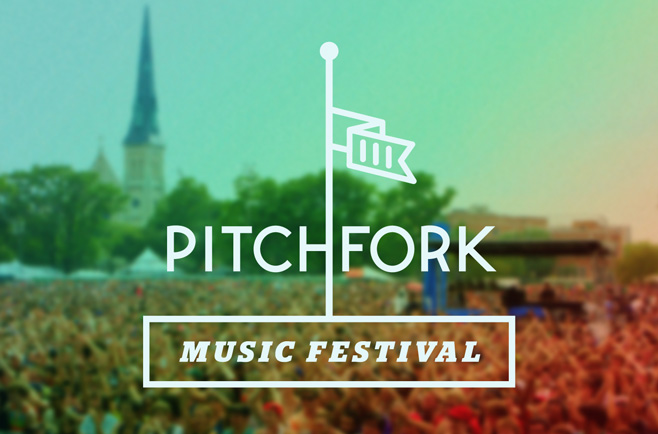 Mid-July is always an exciting time for me, as it means that once a year, in the central-most park of Chicago, is a gathering of some amazing performers, vinyl enthusiasts, and fans who somehow share a mutual appreciation for both R. Kelly and Swans. The Pitchfork Music Festival, unlike Lollapalooza or other major music festivals, is all about the artists, the music and is about providing a more comfortable, intimate setting. As a frequent attender, I try to narrow down at least two acts per day, that I ABSOLUTELY must see. These are the artists that I can't miss this year:
Friday:
MIKAL CRONIN
Fresh off the NPR premiere of his sophomore album MCII, Mikal Cronin's 90s-tinged ode to 70s power pop is sure to be an exciting live display. After witnessing Mikal's live energy as part of best-music-pal Ty Segall's The Ty Segall Band, it's safe to assume that Mikal's fuzz-frenzied repertoire of shimmering garage pop is going to be the perfect soundtrack to soak up Chicago's summer sun. And if you can't catch him at P4K, be sure to see him live on tour with another great California band, Shannon & The Clams.
WIRE
The legendary London experimental punk band has been back in action for nearly a decade now, and with recently impressive releases Strays and 2013's Change Becomes Us, the setlist for this "since 77" band is bound to be complete with new jams like the reworked "Love Bends," and the Chairs Missing chant-along "I Am The Fly." Wire has an enormous discography, but in case you feel the need to do a little listening before you rock out, check out their latest album, as well as my two favorites 154 and Chairs Missing.
Saturday:
PARQUET COURTS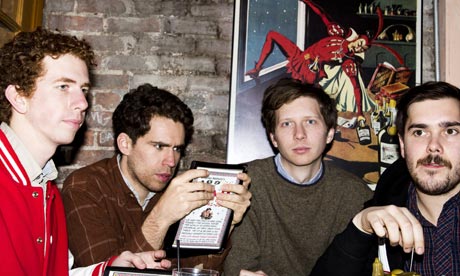 Emerging from New York's surprise filled DIY scene, Parquet Courts are the epitome of late-80s American indie rock, pulling sounds equally similar from bands like My Dad Is Dead and The Feelies. Though many may claim Parquet Courts are another Pavement wannabe, they hold their own in a completely different and much more refreshing way than most with a similar sound. After seeing Parquet Courtsman Andrew Savage's former band Teenage Cool Kids rock out a few years back, I'm especially anticipating a similar experience early on in the day on Saturday.
THE BREEDERS PERFORMING LAST SPLASH
1993 was an exciting time, as it included the release of one of my all-time favorite albums – the brilliant sophomore record by The Breeders, Last Splash. Twenty years removed, it's anniversary time already for the legendary record, and Kim Deal & Co. are on tour to commemorate it and are making a pit-stop in Chicago for this festival. Though the band is undoubtedly going to play everyone's favorite tracks from their monumental album, be sure to expect inclusion of other classics like "Hellbound" and "Little Fury."
Sunday
FOXYGEN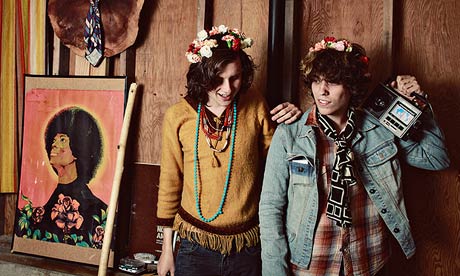 Foxygen's latest two albums, last year's Take The Kids Off Broadway and 2013's We Are the 21st Century Ambassadors of Peace and Magic, have been in constant rotation for me these past couple of months, and with good reason. Foxygen take all of your favorite elements of Satanic Majesties-era Rolling Stones, Electric Light Orchestra, T. Rex and Sparks, and transform it all into this homemade clusterfuck of unpredictably stadium-sized brilliance. Though retroactive in style, Foxygen's setup is very modern with effect pedals-galore. Be sure to drop or smoke if you got 'em, because Foxygen's set is bound to be a paisley-colored pop freak out.
 LIL B "THE BASED GOD"
Despite frequent touring of former Lil B-fronted rap group, The Pack, solo performances are much rarer for The Bay Area prince. Lil B releases days-worth of mixtapes to listen to, and he's fortunately taken time out of his prolifically busy schedule to perform. His set is sure to be one of the weekend's most interesting shows. Though Lil B's bound to play classics like "Wonton Soup" and "I Own Swag," I think many will be interested to see him play his indie pop crossover track, "California Boy." Be sure to catch Lil B Sunday evening just before two other legends, MIA and R. Kelly.
Pitchfork Music Festival 2013 is sure to be an exciting time, and while you surely should see your favorite acts, remember these must-dos as well (from mistakes I've made in the past):
1. Bring two unopened water-bottles
2. Don't drink too much alcohol
3. Bring sunblock & sunglasses
4. Eat the food inside at least once (it's always delicious, and reasonably priced)
5. Visit the CHIRP record fair, Flatstock, Coterie Craft Fair and Book Fort
and last but not least
6. Rock out and dance as hard as you can.
Cheers to you Pitchfork-goers! See you in July!