Music
Year's Over: The best albums of 2013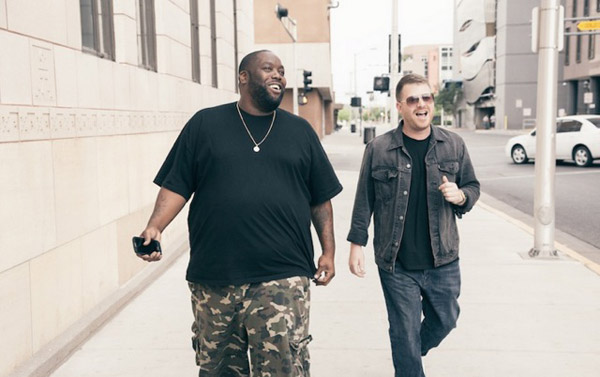 2013 is almost through, so it's about time for Year's Over, HEAVEmedia's look back at all things pop culture in the past year. Keep checking back all week for our thoughts on TV, film, and more.
It's been widely discussed that 2013 has been a ridiculously good year for new music. Nearly ever marquee artist you can think of put out a record at some point, and hell, even Outkast is back together now. So, with that said, it's time for the HEAVEmedia staff to share their top picks with you. Let us know below if you think we missed anything, and one of us will probably debate you. Especially if it's regarding Bangerz.
—
1) Sonny & The Sunsets – Antenna To The Afterworld
Sonny continues to prove to be one of the most consistent songwriters today. The first record was good old 60s-sounding folk pop, the second album a doo-wop-y garage record, the third one ended up being one of the coolest alt-country albums since the first Beachwood Sparks record, and this one surprised me as it picked up where the Paisley Underground bands (The Three O'Clock, Dream Syndicate, Rain Parade, etc.) left off, and hit you with a fistfull of strange intergalactic undertones about love, society and self-impression. Antenna To The Afterworld may not have been one of the most talked-about records of the year, but you could pit it against any release and I doubt they'd be as gorgeous.
2) Jeffrey Novak – Baron in the Trees/Lemon Kid
Two of my favorite albums this year were by Cheap Time's mad scientist/frontman Jeffrey Novak. Both albums boast huge influences ranging from John Cale to Brian Eno to Mott The Hoople, early Pink Floyd and Peter Hammill, but somehow are some of the most original records of our time.
3) Foxygen – We Are The 21st Century Ambassadors of Peace and Magic
Foxygen's '70s kitsch/glam/ELO love-fest works, and it works very well. And despite the haters, overhype, Of Montreal comparisons, and band drama, these boys are stars that are here to stay for the long haul.
4) Janelle Monae – The Electric Lady
5) BMX Bandits – BMX Bandits in Space
6) Jacco Gardner – Cabinet of Curiosities
7) The Pastels – Slow Summits
8 ) Keaton Henson – Birthdays
9) James Blake – Overgrown
10) A Giant Dog – Bone
—
1) Cult of Luna – Vertikal
2) Queens of the Stone Age – …Like Clockwork
3) Deafheaven – Sunbather
4) The National – Trouble Will Find Me
5) Justin Timberlake – The 20/20 Experience, Part 1
6) Low – The Invisible Way
7) Disappears – Era
Chicago experimental post-punkers Disappears returned with a new drummer (Noah Leger of Milemarker/The Screaming Canaries replacing Sonic Youth's Steve Shelley), a new, darker sound, and a heightened artistic focus. Following their (also excellent) EP, Kone, released earlier this year, Disappears continue to explore textural and atmospheric mood-based minimal post-punk. Grooves throb and morph behind walls of noise, minimal guitar, and effects. From vicious opener "Girl" to the sinister and repetitive 9-minute opus "Ultra," each song presents its own unique style and sound without detracting from the overall feel of the album, all while simultaneously paying tribute to everyone from Spacemen 3 to Swans. You'll groove hard, fear for your life, and by the end of "New House," you'll be looking over your shoulder for the rest of the night.
8 ) Califone – Stitches
Tim Rutilli's long-running Califone project released a flawless record this year that was self-recorded over a period of travelling the southwestern United States throughout last year. It features an impressive list of collaborators from the Midwest and both coasts. What really stuns me about this album are the lyrics. A first for Califone, they deal with lots of personal issues juxtaposed with Biblical themes and abstract imagery. As Rutilli put it, "The past albums I was writing from my balls. This one was written from the heart." Songs such as "moonbath.brainsalt.a.holy.fool" and "A Thin Skin of Bullfight Dust" feature stunning production, deeply emotional lyrics, and, much like their past records, warrant multiple repeated listens to fully take in.
9) Run The Jewels – Run The Jewels
10) Bosnian Rainbows – Bosnian Rainbows
The debut record from new "supergroup" Bosnian Rainbows follows nearly a year of road-testing their material as "The Omar Rodriguez-Lopez Group," its titular member being the band's guitarist, rounded out by Le Butcherettes' Teresa Suarez, NYC synth legend Nicci Kaspar, and The Mars Volta's last drummer, Deantoni Parks, on drums/keys (yes, he plays both at once). The project marked an important change in Rodriguez-Lopez's career, shifting more toward collaboration and pop-inspired music. Suarez's vocals and lyrics secure her as one of the most powerful female frontwomen in independent music today, and she's backed by 3 virtuosos. The album, containing no wasted time, is 10 tracks of infectious, synthed-out post-punk. Singles "Turtle Neck" and "Morning Sickness" present the band's sound perfectly and offer great indication to this excellent new band's potential.
—
1) Kanye West – Yeezus
Well, here we are again. I found some great music in 2013, hip-hop and otherwise, but in the end it was always going to be Kanye.
Actually that's not really true. In fact I kind of feel stupid trying to tell anybody how great Kanye West is at this point. Every time he comes out with a new album, it's the same old thing: he says and does a lot of stuff that's deemed as "crazy," but most critics love his latest effort and put it on their year end best of lists anyway, and people who hated Kanye before use this stuff as ammunition to tell you why they still think he's overrated or just the worst in general. Believe me, I know how annoying you think I am for trying explain why Kanye West is great to you again. If I could change, I would.
I could spend all day talking about each individual song on Yeezus, but to spare some time, I'm going to make a few larger statements about the album in general, then wrap it up. Yeezus is stripped down. Yeezus is racially charged. Yeezus is scatterbrained. Yeezus is bombastic. Yeezus is angry. Yeezus is offensive. Yeezus is confusing. Yeezus is ambitious. Yeezus is experimental. Yeezus is funny. Yeezus is concise. Yeezus is contradictory. Yeezus is challenging.
Yeezus is the best album of the year. Yeezus be praised.
2) HAIM – Days Are Gone
To be honest, I didn't listen to a lot of music this year, or at least probably not as much as everyone else at Heave. And as usual, most of what I did listen to was hip-hop (as you can probably tell from this list). Then, toward the end of the summer, I discovered two new bands that I became obsessed with. One of them is listed below, and the other is HAIM.
Both a miracle and an enigma to me, I haven't taken to anyone in years the way I took to these three girls. Their sound is catchy, yet undeniably complex. In contrast to Lauren Mayberry's frail, girlish voice, the vocals on any given HAIM song (the lead part is usually sung by Danielle, but Este and Alana frequently jump in there too) are deep and sturdy. This in addition to their use of harmonies and mumbled lyrics makes the singing on this album totally removed from any other female artists in recent memory. And their songwriting style reflects influences including everyone from Fleetwood Mac to Prince (another thing HAIM and Chvrches have in common!) No two songs on Days Are Gone sound alike, but the whole thing fits together seamlessly.
I haven't even come close to finishing with this album. It's in my head when I wake up in the morning, and it's still there when I go to sleep at night. And if they ever tour with Chvrches, I will lose my shit and buy all the tickets.
3) Chvrches – The Bones of What You Believe
Considering the ridiculous misogyny Chvrches faced this year, it's a wonder anyone was actually able to sift through all the crap and discover their music at all. But that's also what makes them all the more impressive: even amidst rampant sexualizing, their music was just too good to be ignored.
There's no one thing that makes Chvrches as wonderful as they are. Veterans' Iain Cook and Martin Doherty along with relative newcomer Lauren Mayberry have somehow perfected just the right combination of pop hooks and unrelenting synthesizers. "The Mother We Share" best personifies this formula; it's the kind of song that feels impossible to get tired of in a way that most singles on mainstream radio don't. Mayberry's voice has a certain fragility to it, yet some of their songs hit so hard that there's often a sense of hostility to their music as well. There are no easy songs on this album. Themes of heartbreak abound, yet to call The Bones of What You Believe romantic seems misguided.
But regardless of how you want to interpret this album, it's hard not to see that Chvrches are so self-assured, so aware of their strengths for a band who are only two years old, that to call them just another flash in the pan would be silly. This is a group that knows who they are. And man, do they know how to do a great cover too.
4) Chance The Rapper – Acid Rap
5) A$AP Rocky – Long.Live.A$AP
6) Vampire Weekend – Modern Vampires of the City
7) Run The Jewels – Run The Jewels
8 ) Daft Punk – Random Access Memories
9) Queens of the Stone Age – …Like Clockwork
10) Autre Ne Veut – Anxiety
—
1) The Lone Bellow – The Lone Bellow
2) Daft Punk – Random Access Memories
3) Lorde – Pure Heroine
When I first heard that the girl behind "Royals" was 16 years old, I was fiercely skeptical. In retrospect, I think this disbelief was rooted in jealousy. I didn't want to believe that there existed a person who had crafted an incisive commentary on top-40 excess at the age at which my creative contributions to the world consisted of abysmal attempts at emulating the musical stylings of Jimmy Page and Pete Townshend. It didn't help, of course, that this brilliant commentary wrapped up in an unnervingly-infectious genre-bending sonic package that managed to top alternative and hip-hop charts, not to mention the Billboard Top 100. After a listening to the whole of Pure Heroine, though, I couldn't deny it: Lorde is one absurdly precocious cat. While the rest of the album never quite managers to soar to the same heights as Royals, it proves that Lorde's mega-hit was no fluke and suggests that she's got much more where it came from. Anyone who doesn't have Lorde on their radar has either been living in a bomb-shelter for the past year or has been too busy trippin' in the bathroom to know the hell is going on.
4) Chance The Rapper – Acid Rap
SPOILER ALERT: you won't find Yeezus anywhere on the rest of this list. Music critics, fasionistas, and bandwagoners are all getting off to Kanye's latest soundtrack to Kayne getting off, but somehow, I can't manage to stomach it. Besides, if I wanted to sit through 40 minutes of megalomania and ill-advised temper tantrums, I could just ask to babysit my 2-year old brother for a while. Frankly, I'd be embarrassed for Chicago if not for its new (and worthier) hometown hero Chance The Rapper. Chance's Acid Rap is everything Yeezus is not, which is to say: smart, engaging, relevant, relatable, believable, likeable, and fun. Bouncing between missing his grandmas kisses on "Cocoa Butter Kisses," reflecting on how in South Chicago "it's easier to find a gun than it is to find a fucking parking spot" on "Pusha Man/Paranoia," and sounding off about his favorite hobby on "Smoke Again," Chance the Rapper succeeds at every turn in creating music that is effortlessly superior to that of his loudmouth fellow Chicagoan.
5) Arctic Monkeys – AM
When we were 16 and fresh from the DMV with licenses in hand, my high-school friends and I would often just drive aimlessly and blast Whatever People Say I Am, That's What I'm Not. There was just something about that Arctic Monkeys debut album—maybe it was the boundless vitality, or maybe it was the uncompromising youthful brashness, or the disdain for decorum, or the raw power, or maybe it was all of these—that made it the consummate soundtrack for that particular time in life. It's not altogether surprising, therefore, that our old friends kept pace along with us; their latest release AM, the title of which could be taken as referring to either the band's name or to the early hours of the morning in which much of the album's stories take place (or both), is replete with the uncertainty, sickness, and angst of 20-something life. "Do I Wanna Know" plays like a 4 a.m. drunken stumble home accompanied by the kinds of paranoid thoughts that only belong to that hour (or maybe like a blackout-drunk version of Tom Petty and the Heartbreaker's "Breakdown") and is a 10,000 lb. foot stomper that doesn't need to move fast to hit you with the force of a freight train. AM isn't bold, experimental, or progressive, but it doesn't need to be; when you rock as hard and as convincingly as the Arctic Monkeys, you don't need to do anything but make folks want to turn your songs up really, really loud, and this they do exceedingly well.
6) Beck – Song Reader
7) Vampire Weekend – Modern Vampires of the City
8 ) HAIM – Days are Gone
9) Kurt Vile – Wakin on a Pretty Daze
10) Kings of Leon – Mechanical Bull
—
1a) Arctic Monkeys – AM
1b) Kanye West – Yeezus
2) The Neighbourhood – I Love You
My love for The Neighbourhood knows no bounds, and this album is further evidence of that. This album is sexy in all the right ways. Much like AM, it makes me want to rip my clothes off and ruin a man. For those of you only familiar with their track "Sweater Weather," please give the rest of this album the chance it deserves. This album took me by surprise and after a first listen I was yelling at everyone to check it out.
3) Vampire Weekend – Modern Vampires of the City
4) M.I.A. – Matangi
5) Beyonce – Beyonce
6) Rizzle Kicks – Roaring 20s
This was an album I was anticipating, and it didn't disappoint. Rizzle Kicks' sophomore album follows a similar formula to their debut, in that their sound has a nice throwback quality to it, but lyrically Jordan and Harley were able to progress and capture what it's like for a person in their twenties in this generation. Their combination of Jordan's rapping and Harley's smooth vocals work so perfectly, and for such a different sound, it's amazing that they're not bigger on this side of the pond.
7) Sky Ferreira – Night Time, My Time
8 ) Jessie Ware – Devotion
9) HAIM – Days Are Gone
10) One Direction – Midnight Memories
I don't have to explain myself to any of you. But I will anyways, because I like this album that much. Now that the boys of 1D are finally allowed to write their own music, they have stepped up to the task and done a phenomenal job. Ditching the bubble gum in favor of guitars, both acoustic and electric, the boys are winning favor with not only critics but with skeptics as well. This album is equal parts folk and '80s hair metal and I am here for it.
—
1) Deafheaven – Sunbather
2) Run The Jewels – Run The Jewels
A lot of people have been calling Run The Jewels, Killer Mike and El-P's tandem debut, the anti-Watch The Throne. It's not off-base; Jewels is as gritty, ground-level and aggressive as that earlier record was indulgent and decadent. What makes Run The Jewels so fun, though, is how it feels like an impeccably recorded cipher more than anything else. El-P and Mike volley punchlines back and forth at alarming rates while telling tales of how survival is usually a far bigger concern for a lot of people in the rap game than where the croissants are at. In the year where luxury rap held sway, Run The Jewels came in and shut the game down for just a little while. And we needed it.
3) The Wonder Years – The Greatest Generation
The Wonder Years have spent a lot of time over the past few years being ripped by critics who treat the pop-punk revival with scorn. It's not the worst instinct, given that the fetishization of that subgenre often seems to have more to do with defensive nostalgia than with genuine fond memories of quality. That said, few of the pop-punk bands of the late '90s boom were ever this resonant, this lyrically skilled, or this overwhelmed with raw, earnest emotion. The Greatest Generation is a colossal step forward for the band, one that sees them digging deep into their own fears and neuroses to create something truly moving out of the ashes of something that time, for the most part, left behind.
4) Chvrches – The Bones of What You Believe
5) HAIM – Days Are Gone
6) Icona Pop – This Is…Icona Pop
This is trashy, big-room dance pop at its wildest and most glorious. Virtually every track on this record is a conceivable top-40 hit, and how often can you say that about a major label pop album?
7) Earl Sweatshirt – Doris
8 ) Red Fang – Wolves and Leeches
9) Vampire Weekend – Modern Vampires of the City
10) Frank Turner – Tape Deck Heart