Culture
Pitchfork Music Festival 2013: Friday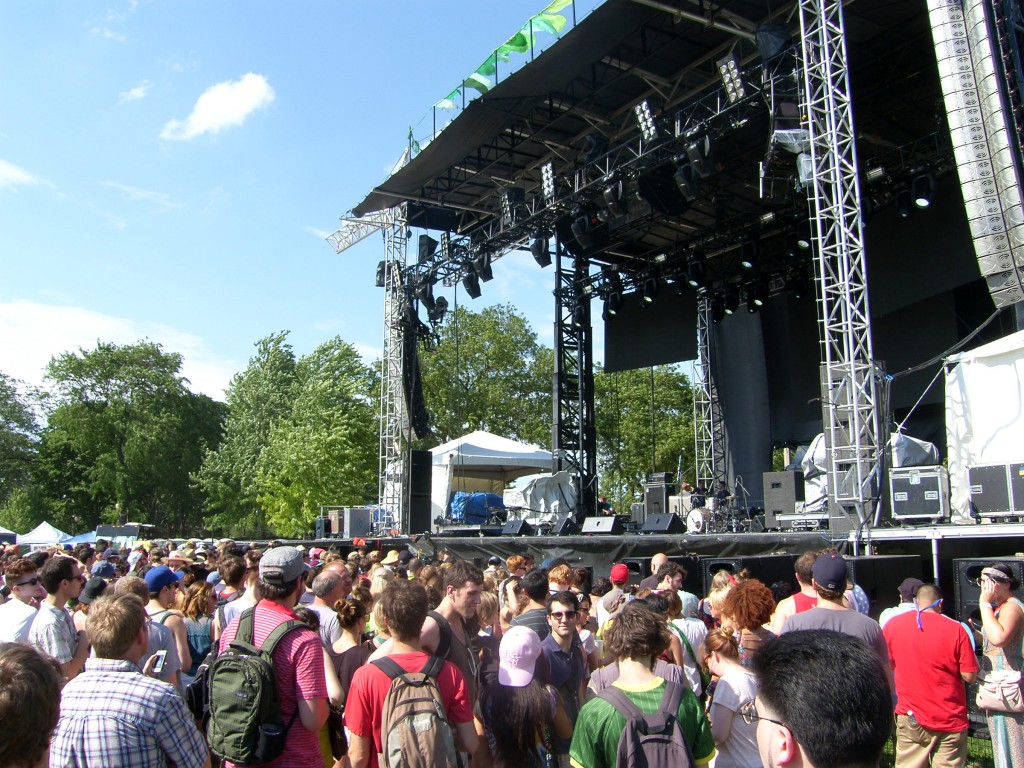 Pitchfork Music Festival 2013 kicked off yesterday, and I was there and will continue to be there all weekend to catch all the action! The amended opening Friday showcased a blazing-hot afternoon of some impressive acts into an evening of legendary performances. Though I wasn't able to cover every act, I caught most of them, so let's get to it! (Be sure to follow @Pinebocks on Twitter as well for live updates.)
Funniest Banter: Mac DeMarco and the most Scottish-sounding band in North America
Mac DeMarco and his band had a blast blazing through a wonderful set of Postcard Records-like jingle-jangle, 70s AM radio-style jams and a wonderful medley of covers that included "Enter Sandman" by Metallica, "Break Stuff" by Limp Bizkit and "Takin' Care of Business" by Bachman-Turner Overdrive. In addition, the band had the crowd in stitches with their oddball senses of humor. DeMarco kept upping a strange interpretation of a raspy blues-voice, and at one point thanked the crowd in a Morning Radio Show voice "for listening in this afternoon to 109.7 The Dump." The band's lead guitarist also strangely spoke at length about DeMarco's upcoming record's collaboration with…Bruce Willis? Quirky banter aside, the band played through wonderful renditions of songs off of their two albums, and had the energy to make the experience that much more exciting.
Most "In Your Face": Trash Talk
Sacramento hardcore band Trash Talk was ready for Pitchfork this year, and wanted madness, but it sadly didn't happen as much as expected during their set. The lack of riotous moshing seemed to disappoint frontman Lee Spielman early on, and during the band's interlude he demanded that the entire crowd sit down. The crowd did. And as people started to stand up, he aggressively screamed "NOT YET!" After the interlude, he gave permission for everyone to stand up, and then he went insane. Lee jumped into the crowd, sang between the stage and the pit the majority of the time and even at one point sang/screamed into the face of White Mystery's Alex White. Trash Talk may not have had the aggro crowd they were looking for, but they put on quite a boisterous performance.
Ultimate Cute Stage Persona: Frankie Rose
Frankie Rose and her band played first at Pitchfork this year, and set the standard high. Not only was the band's mixture of Ride-like shoegaze, Aislers Set harmonies and Ronnie Spector soulfulness quite the simplistic yet infectious show, but Rose's personality shone through like a diamond. From waving to some of her frequent show attendees and devoted fans to giggling about various things between songs, and even flirting/chops-busting with the sound guy, Rose proved to be the ultimate charmer. She jokingly let everybody know that she recently went blonde, and despite wearing shades throughout most of her set, she adorably kept taking them off to test the waters of brightness. The band rocked through jams like "Night Swim" and "Know Me" and the vocals were spot-on throughout.
—
Quick Interview with Frankie Rose!
HEAVEmedia: Alright Frankie Rose! So your last album Interstellar had some very cool shoegaze-y and dreamy atmospheres, what can we expect for the new one?
Rose: Faster! Not as calm, a little more punk.
HEAVEmedia: Sort of similar to some of your earlier stuff like Thee Only One?
Rose: No…not fuzzy, it's definitely different but it's definitely driving. But there's like two slow jams on it, the rest are hard-hitting.
HEAVEmedia: So now, you're a Slumberland Records alum, what's your favorite old school Slumberland band?
Rose: Oh, I was a huge Aislers Set fan.
HEAVEmedia: I was actually going to guess that.
Rose: What's that one album, the green one?
HEAVEmedia: I think that might be the third one (How I Learned To Write Backwards)? With "Sara's Song"…
Rose: Yeah yeah, and "Langour In The Balcony"
HEAVEmedia: Similar to the Aislers Set, you have a strong emphasis of female vocal harmony, so what would you say is your key in including those strong harmonies in your songwriting process?
Rose: You know, I'll just go ahead and overkill and put harmonies on everything, and then take a step back and think sometimes "Oh no, that's too much," and we change it to single vocals. It depends. I'll go ahead and write a song and sing it while thinking about it the harmony, like any of them could have harmonies on it.
HEAVEmedia: So now you've been in a couple of different bands, Dum Dum Girls for one, Crystal Stilts, as well as your original band Frankie Rose & Thee Outs. Being from Brooklyn who would you say is your favorite up-and-coming band?
Rose: Oh man, I honestly don't know. I haven't been to a show in forever. We've just been in a cave of recording. So I don't know if I have an answer for you.
HEAVEmedia: How about five years?
Rose: Five years? Well, I fell in love with Wild Nothing when they first came out. And it's crazy, now they're kind of like, a bigger thing, though when I saw them (in concert) they were not. But they were so awesome live. How is that? That's an answer, right?\
—
Most Tranquil Performance: Angel Olsen
Just after Trash Talk's performance came Angel Olsen and her breathtakingly gorgeous voice. One of Olsen's more upbeat songs, the country soul jam "The Waiting," was early in the set, but as soon as Half Way Home's opener "The Acrobat" started, the crowd knew that they were in for some ultimate R&R. Olsen's music is perfectly soothing to fall asleep to, and I mean that in the most complementary way possible. Not only was her music soothing, but it was also comparably quiet. Still, as she went through songs like "You Are Song," one couldn't help but feel a connection so immense that at times it felt like she was just playing in a small room for some friends. Despite being Logan Square coffee shop Cafe Moustache's ultimate live act, Olsen sounded even better in a festival setting.
Highest/Drunkest Crowd: Mikal Cronin
Mikal Cronin and his band were on point as always early in the evening at Pitchfork, and the crowd ate it up. Having a sea of drunken fans chanting along to Cronin's infectious power-pop, the outskirts of the crowd also had head-bobbing 4/20-friendly folks, a few of whom I overheard talk of how they've "never listened to Mikal Cronin" and wished to "download his stuff" when they got home. Despite being a packed house, with beers filled to the rim, the crowd at Mikal Cronin was pretty mellow at the Blue Stage, surprisingly akin to Trash Talk earlier. But these audience members were all about singing along to jams like "Gone" and "Shout It Out" and dancing along to one of America's most tender young pop songwriters.
Best Light Spectacle: Bjork a.k.a Bjork and her chorus of Martians
Seasoned veteran Bjork closed Friday's ceremonies with a galactic performance, featuring her dressed as a retro-futuristic sun god, and a dancing chorus of out-of-this-world she-creatures. The performance was grand, but much quieter than expected. Bjork stuck to a routine of her more chambered pop songs, and the crowd went insane with her coy little "thank you"s. But most impressive of all was Bjork's visual and light show. The lights timed with her music perfectly, and some were choreographed to dance like lightning. The visual show of the performance switched between a telescopic view of the stars and various moments of neo-psychedelia. Most interesting of all, though, was how many people were singing along to the artist's dense and mythical forest-like songs.