Culture
Pitchfork Music Festival 2012: Sunday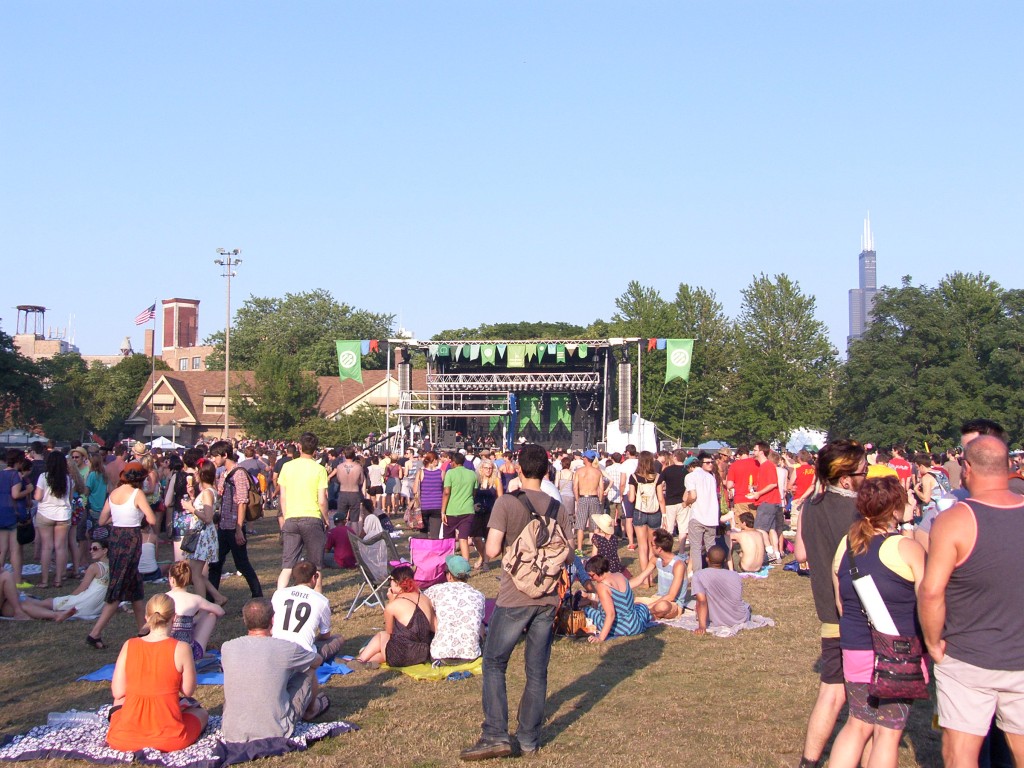 Without any further introduction, let's get to the last day of this year's Pitchfork Music festival, shall we?
DM – Dominick Mayer, features editor
MM – Marissa Morales, staff writer
Dirty Beaches (Green Stage, 1:00)
For once, the use of "cinematic" to describe a musician's work is actually quite apt, as Alex Zhang Hungtai (alias Dirty Beaches) has cited film as one of the influences on his textured compositions, which at times are less songs than explorations of a certain sound. Those are usually of the dour and nighttime ambience varieties, Hungtai's voice so thoroughly filtered live that his evocative soundscapes seemed a bit out of place on a day in which the sun finally emerged. (This happened with Cold Cave last year as well.) By not simply setting on "ominous" as a default, though, and adding the occasional jagged riff (courtesy of an accompanying guitarist) or heavy blast of drum machine, Dirty Beaches put on a solid, if out-of-place, set. DM
Unknown Mortal Orchestra (Red Stage, 1:45)
One of the emerging trends of this year's festival was the collective embrace of genres that tend to be looked down upon in most critical circles, such as electronica, or in the case of Unknown Mortal Orchestra, '70s throwback psych-rock. Unlike most of the genre-defying abstraction that tends to encompass modern psych-rock, UMO are closer in spirit to the spacey-but-lively feel of Led Zeppelin, if nowhere near as ambitious. Clothed in what looked like drapery from an old-school porn set, the band delivered everything a fan of classic psychadelia could want: bright guitars, vocals fluctuating from resonant to underwater-distorted, song-ending breakdowns that created a sort of vacuum effect and seemingly withdrew everything that came before. Ultimately, their set was fairly forgettable, but at least they put on a good show. DM
Thee Oh Sees (Blue Stage, 2:50)
Thee Oh Sees simply play hard. There's no better way to describe it. They remain instrumentally tight, and play an incredibly energetic set without relying on throwing their bodies around the stage, but the level of power that exudes from every song is, and I say this without too much hyperbole, astounding. Launching right in with "The Dream" and never looking back, the San Francisco-based psych-punk band famed for their prolific output (they'll be dropping their 14th LP since forming in 2004 this fall) laid waste to the Blue stage for a far too brief time. Alongside Ty Segall on the Red during some of this set (who happens to be a part-time member of and frequent collaborator with Thee Oh Sees), Pitchfork got loud as hell for a solid hour there. And that is a beautiful thing to behold. DM
Real Estate (Green Stage, 4:15)
Though it might seem condescending to simply label Real Estate as "nice," it's easily the most accurate turn of phrase. Like lo-fi without the buzz, and from the same part of New Jersey as so many modern punk acts of the past few years (i.e. Titus Andronicus), Real Estate simply play airy, light songs that harken back to both surf rock and 60s revivalism, but again, without even the teeth of the former or the poppy stomp of the latter. "Green Aisles" probably captures the feel of their live set best, as frontman Martin Courtney crooned about "all those aimless drives." Really, that's the best way to describe Real Estate's live set, all summertime dream with no ambition. And that's okay. DM
Kendrick Lamar (Blue Stage, 4:45)
I'm going to be real upfront with everyone: I didn't finish Kendrick Lamar's set, yet I still feel the need to comment on it. It. Was. Awful. The set got going about 15 minutes late, and I can't really say whose fault that was, but I heard that Lamar could be seen texting from the side of the stage. I also know that most of the stages seemed to be having sound difficulties all, so who can say? Breaking point number two happened when he sent out his DJ, who was fantastic, to hype the crowd for 10-15 minutes before Lamar actually came out. Now, I would be perfectly fine with that normally, but the man only had 45 minutes to play. You'd think he'd want to fit in a full set. Apparently not. His performance, from what I saw, showed me that while Lamar is a fantastic rapper, he needs to work on his entertainment value. He's an extremely talented dude, but it would be nice to see him feel it too. Who knows, maybe that's why Lady Gaga was (allegedly) there, to give him notes on how to be a performer, not just an artist. MM
Chavez (Red Stage, 5:15)
Like many of the alt-rock bands from older times that Pitchfork loves to champion in hindsight (see: Dismemberment Plan, The), Chavez released only two albums in the mid-90s before going on hiatus somewhere around the end of the decade. This was probably a good call, given that there is a very specific era in rock music in which their angular, math-y songs could have found a major following, and Chavez had the misfortune of showing up at the tail end of it. To their credit, they didn't miss a step; Matt Sweeney's vocals sound the same now as they did fifteen years ago, and on "Unreal Is Here," they showed off how they were ahead of the curve in marrying the sunnier ends of alt-punk to dischordant melodies. Unfortunately, though, the set was quite noticeably underattended. Chavez have a good shot at a comeback, especially with new material in the works, but they still have some work to do. DM
Araabmuzik (Green Stage, 6:15)
This was honestly my favorite set of the weekend. I knew of AraabMuzik as a producer, but I never really got why he had an actual set at Pitchfork. Well, color me surprised when Abraham Olleana came out and blew me the fuck away. Pardon my French, but watching this man work an MPC was a full-on out-of-body experience. He was absolutely hypnotizing to watch, as his fingers worked that machine in a blur. He was live mixing, which is no simple task, and doing a damn good job of it. It was something to stand there in a daze watching him, only to realize people were flocking to his stage to witness what they were probably hearing all over the park. Even when Chief Keef came out, no one cared as long as Olleana kept mixing. (And if you don't know who Chief Keef is, YouTube "I Don't Like.") I would also like to note that even though I am not a fan of dubstep, and there is definitely a "whomp" quality to what Araabmuzik does, he does it right. He samples so many different genres that he sounds like Girl Talk, but with original material. MM
Beach House (Red Stage, 7:25)
If Real Estate's set boiled down to "nice," Beach House's sunset performance came closer to "hypnotic." Shrouded in fog, with a series of twinkling purple lights that just screamed "1980s" (the only context in which "scream" could be used to describe this set), Victoria Legrand and Alex Scally played to all their established strengths. These include: drifting melodies, Casio-style programmed drums that don't pound so much as gently pop and a general sense of tired, weary-eyed beauty that works its way through every song. The addition of live drums did pick the set up, though; where on record they sometimes sound so petite that they precariously verge on insubstantial, their set instead took on and sustained a quiet tension throughout. By the time they reached "Wishes," one of the day's best sets had emerged, just as subtly as it began and unfolded. DM
Vampire Weekend (Green Stage, 8:30)
In a moment that simultaneously drew a pop from fans and likely set naysayers off on 90 minutes of tsk-tsking, Vampire Weekend came out, fresh-faced and prep-school ready as ever, to a blasting hip-hop track, before erupting into an opening half hour of relentlessly whimsical, globetrotting power-pop. It's the former that made this set such a chore to watch; a very vocal, primarily female contingent went absolutely nuts for this set, and Vampire Weekend definitely have the valued, mythical power of being able to make people spontaneously dance like morons, but as a headlining act, they simply still feel too close to irrelevance at any moment. That first half hour found its propulsive energy from a laundry list of the band's best-known songs; "A-Punk," "Horchata" and "Cape Cod Kwassa Kwassa" all appeared early in the set. The last of those, according to frontman Ezra Koenig, is an "oldie" at this point.
As they settled in, though, it became harder and harder not to hold VW accountable for most of the accusations that frequently get leveled against them. Biting from world music? Check. Oppressively twee? Double check. It didn't help that, despite the fact that their popularity could easily allow them to hire a live band, they kept all flute, glockenspiel and other additional instrumentation filtered through keyboards. To break from simple evaluation of a set where most of the songs sounded pretty much the exact same, I'll also just make the more pointed observation that a relentless smugness permeated the night air, from their encore-baiting exit with 30 minutes left to go in the set to Koenig's exhaltations about how "the vibe is just too fucking good here." Vampire Weekend have made a lot of money making music that sounds like a lot of other people's, and they'll likely continue to do so. However, one can't help but shake the feeling that music this uniform and calculated has a shelf life, and might be approaching the "sell-by" date. DM
Other observations:
Dominick:
-I was only able to catch the early few minutes of Iceage's set, which was unfortunate given that after one song their bass cab broke and effectively halted their set for about ten minutes after that.
-Araabmuzik, Sleigh Bells and Flying Lotus all pulled in bigger crowds than any of the headliners this year. I think EDM and bands of that associated style are here to stay this time, everyone.
-Biggest surprise of the day: The amount of people that left after Beach House. Second biggest: How goddamn packed Beach House was.
-I found out that apparently some 18-year-old attempted to pose as me and get a press pass. Luckily, he was quickly thwarted when asked about an email he had recently sent. Kudos for hustle, but he should know that I abide by Highlander law when handling dopplegangers.
Marissa:
– Shaded areas were a hot commodity. If people found a spot in the shade, no way in hell were they moving, even if you were just trying to walk through.
– The woman at the press check-in for Pitchfork is probably the nicest person I've encountered.
– Chavez reminds me of cool dad music.
– Beach House is completely entrancing. Completely.
– I am going to be hunting down Black Dog just so that I may indulge on blueberry french toast gelato at a more frequent rate.