Music
Can't Stop Won't Stop: 7/20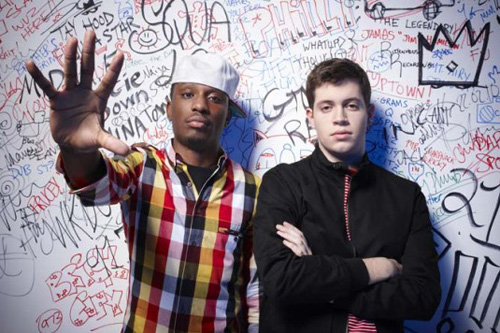 Every week in Can't Stop Won't Stop, columnist Michael Alexander brings you his top five hip-hop tracks of the week, and a bonus mixtape review.
5) Danny Brown – "Molly Ringwald" (Prod. AraabMuzik)
Coming in this week at number five is "Molly Ringwald" by Danny Brown and produced by AraabMuzik. If I can be honest, I'm torn on Danny Brown's rapping ability, because half of the time I can't understand what he's saying and his voice is scratchy as hell. However, that's what makes him unique, so that appeal draws me in when he releases new tracks to see what type of crazy shit he has to talk about. The star of the track, though, is AraabMuzik with his superb ability to craft a creative beat, displaying why many were in awe of his performance at Pitchfork Music Festival last weekend.
Pros: Production.
Cons: Hard to understand Danny Brown at times.
4) REKS feat. Termanology – "Ignorance is Bliss" (Prod. Numonics)
See, I told you I was working on my hatred to toward Boston, as REKS out of Mass. comes in at number four with "Ignorance is Bliss." As of late I have really been digging REKS' style, social content and his ear for a good beat, provided this time by Numonics. He provides the first two verses, followed up by Termanology, who delivers some bars detailing the story of a man's dreams of success, cars and wealth derailed by an unexpected newborn baby and an unforeseen jail sentence.
Pros: REKS first verse, Numonics
Cons: none
3) Lloyd Banks feat. Fabolous – "Bring It Back" (Prod. A6)
One of the features off of the PLK's (Lloyd Banks) new mixtape V6: The Gift is "Bring It Back," in at number three. I could recall Banks saying last year after he dropped Cold Corner 2 (banger) that it would be his last free release of music, so I was pleasantly surprised to hear V6 was in the works. It features Loso (in case you ain't know so), the beat from A6 is fire and the hook is worthy of two thumbs up. And if this is an indication of what to expect from Banks' mixtape dropping next week, I will be making room for it on my iPod.
Pros: Hook, beat, Loso verse, PLK's first verse.
Cons: "Same ole" content.
2) Chiddy Bang – "Paper & Plastic" (Prod. Xaphoon Jones)
Sheesh! Allow me to first examine the beat by Xaphoon Jones. I mean, this guy is just ridiculous when it comes to his production ability to fuse massive bass with abstract instrumentals while incorporating the perfect stylings to match with Chiddy's lines. He is easily on my list of top producers out right now, because of the level of creativity that seems to only rise every time I hear one of his beats, from his work on the mixtape Swelly Express to their album Breakfast, released earlier this year. I love Chiddy's rapping style, delivery, flow and lyrics, and the partnership he has with Xaphoon is a special one.
Pros: Xaphoon Jones.
Cons: N/A
1) Kendrick Lamar – "Swimming Pools (Drank)" (Prod. T-Minus)
One of my best friends made a statement about Kendrick Lamar on his Twitter, about how he has yet to hear a bad KDot song. And after hearing "Swimming Pools," I have to agree. Verse one identifies a variety of reasons people are motivated to consume alcohol, where verse two has KDot having a conversation with his subconscious, who is lost in the "swimming pool" of liquor. I really admire the way Kenrick has the ability to draw out the imagery of something people indulge in on a daily basis, such as drinking. While some people were left underwhelmed by his performance at Pitchfork, his lyrical prowess makes him one of the best in the rap game today. HiiiPower!
Pros: I like the concept and imagery he uses.
Cons: Hook was okay, not great.
—–
Mixtape of the Week
Cyhi The Prynce – Ivy League Club
It's like Georgia is a having a resurgence in the rap game as of late. Earlier this year, B.o.B dropped his album Strange Clouds, T.I. is releasing Trouble Man in a few months, Childish Gambino hit the world by storm with Royalty and now we have Ivy League Club by Cyhi The Prynce. I was first introduced to Cyhi on Kanye West's most recent album My Beautiful Dark Fantasy with his verse on "So Appalled." A member of the G.O.O.D. Music clique, I wanted to give his new mixtape a chance. My expectations were middle-of-the-road; not expecting too much or settling for mediocrity, I wanted to put on Ivy League Club and see what it was worth.
So to play along with the Ivy League theme, I set out four criteria for the grading rubric I would be using for Cyhi: originality, production, team player and lasting appeal. Looking at originality, unlike the Taylors who associate with Wiz Khalifa's T.G.O.D. movement or Curren$y's jet conglomerate, Cyhi lays out  the instructions on how to enroll in his selective club on the opening track "Ivy League." This goes along perfectly with "Honor Roll," produced by J Gramm, which has nothing to do with studying or getting good grades, but everything do with rolling a perfectly constructed blunt. There's also his claim about having changed for the better on "Changed." The production provided by Beat Billionaire on "Slick" is typical of your average down-South beat, followed by a Lex Luger banger on "Real Talk" and a creative and funny beat by Illusive Orchestra on "Tool," which samples Sade's "Smooth Operator." He also does well playing the role as a team player on tracks like "A-Town" featuring Travis Porter and B.o.B., "Food Savers Scissors" with TDE's ScHoolBoy Q or one of my top tracks featuring Big K.R.I.T. and Yelawolf, "Drank Smoke," with a dope beat by way of CKP. Though there are 21 tracks in total (equipped with Morgan Freeman snippets from the movie Lean on Me on the intro and outro, one skit, and an advertisement for Prynceton University), there were a couple tracks that subtracted from its lasting appeal, like "100 Bottles" or "Feet Up."
After crunching the numbers and analyzing the data, Ivy League Club received a B in my gradebook. With room for improvement, Cyhi The Prynce displays why many have allowed him the early admission option, because soon his school of thought will be in high demand. I mean, after all, the man is G.O.O.D.