Culture
Twelve Days of Christmas Cookies: Day 9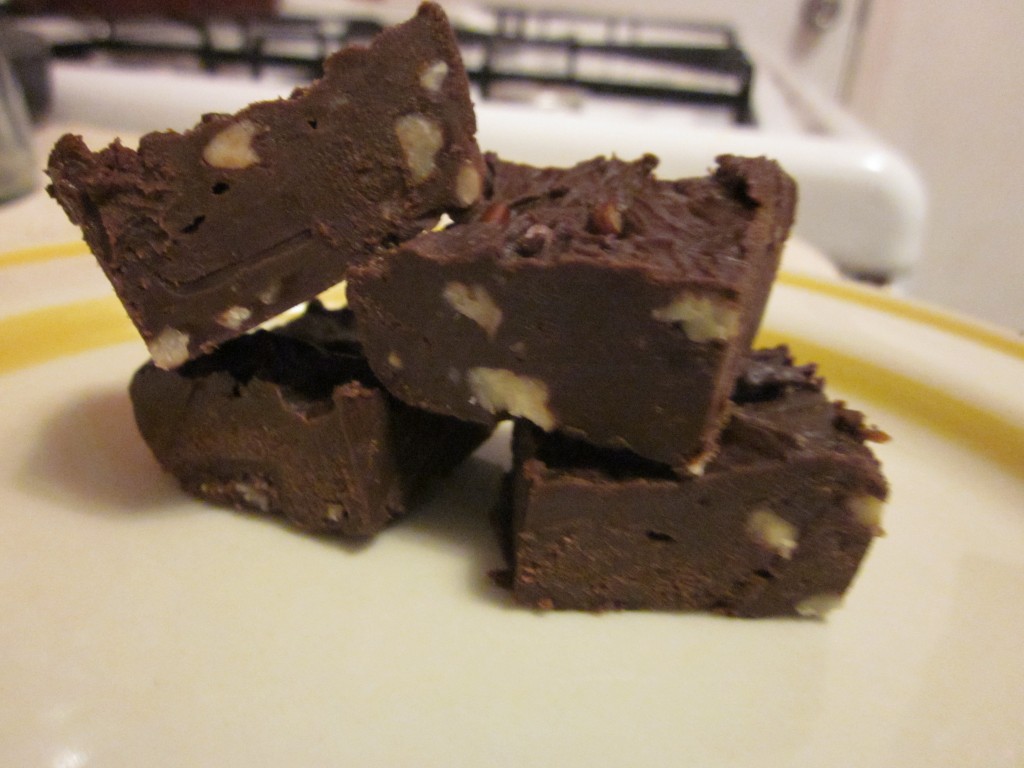 For the next 12 days, Meghan will be bringing you recipes for a new holiday treat every single day. Prior installments can be found in the sidebar to your right.
This recipe also kind of feels like cheating, but I swear I did at least make it myself. This fudge is as easy as it gets while still technically cooking, though. You don't even need an oven; everything can be done with the microwave. That being said, fudge is also a wonderfully chocolaty addition to your holiday repertoire, and everyone will assume that you spent a lot longer making it than you really did. If you want it to look extra festive, you can roll the chocolate into balls with your hands while it is still warm and dip them in red and green sprinkles, instead of spreading the mixture into a pan. The nuts add a nice crunch, but the fudge will taste perfectly good without them if you're cooking for someone with an allergy or just plain don't like them (the nuts, not the person with an allergy–please don't use my recipes to kill people).
——
Easy Chocolate Fudge
16 oz semi sweet chocolate
14 oz sweetened condensed milk
2 tbs unsalted butter
2 tsp vanilla extract
1 tbs orange zest
¾ cup roughly ground pecans
1) In a large, microwave-safe bowl, microwave chocolate and sweetened condensed milk for 3-3 ½ minutes, or until the chocolate is mostly melted, pausing to stir twice to prevent chocolate from burning.
2) Remove from microwave and stir until the chocolate is completely melted.
3) In a small bowl, melt the butter in the microwave, about 30 seconds. Add the butter, vanilla extract, and orange zest to the chocolate mixture and stir until completely combined and glossy in appearance.
4) Add pecans and stir until evenly distributed
5) Line an 8 or 9 inch square pan with foil, allowing the ends of the foil to hang over the sides of the pan. Spread the chocolate mixture in an even layer in the prepared pan.
6) Refrigerate for 2 hours or until firm. Use the excess foil to lift the fudge from the pan, and cut into squares to serve. Let stand at room temperature before serving for softer fudge.