Culture
Twelve Days of Christmas Cookies: Day 5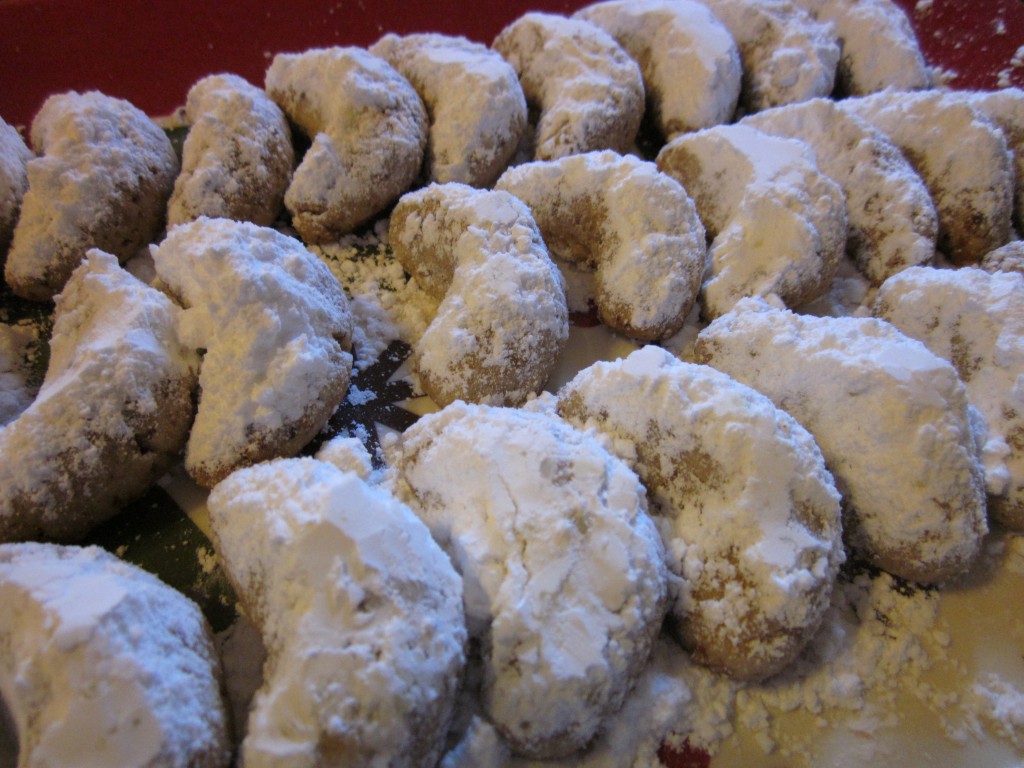 For the next 12 days, Meghan will be bringing you recipes for a new holiday treat every single day. Prior installments can be found in the sidebar to your right.
Almond crescents are another cookie that I started making because I wanted a homemade version of a store-bought treat. I don't remember what company made these cookies, but they only showed up in the grocery stores around Christmas, and my dad would buy loads of them despite the overabundance of homemade cookies in our house. I wasn't about to complain; I really like sugary things. One year, though, they just disappeared, so it was time to make them from scratch. This recipe is a little similar to Linzer cookies since it also calls for roasted nuts and orange zest, but the dough is much easier to work with. Almonds also provide a less intensely nutty flavor that's perfect alongside tea or hot chocolate on a cold night. Be careful when removing these from the baking sheet, as they're somewhat delicate when fresh out of the oven. You can dust them with powdered sugar while they are still on the baking sheet so that they firm up before you transfer them, but you may need to clean the sheet off a bit before baking the next batch if you do this.
——
Almond Crescents
1/2 cup almonds, shelled
1 cup flour
¼ cup sugar
1 tsp orange zest
½ cup unsalted butter
1 egg yolk
¼ tsp almond extract
Confectioner's sugar as needed for topping
1) Preheat oven to 350 degrees. Place almonds in an even layer on a baking sheet and toast on center rack of oven for 15 minutes, stirring once midway through. Remove from oven and let cool.
2) When the almonds have cooled to room temperature, rub them between your hands to remove any loose bits of their papery outer layer. Place the almonds in a food processor with a metal blade and process until ground into a mealy texture, about 15 seconds.
3) Decrease oven temperature to 325 degrees and lightly butter a baking pan.
4) In a large bowl, combine the flour, sugar, and orange zest. Add the butter, and beat with an electric mixer at low speed until the dough has the texture of fluffy crumbs.
5) Add the ground almonds, egg yolk, and almond extract, and mix until a smooth dough is formed.
6) Scoop level teaspoonfuls of dough and shape into crescents with your hands.
7) Place an inch and a half apart on the prepared baking sheet and bake 13-15 minutes, until they just begin to turn golden brown.
8 ) Transfer to a wire rack and dust immediately with confectioner's sugar while the cookies are still very warm.