Culture
Twelve Days of Christmas Cookies: Day 3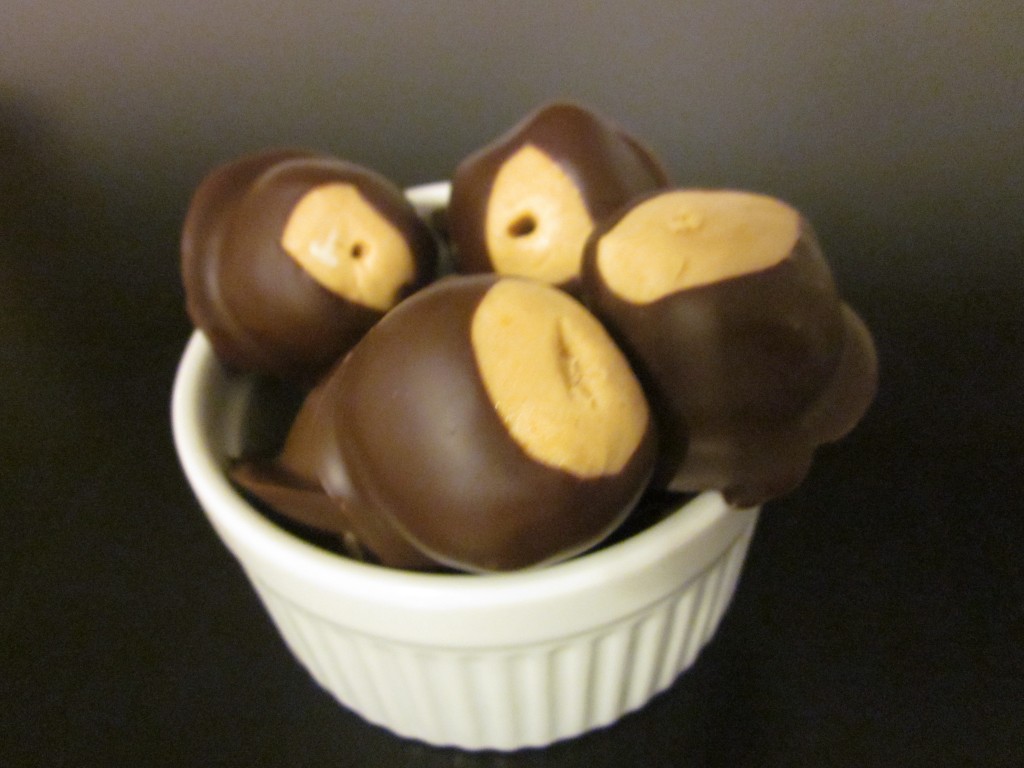 For the next 12 days, Meghan will be bringing you recipes for a new holiday treat every single day. Prior installments can be found in the sidebar to your right.
As much as I love all of the holiday cookies and desserts that my family regularly makes, it's almost better to receive plates of cookies from other people. Technically, I can have the ones that I make any time I feel like baking. Treats from other people are slightly more exciting because I don't know exactly what went into them. Every year, my family swaps a cookie tray with the family who lives across the street from my mom, and the tray we receive always includes a few chocolate-covered peanut butter bonbons known as buckeyes (named for the nut of the buckeye tree). When I was growing up (read: this still happens every year), I would rush to eat my fill of these before everyone else got to them. They are better than Reese's Cups and every other peanut butter candy I've ever had. Since I'm always left wanting more after the holidays, eventually I had to learn to make them myself.
——
Buckeyes
16 oz peanut butter (about 1 ½ cups)
¾ cup unsalted butter
1 tsp vanilla extract
1 tbs honey
¼ tsp salt
5 ½ cups confectioner's sugar
3 ½ cups dark chocolate chips
1) In a large bowl, cream peanut butter and butter together with an electric mixer until fluffy.
2) Add the vanilla extract, honey, and salt, beating until combined.
3) Gradually add the sugar, beginning at low speed to prevent the sugar from flying everywhere, and increasing until thoroughly combined. The dough should be fairly dry.
4) Line a baking sheet with parchment or wax paper. Use your hands to shape rounded tablespoonsful of dough into balls and set them on the prepared sheet so that they are not touching. Chill the balls in the freezer for at least 10 minutes to firm them up.
5) Melt the chocolate in a double boiler, stirring constantly, or in the microwave in 20 second increments, stirring between and being careful not to allow the chocolate to burn.
6) Using a skewer or toothpick, dip each peanut butter ball in the melted chocolate so that mostly coated but a small circle is left uncoated at the top (so that it looks like a buckeye).
7) Replace the buckeyes on the baking sheet and chill for another 20-30 minutes in the freezer until the chocolate is set.