Culture
Twelve Days of Christmas Cookies: Day 8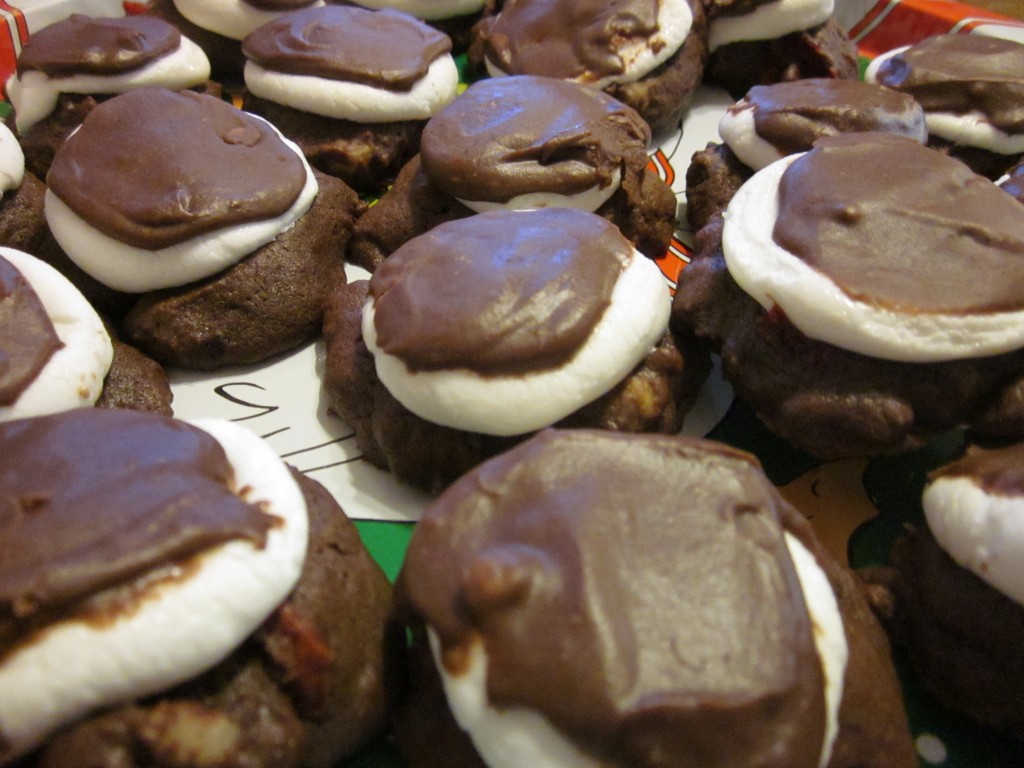 For the next 12 days, Meghan will be bringing you recipes for a new holiday treat every single day. Prior installments can be found in the sidebar to your right.
I'm totally cheating today. I'm sick as a dog, and my mom actually made these cookies. I don't think anyone will be mad about learning to make them, though. Jim Dandee cookies are a recent addition to my family's Christmas cookie repertoire, and my only regret is that we didn't start making them years ago. The cherries, nuts, and marshmallow prevent them from being too overwhelmingly chocolaty, and the end result is that it's difficult to pull yourself away from these cookies.
Fun fact: The internet tells me that Jim Dandees are actually a fairly old-fashioned cookie, and that they were included in C-rations during World War II. I'm going to go out on a limb and say that the ones you'll make in your own kitchen will taste a little bit better than the ones that the soldiers were receiving.
——
Jim Dandee Cookies
1 cup unsalted butter
1 1/3 cup brown sugar
2 eggs
2 ¾ cups flour
1 tsp baking soda
½ tsp salt
4 tbs milk
¼ cup cherry juice reserved from maraschino cherries
4 squares unsweetened chocolate
1 cup chopped nuts
½ cup maraschino cherries, halved
1 package (16oz) marshmallows
1) Preheat oven to 350 degrees. Blend butter, brown sugar and eggs together in a large bowl with an electric mixer.
2) In a separate bowl, mix together flour, baking soda and salt. Add ½ of the combined dry ingredients and mix until combined.
3) In a small bowl in the microwave or over a double boiler, melt the chocolate. Add cherry juice, milk, melted chocolate and remaining dry ingredients to dough. Add nuts and cherries and mix until evenly distributed.
4) Drop by rounded teaspoonful on ungreased sheet. Bake 12-15 minutes at 350 degrees.
5) When cookies are done, place ½ marshmallow on each cookie.  Return to oven for one minute or so, until the marshmallow gets soft enough to spread over the cookie.  Cool slightly and cover with the fudge frosting.
Fudge Frosting
1/3 cup milk
¼ cup unsalted butter
2 squares unsweetened chocolate, melted
1/8 tsp salt
1/2 tsp. vanilla extract
~ 2 cups confectioner's sugar
Combine all ingredients in a medium bowl, adding more confectioner's sugar if necessary to achieve a spreadable consistency.