Culture
The Hipster's Cookbook: Snowpocalypse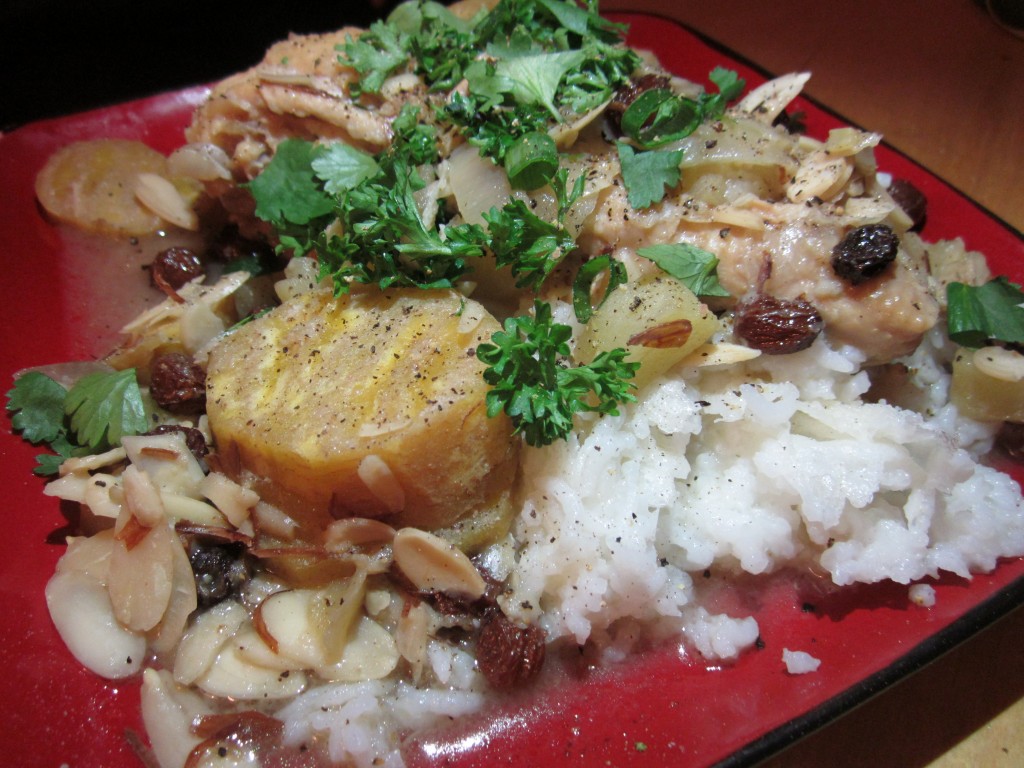 Every week in The Hipster's Cookbook, Meghan Bongartz shows you how to make delicious food on a tight budget.
Chicago isn't known for its moderate weather. Right now we're seeing something along the lines of normal winter weather, but earlier this week it was 50 degrees out, and a week ago we were battling a polar vortex. The polar vortex probably had a scientific explanation, but all that really matters is that it meant that it snowed a lot and then became cold enough that the snow transformed into iron blocks that were impossible to shovel for a week. All of this was pretty miserable, but Midwesterners more or less know how to deal with this particular brand of misery because it happens every winter. We know that whatever we have to do that involves going outside can wait.
I thought that the best way to use my time while snowed in would be to drown a chicken in alcohol for dinner. My mom gave me an entire chicken the last time I saw her, and something soaked in booze seemed like a good meal for a cold and snowy night, and I also didn't want to be the asshole ordering takeout and forcing someone else to bring me food in the -50 degree wind chill. I even planned ahead and went grocery shopping on Saturday morning while the weather was still in normal winter territory.
Unfortunately, everyone else had the same idea. I have never been more terrified in my life, ever, than I was in Whole Foods two weekends ago. I don't know what made people think that the latest snowpocalypse was the actual apocalypse, but people were buying enough to be stocked up for weeks, and I was legitimately afraid of being trampled. The thing is, though, that we were at Whole Foods, and the things that people were stocking up on were kind of hilarious. The last time I checked, bomb shelter food mostly consisted of canned vegetables and beans, dried pasta, and bottled water. What I saw people buying instead was enough fancy cheese to feed an army, cartloads of organic spinach and parsley, and bulk wine. The wine I can sort of understand – I just can't afford to buy wine that costs that much in those quantities – but despite the many vitamins it contains, I'm fairly certain that no one is going to die if they don't eat parsley for a few days.
Obviously I made it home alive, but all I'm saying is that the recipe I was loosely basing this off of only called for half a cup of tequila and half a cup of sherry.
——
Drunken Chicken
1 cup raisins
1 cup sherry
1 cup flour
½ tsp salt
½ tsp black pepper
3 tbs canola oil
Small whole chicken, cleaned and cut into pieces
1 yellow or white onion
2 garlic cloves
2 tart apples
1 cup sliced almonds
1 plantain
5 cups chicken stock, boiling
1½ cup tequila
Fresh cilantro, parsley, and/or green onions to garnish
1) Place the raisins in a small bowl with ½ cup of sherry and set aside to soak. Halve and thinly slice the onion. Peel, core and chop the apples. Thinly slice the plantain. Set aside.
2) Combine flour, salt, and pepper on a large plate. Roll each piece of chicken in the flour mixture to coat.
3) In a large frying pan over a medium high flame, heat 2 tbs of oil. Add chicken pieces and fry on all sides until browned. Remove chicken to a paper towel to absorb oil. Add remaining 1 tbs oil to pan, reduce heat to medium low, and add onion. Sautee for 4-5 minutes, until softened. Crush or mince garlic and add to onions, cooking for another 1-2 minutes.
4) Place apples and plantain in the bottom of a large crock pot and sprinkle almonds over. Spread onions in an even layer over fruit and pour raisins and sherry over.
5) Add chicken to crockpot and pour remaining sherry, tequila, and chicken stock over. Press the chicken down, fitting the pieces as close together as possible (don't include the back if there isn't space, as this piece doesn't have much meat anyways), to raise the level of the liquid to cover the chicken.
6) Set the crock pot to high heat and cook without stirring for 3-3.5 hours, or until chicken is cooked through and tender.
7) Serve with cooked rice and garnish with fresh herbs if desired.