Culture
Twelve Days of Christmas Cookies: Day 6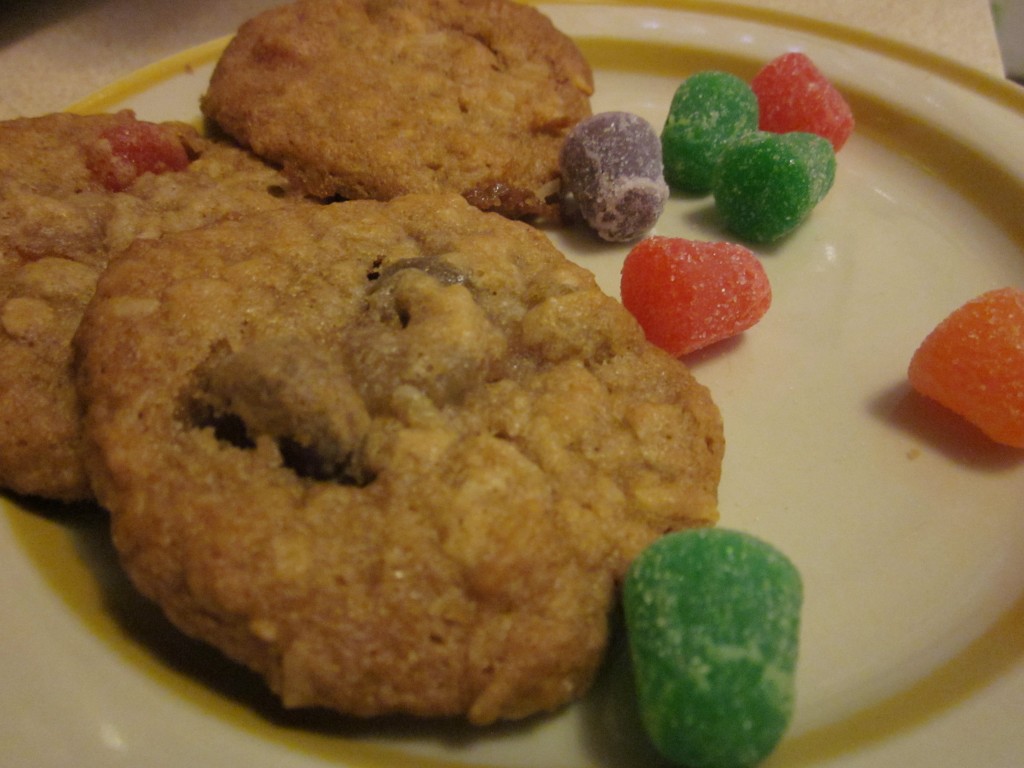 For the next 12 days, Meghan will be bringing you recipes for a new holiday treat every single day. Prior installments can be found in the sidebar to your right.
There's no other way of putting it: these cookies are straight up addictive. I know I said that I'm bad at eating the desserts I make, but I was eating these with breakfast, and my family has gone as far as to make multiple versions of gumdrop cookies in the same day during past holiday seasons. I think it's the gumdrops' fault, because I can also easily eat an entire bag of these candies in one sitting. The cookies are the perfect amount of chewy from the coconut and studded with little bursts of flavor from the gumdrops. If you want to make sure you can see the candy pieces in the cookies, you can stick them on top of each cookie instead of mixing them into the dough, but this is definitely more time consuming. If you want them to look extra Christmas-y, use only red and green gumdrops. I took all of the green gumdrops out of mine because I don't like mint, so you're welcome to come take them off my hands.
——
Gumdrop Cookies
¾ cup unsalted butter
1 cup firmly packed light brown sugar
2 eggs
1 tsp vanilla
½ tsp almond
1 ½ cups flour
1 tsp baking soda
½ tsp cinnamon
¼ tsp salt
1 ¼ cups sweetened coconut flakes
½ cup old fashioned oats
¾ cup gumdrops, cut in half
1)Preheat oven to 350 degrees. In a large bowl, cream butter and brown sugar with an electric mixer until fluffy.
2) Add the eggs, vanilla extract, and almond extract. Mix until combined.
3) In a medium bowl, combine flour, baking soda, cinnamon, and salt. Gradually add the dry ingredients to the dough, scraping down the sides of the bowl if needed.
4) Mix in coconut flakes, oats, and gumdrops until evenly distributed.
5) Drop rounded tablespoonfuls of dough two inches apart on an ungreased baking sheet and bake at 350 degrees for 11-13 minutes, or until they turn golden brown. Remove from oven and let cool on sheet for two minutes before removing to wire rack to cool completely.