Culture
Twelve Days of Christmas Cookies: Day 4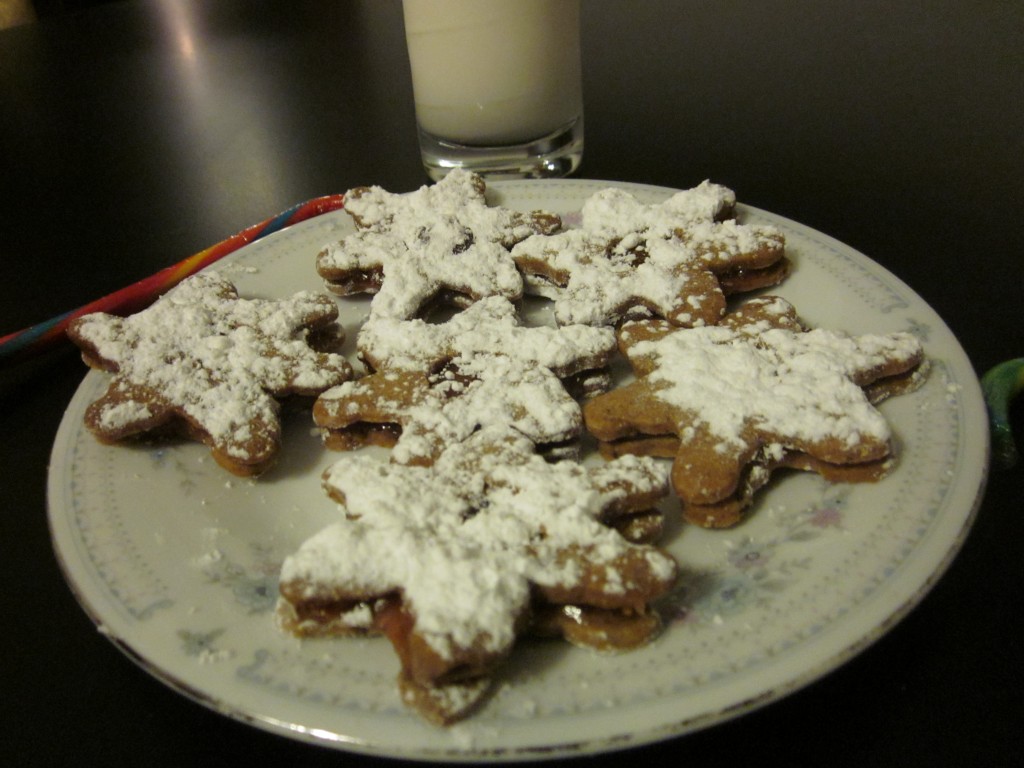 For the next 12 days, Meghan will be bringing you recipes for a new holiday treat every single day. Prior installments can be found in the sidebar to your right.
One of my best friends always requests Linzer cookies because they're the closest thing he's going to get to a homemade version of a Pepperidge Farm cookie that he also loves. (Also, you can thank him for the candy canes in the above picture). Linzer cookies are actually tiny adaptations of Linzertorte, a traditional Austrian dessert made with a nutty, spiced crust and filled with black currants. These are lovely to serve when you want your holiday cookies to look a little more put-together. They are more intensive to make than many other cookie recipes, so don't start making them unless you've got a good window of time ahead of you and you're ready for a challenge. The dough is difficult to work with, so a good quality mixer is a necessity rather than a recommendation here. I also strongly suggest buying a nutcracker, because I used a hammer to shell my hazelnuts, and now my living room is covered in nut shells. (I don't have a TV in my kitchen, and watching Battlestar Galactica while shelling nuts seemed really important at the time.) You absolutely must chill the dough before and after cutting when making these cookies. The dough softens rapidly and becomes very sticky, and it will lose its shape while baking if it isn't cold enough.
——
Linzer Cookies
2/3 cup hazelnuts, shelled
2 cups flour
¼ tsp salt
¼ tsp baking powder
1 cup unsalted butter
¼ cup granulated sugar
¼ cup light brown sugar, firmly packed
1 tsp cinnamon
1 ½ tsp Chinese five spice powder
1 tsp honey
1 egg
1 tbs orange zest
Raspberry or black currant jam as needed for filling
Confectioner's sugar as needed for topping
1) Preheat oven to 350 degrees. Place hazelnuts in an even layer on a baking sheet and toast on center rack of oven for 15 minutes, stirring once midway through. Remove from oven and let cool.
2) When the hazelnuts have cooled to room temperature, rub them between your hands to remove their papery outer layer. Place the hazelnuts in a food processor with a metal blade and process until ground into a mealy texture, about 15 seconds.
3) Combine the flour, salt, baking powder, and ground nuts in a bowl and set aside.
4) In the bowl of a stand mixer or in a large bowl with a very strong hand mixer, cream the butter and sugars until light and fluffy. Add the cinnamon and Chinese five spice powder and beat until evenly mixed.
5) Add the honey, egg, and orange zest and beat at medium speed until fully combined, scraping down the sides of the bowl as needed.
6) Add the dry ingredients at low speed in two additions, scraping down the sides of the bowl between.
7) When an evenly mixed dough has been achieved, divide the dough in half and wrap each half in wax paper or plastic wrap and chill for at least 30 minutes.
8 ) Remove one half of the dough from the refrigerator at a time and roll to ¼ inch thickness on a lightly floured surface. Use a fluted round cookie cutter or the cookie cutter of your choice to cut cookies from the dough. Use a small round cutter or a knife to cut a circle from the center of half of the cookies.
9) Place the cookies at least 1 inch apart on an ungreased baking sheet. Chill the sheet of cookies in the refrigerator for 10 more minutes before baking to help preserve their shape.
10) Bake at 350 degrees for 10-12 minutes. Let cool on sheet for 1 minute, then remove to wire rack to cool completely.
11) To serve, spread jam over the half of the cookies without the hole in the center and top with the cookies with the holes. Sprinkle confectioner's sugar in a thick layer over the tops of the cookies.