Culture
Twelve Days of Christmas Cookies: Day 1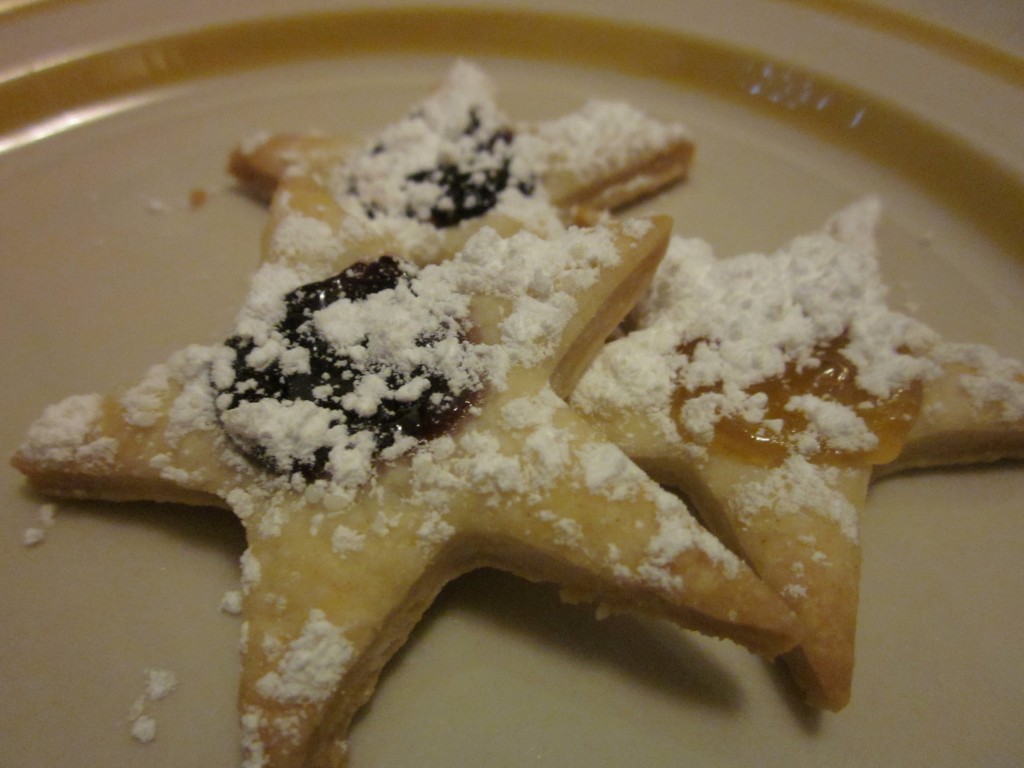 For the next 12 days, Meghan will be bringing you recipes for a new holiday treat every single day.
I know it's about as cliché as it gets, but all of the songs are right: there truly is no place like home for the holidays. Chicago is a lot more fun to be in for the majority of the holiday season than my hometown is, but there are a few things that this city can't offer me at Christmas, and the biggest one is baking Christmas cookies with my mom. Obviously I can bake cookies on my own, but it's just not the same. Also, as I think I've mentioned before, I'm terrible about eating the things I make. Most people worry about gaining weight during the holidays; I worry about wasting enough food to feed an army.
When I make cookies at my mom's house, everyone wins because I can spend hours meticulously decorating batch after batch of treats, and my mom and my sister can devour them and then send the leftovers to the neighbors. I still go home for Christmas every year, but in the past few years, my mom has been done with the baking by the time I've gotten there. And so, I've given up and decided to fill my apartment with cookies anyways. Welcome to Twelve Days of Christmas Cookies.
To start, let's make jam kolaches. I've mentioned before that my family is super fucking Polish, so technically these are a cultural thing for me, but mostly I like them because they're simple and yummy. There are only five ingredients here, so they're great to put together when you're short on time or don't want to go grocery shopping. If the dough for these looks familiar, that's because it's pretty similar to a pie crust. As with a crust, the dough has reached the right consistency when it looks like a mess of crumbs. Unlike a crust, you don't have to worry quite so much about whether the dough is cold enough. Traditionally, kolache are cut into circles or squares and folded with the jam in the center. You're more than welcome to do this, but I think using other shapes for Christmas is a little more festive.
——
Jam Kolache
½ cup unsalted butter
3 oz cream cheese
1 ¼ cups flour
¼ cup jam (any flavor)
¼ cup confectioner's sugar
1) Preheat oven to 375 degrees and spray a baking sheet with cooking spray.
2) Cream butter and cream cheese with an electric mixer until light and fluffy. Add flour gradually, mixing at medium speed until the dough forms a shaggy mass. Press the dough into a smooth ball by hand.
3) On a floured surface, roll the dough to 1/8" thick and use 3" cookie cutters to cut into shapes.
4) Place cookies 2" apart on baking sheet and use your thumb to create a light indentation in the center of each cookie. Fill each imprint with ¼ tsp of jam.
5) Bake on center rack of oven for 15 minutes. Remove from oven and allow to cool on baking sheet for one minute before removing to wire rack. Dust lightly with confectioner's sugar once the cookies have cooled completely.