Music
45 RPM: Talking Heads (Pt. 2)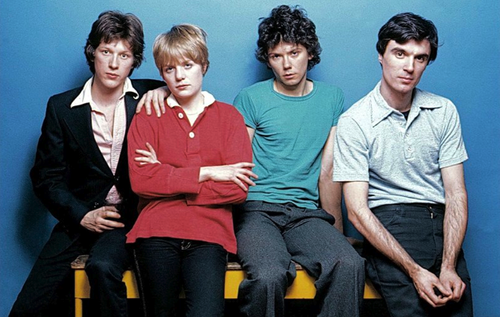 This week sees the debut of a new column at Heave, 45 RPM, in which Josh Watkins looks at the discography of a different artist/band in detail every week. This week, the Talking Heads. Part one can be found over here.
Speaking in Tongues (1983)
Some things I learned researching this album:
-Violin was recorded by a man whose actual full name is "Shankar."
-In an interview with himself, David Byrne admits that 'This Must Be the Place' is a love song, but claims that it's the first one he's ever written. A dozen or so earlier songs could not be reached for comment.
-The Used covered "Burning Down the House: for the soundtrack to Transformers: Revenge of the Fallen. It sounds exactly how you think it sounds.
-Brian Eno was, at the time, recording two of his own albums and likely going on dates with Robert Fripp. Eno would never work with the Talking Heads again.
–Speaking in Tongues is widely considered the Heads' breakthrough critical and commercial album.
This last one makes sense: Byrne and co. finally catch up with a wider audience, but to their minor detriment. The songs are poppier than they've ever been, which isn't inherently bad at all, but they're 80s poppy: kitschy synth, gated snares, machines replacing live drums, Byrne's Dadaist-inspired nonsense words (the man makes bird sounds in "This Must Be the Place"), the grumpy wah in "Swamp," et. al. "Moon Rocks" and "Pull Up the Roots" are energetic punk-funk throwbacks to More Songs, and "I Get Wild" breaks the mold with its slick dub influence. The rest of the album is as cold and plodding as Remain in Light, sans all of the diverse density that made it such a monument. But who's mad at the drumstick-click percussion on "Making Flippy Floppy," or the classic fills and synths in "Burning Down the House"? Nobody listening closely, that's who. Let it be known that Speaking in Tongues is a Talking Heads essential. The songs are all good, but they pulse with action when performed live. Give them a year.
Stop Making Sense (1984)
Let's get this out of the way: see the film. Even if you don't give a flying shit about the Talking Heads, all you need is a remote interest in live music to become engrossed in Stop Making Sense. I get it, live albums typically can't stand independent of – wait, they edited almost all of the crowd sounds out of the album? "Oh!" indeed. The show starts off with Byrne playing a solo, acoustic "Psycho Killer" and adds one instrument per track as the album progresses (eventually having to stop at "Life During Wartime" because of the village worth of people onstage). Literally oodles of live percussion and chorus ladies make the stiffness of old songs surge with electricity. Everything here is sped up, intensified, fuller.
I'm of the belief that nearly every song on Stop Making Sense is superior to its original counterpart, especially the Speaking in Tongues tracks. The soaring shrieks over crashing percussion at the end of "Slippery People," the added instruments and aggression on "Girlfriend is Better" – even "This Must Be the Place" is somehow injected with more pep and twee. "What a Day it Was" makes its premiere, as does Tom-Tom Club's "Genius of Love" (I dare you not to grin at "James Brown? Jaaaames Brown"), all of it weaving together as a hand-picked setlist should. Everything culminates in the frantic dancefest'84 version of "Crosseyed & Painless," and at the end you're sweating, naked and dizzy. For big suits, dances with lamps, weird multi-media and the best workout of your life, see Stop Making Sense.
Little Creatures (1985)
Radio-friendly? Absolutely! Consistently interesting? Of course! Fun? Quite, quite! Why can't these qualities co-exist? Ask certain people and they'll groan about the loss of Brian Eno, or the lack of songs on Little Creatures with four afro-drum tracks or spaceship noises, but keep in mind these are comments from people who do things like make silent films or write for Pitchfork. The skeleton key to Little Creatures is not taking it too seriously. "And She Was," with its piano and sax and punchy guitar solo, and the bongo-and-horn-driven nonsense chants composing "Television Man" make for two of the Talking Heads' best songs to date. Zany sliding guitars on "The Lady Don't Mind" and "Give Me Back My Name" further the deconstructed country-song theme that appeared on some of More Songs. While it shares Speaking in Tongues' problem of aging a little poorly ("Road to Nowhere" and its subsequent video are littered with liver-spots), it's more consistently catchy than most of the Heads' catalogue. Predictable rhythms? Oh, most definitely. Homogenous stretches of songs? I'd say so. Still a good Talking Heads record? Always.
True Stories (1986)
-"I think this will be the most interesting thing we've ever done." – David Byrne on True Stories
-"Well, that didn't pan out." – Rooster Cogburn, True Grit
-"Doesn't even count as a real Talking Heads album." – Talking Heads fans on True Stories
-"Doesn't even count as a real Talking Heads album but my vinyl copy is signed." – Hip trash Talking Heads fans on True Stories
-"Not much to say. It isn't trash, but it isn't worth hearing. The first half is painfully trite, and the second half is slow and emotional in a way the Heads just aren't up to. None of these songs need to be longer than three minutes; most of them are. "Wild Wild Life" and "Puzzlin' Evidence" are exciting in context, and there are some interesting genre stabs here, but it all falls embarrassingly short. True Stories makes no sense without the movie." – Josh Watkins on True Stories
-"See the film!" – Roger Ebert on True Stories
-"Take me to the shopping mall/buy me a rubber ball" – Lyrics to "Hey Now"
-"I don't want to talk about it." – Don DeLillo, author
Naked (1988)
Naked jumps off with a Waitsian hiss and a return to Afro-Cuban rhythm and horns. Throwing caution and minimalism to the wind, the Heads flew out to Paris and kicked it with dozens of studio recording artists (including The Smiths' own Johnny Marr) to shove as many instruments into their last album as possible. Results? Varied but spirited. The first half is quirky, danceable Afro-fun, the second half swampy and dark. Remember this formula from Remain in Light? The difference here is Steve Lillywhite's production, which plagues Naked with a hermetic sound that's too polished to feel sincere. "(Nothing But) Flowers" displays the albums' elements at their finest. The syncopated drums and twinkly dueling guitars that echo over each other by the end, the subtle backing synth – it's hard not to be breathless by the end. But despite some new tricks (rhythm changes in "Facts of Life," I'll be the lone defender of that song here), the album trudges on for entirely too long, and the last three songs drag their feet to the point of ruining the flow of the album.
It's hard to see this band go, and even harder to see them end on such an uncomfortable, uneven note. At the same time, almost all of the Talking Heads' catalogue is incredibly well-crafted and influential, and at times downright genius. My generation has a warped vision of what the 80s were – a cocaine roller derby of dictionary-sized cellphones, neon pants and "The Final Countdown." Like little anthropologists, we're only observing the remains of a dead culture and putting the pieces together. Some may choose to remember a hideous caricature of passé trends and godawful studio flicks. I choose to remember the Talking Heads.