Reviews
The Used venture into new sonic territory on Vulnerable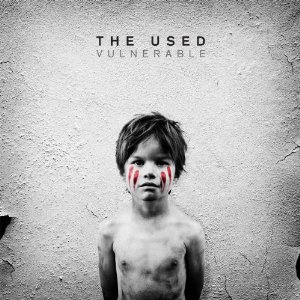 Vulnerable The Used
Release Date: Mar 26, 12
1
2
3
4
5
6
7
8
9
10
A decade ago, The Used put out their self-titled debut. On the strength of their lead single "The Taste of Ink," they moved to the forefront of the early aughts' emo/screamo boom. Of the many tastes of the week within that subgenre, few would have guessed that The Used would be one of the few bands to maintain steady output a decade later, and for that matter without the renunciation of their sound that most of their contemporaries went through. For better or worse, they're the same band they were before, and on Vulnerable, their fifth studio album, they maintain the status quo while making some ill-advised ventures into new sonic territory.
Opener "I Came Alive" serves as a manifesto for Vulnerable as a whole, and it's not particularly reassuring. Over their standard combination of fairly standard alt-rock and the occasional metal breakdown, Bert McCracken and company add some twinkling goth-opera piano and a deeply questionable excursion into dubstep wobble. Dabbling in the electronic is a common theme through much of Vulnerable, to poor returns. In particular, "Hands and Faces" features an electro-dub trance break near the end, along with squelching, filtered verses that form a rather incoherent facsimile of prog-metal. At least those tracks are relatively unique; "Put Me Out" yields a riff that sounds like Wolfmother's "The Joker and the Thief" played out of sequence, with an unusually bouncy melody.
That sense of optimism is perhaps what feels most out of place about Vulnerable, especially in the case of "Shine," which incorporates hip-hop-style electronic drums and soaring incantations like "It's my time to shine, do it my way, 'cause it's my time, baby!" For a band so taken with thick riffs and the occasional hardcore-esque breakdown, the dalliances with pop feel the most tonally distant from the rest of the album. Likewise, "Getting Over You" is a bit of maudlin balladry that wouldn't feel out of place on a CW show, the sort of love-once-lost hymn designed as the quintessential cool-down moment during raucous, fevered sets. The only trouble is that Vulnerable forms an incongruous body of work that fails to reach the kind of rousing, cohesive highs that The Used are clearly aiming for, a balance that even their early albums were better able to strike.