Culture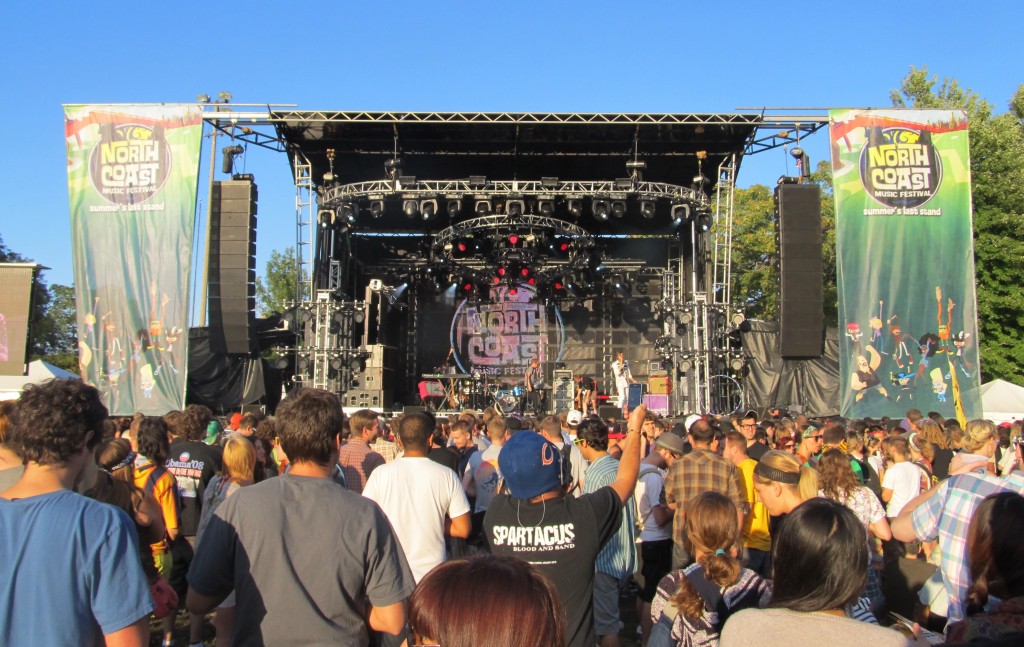 This being the wrap-up for this year's North Coast Music Festival, we'll only encourage you to keep following @HEAVEmedia for the latest updates and the occasional giveaway. You know, when it feels right.
DJ Solo (Red Bull Grove Stage, 1:30-2:15)
Picture Girl Talk's Feed The Animals (arguably Greg Gillis' most anarchic record), and picture all of that attention deficit and noise, but without the ridiculous skill at its core. A lot of DJ Solo's Sunday set had the same feel to it, dabbling in chiptune, drumstep and a host of other genres, while also occasionally petering out to simply play a song with few alterations. It was an odd set, filled with DNB remixes of "Wonderwall" and "Freebird" and Solo at one point bantering with his own pre-programmed backing track. There's an interesting sound here, that's a definite, but it's uncertain whether that should be considered a compliment.
Soul Rebels Brass Band (North Coast Stage, 2:30-3:30)
Like the Dirty Dozen Brass Band at last year's North Coast, the Soul Rebels came up from New Orleans to stage what frontman Lumar LeBlanc regularly referred to as a "New Orleans party!" The exclamation is essential; this was pure dancing music, and it was pretty refreshing to dance to music that didn't involve massive thuds for a short while. With covers of Michael Jackson's "Remember The Time" and the Eurythmics' "Sweet Dreams," the Soul Rebels put on a fine midday set to kick back, enjoy and maybe bust out a little shuffle if so inclined.
Paper Diamond (Red Bull Grove Stage, 3:35-4:30)
Though trance hasn't exactly been in EDM fashion in some time now, it was rather surprising to see the near-total lack of it at North Coast. The closest I observed in three days was the early part of Paper Diamond's set, which fused hip-hop beats and electro synths with a dreamier undercurrent. After a time, though, the set moved into the territory of pure dance music, incorporating a bit of wobble and a fair deal of glitch into a remix of Kanye West's "Power." Especially with his being signed to Pretty Lights' record imprint, expect to hear more from Paper Diamond pretty soon.
Latyrx (Red Bull Grove Stage, 4:45-5:45)
Though it's been nearly 15 years since The Album initially dropped in 1997 (before going through various disappearances and reissues), the urgency of Lyrics Born and Lateef The Truthspeaker's Sunday set as Latyrx felt as immediate as possible. Running off syncopated speed-verses with an unbelievable velocity, this was the kind of set that will surely reintroduce a semi-lost hip-hop record to an entirely new audience. The fact that, for its time, The Album featured a good deal of electronic flourish doesn't hurt; DJ Shadow and Blackalicious' handprints on many of Latyrx's beats are palpable. The follow-up to The Album is finally due to drop later this year, and if they bring the kind of fire that they did to North Coast, this may get some major notice.
Of Montreal (North Coast Stage, 6:30-7:30)
Taking the stage in what appeared to be a pastel take on Angus Young's usual concert attire, but with leggings, Of Montreal ringleader Kevin Barnes exuded a mixture of pure cool, giggling girlishness and cocksure swagger as only he can. His band followed suit; this was one of the weekend's best sets, and judging by the reactions of everybody around me, an affirmation of OM's standing as one of the great live acts currently touring. The carnival nature of the set can't be emphasized enough, as "A Sentence of Sorts in Kongsvinger" saw the appearance of a gigantic four-headed, one-eyed worm that Barnes rode around upon, among a host of other tricks.
For this particular set, the danceier element of Of Montreal's back catalog was ramped up, with "Suffer For Fashion" getting a little more stomp than on record and "St. Exquisite's Confessions" delivering the psychadelic shade of funk. "Gronlandic Edit," arguably their biggest song to date, actually saw a slower, more spacey treatment, though it still remained a jam. By the set's end, when luchadores battled and Barnes surfed on a raft through the crowd before settling down to close with a medley of  "America The Beautiful" and "Turkey In The Straw" before taking a final bow, Of Montreal had established absolute dominance over Union Park.
Gogol Bordello (Named After Groupon Stage, 7:30-8:30)
Slowly but surely, Gogol Bordello is evolving into a jam band. That might be a horrifying declaration for punks the world over who happened upon "Think Locally, Fuck Globally" years ago and fell in love, but I don't mean that as a negative. Over time, Eugene Hutz and his world-tripping crew have become charming, affable vagrants, a merry band of ramblers and troubadors. (You know, what Edward Sharpe and the Magnetic Zeroes spend every day trying their asses off to imitate.) Their music has followed suit; last year's Trans-Continental Hustle saw a shift into a more world music-esque territory, while still keeping a wild edge.
Accordingly, their sundown set saw a lot of alternate takes on old and new songs, such as the extended version of "Just A Crime" with a heavier emphasis on that song's endlessly bouncy accordion refrain. "When Universes Collide," arguably one of their best songs to date, took  its slow-burning buildup and stretched it to a relentless tease. Through it all, Hutz played the carnival barker, flying about the stage with an inimitable presence. This may not have been Gogol's most furious set, but it was more than energetic enough to pull a crowd running on fumes to its feet and above.
Bassnectar (North Coast Stage, 8:30-10:00)
Bassnectar is what people who hate on/haven't heard dubstep think all of dubstep sounds like. His North Coast set was a pure assault on the senses, and whether that's a good or bad thing is totally a matter of perspective. To wit: For 90 straight minutes, he delivered hip-hop-influenced buildup beats before dropping them with a level of wobble bass that rattles the senses and shatters any conception of the term "loud."  His light show is also top-notch, heavy on the strobes and playing right into the cacophony of his brand of dirty dubstep. That's all I can honestly say on the Bassnectar set, because it is exactly as I mentioned, and by now you already know if you liked it or not. Or, I could just keep telling you how goddamn loud it was.
Stray observations:
-This weekend, I definitely learned just how oversexed of a subculture dubstep is. EDM has always had a bit of drugs, sex and danger involved, but there's something fascinating about how very literally erotic dubstep kids get. It was almost like witnessing a bacchanal at points.
-I really don't mean a lot of snark in that Bassnectar review. Dirty dubstep is not my cup of tea, though I've seen it done well this weekend (the bits of Rusko and Zed's Dead that I caught were pretty entertaining), but Bassnectar's set was like hearing a bunch of sound techs put every slider in the red and just walking off for an hour and a half.
-The tiny bit of Little Dragon I was able to see was equal parts haunting and strangely industrial. That's one I was sad to miss, as what I saw was every bit as elusive and intriguing as I'd hoped.
-Aside from the watering station contentions, the planners for North Coast really stepped their game up in virtually every aspect. The food was better in both quantity and quality, the sound was top-notch (at this point, Pitchfork could use a few lessons on how to manage audio bleed from them) and in general maintained a really fun vibe. Bonus points for being the only 3-day festival this summer without obnoxiously intrusive sponsor placement.