Culture
Lollapalooza 2012: Friday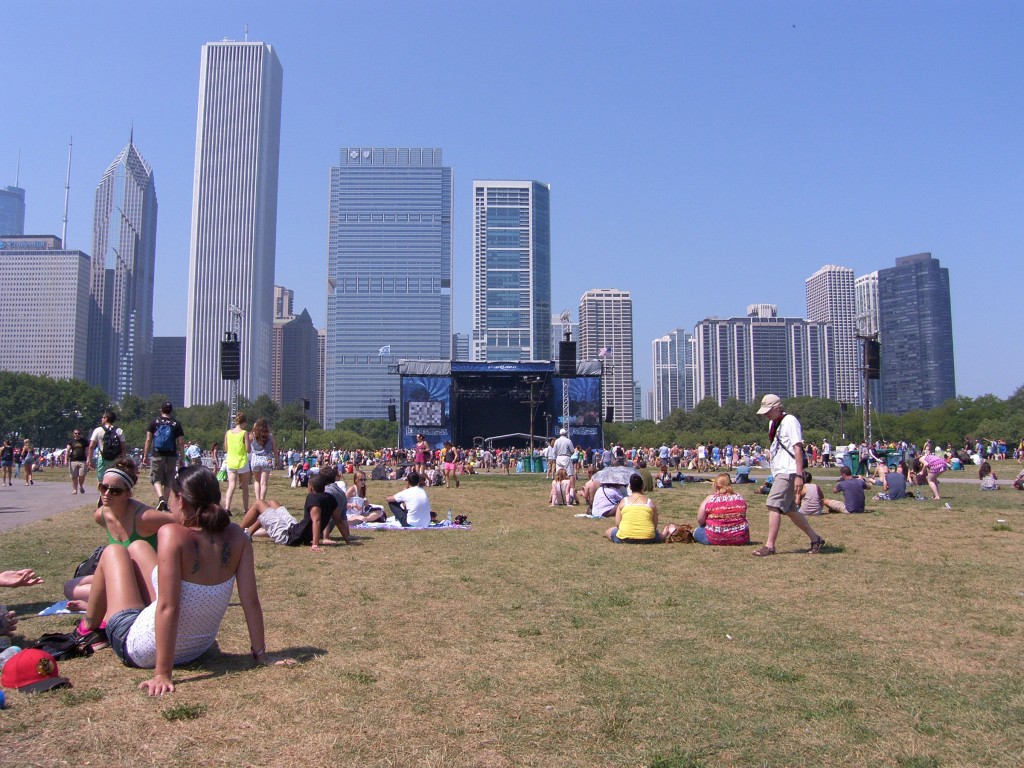 One of the most interesting aspects of multi-year return trips to Lollapalooza is charting the festival's changes in aesthetic as the years go on. As Lolla has expanded into a tourist destination and summer linchpin, it's become a more populist affair with each passing year. Aside from perhaps 2010, with its Lady Gaga appearance, 2012 might be the most casual-friendly affair to date, especially with Perry Farrell finally allowing his dream of electronic music's takeover to come to fruition, with two of the six main stage headliners bringing the dance beats. But enough preamble. Heave Features editor Dominick Mayer will be bringing you live coverage of Lolla 2012 all weekend long. You can also follow him on Twitter at @HEAVEdom for live updates throughout the weekend.
The White Panda (Perry's Stage, 1:00)
Chicago duo The White Panda knew exactly what kind of audience they were playing for, namely one that was there to party and dance like mad to music familiar to them. They didn't disappoint, as the mashup tandem ripped through 45 minutes of well-known material (here a "Call Me Maybe" remix, there a Gotye) while also managing to work in some surprises, like an untimely but nevertheless amusing take on 3 Doors Down's "Kryptonite." They were helped by the new Perry's stage, a monolithic structure now on par with either main stage. (This is impressive when two years ago Perry's was a side stage in a cluster of trees.) Their LED panda masks managed to effectively cut through the oppressive sun and heat and compel everybody to go as hard as possible, which the impressive early-day crowd responded to in kind.
The Black Angels (Bud Light Stage, 2:15)
At the hottest point in the day (and make no mistake, it was), you couldn't ask for a more apt performance than the one from Austin natives The Black Angels. For all the bands that seemed asynchronous in building up a stage that would later feature Black Sabbath, the Angels' brand of heady psych-rock worked impeccably, the heat lending it a hallucinatory quality that suited the set well. Their projection display also helped this along, moving from a series of lava lamp image loops to a sustained striptease in oversaturated negative colors that was at once sort of sexy and a little bit frightening. It all started to bleed together after a while, but this wasn't entirely a bad thing. Plus, it's hard to condemn a set that ends in an extended sitar solo.
Zedd (Perry's Stage, 3:15)
Despite the clocks having not yet hit 3:30 in the afternoon, German producer Zedd came out to ensure that the party at Perry's would continue unabated. Zedd works in a riot of subgenres, switching effortlessly from manic breakbeats to dirty dubstep drops, while working in high-end samples (Swedish House Mafia, Skrillex, Bloody Beetroots) in a way that doesn't feel cloying. Like most of the Perry's sets, Zedd's set was a relentlessly bass-heavy affair, ceasing only momentarily to let the crowd breathe from time to time. The easy highlight was the live mix of his "The Legend of Zelda," which added some chiptune to his already impressive arsenal to really put the set over the top.
SBTRKT (Google Play Stage, 4:45)
English producer SBTRKT was notably one of the festival's non-Perry's EDM acts, appropriate given his style, which would have felt disparate from the stage's other offerings given its general party vibe. Playing before a sizable crowd, he put on a set that was a considerable step forward from his North Coast Music Festival set last summer, one that saw him DJing his way through a series of solid but overly minimal beats. That minimalism worked on his debut LP SBTRKT last year, a headphone record if ever there was one, but his Lolla set saw him expand that sound via a set that saw him add live vocals and drums to the mix. What he may have sacrificed in minimalist impact, SBTRKT gained in emotional resonance. Mellow without getting listless, SBTRKT was an excellent midday set and a refreshing change of pace from a heretofore loud first day.
Band of Skulls (Google Play Stage, 6:00)
I don't know what it is about the English being able to do American music better than Americans, but Band of Skulls' Southern-tinged alt-rock is way more effective (and probably sincere) than many of the domestic bands who've tried to make .38 Special live again with cred. That said, their Lolla set felt like it wasn't as muscular as their music suggests it should've been. Starting out with "Sweet Sour," the title track off their recent LP, guitarist Russell Mardsen and bassist Emma Richardson traded vocal duties, and it was when they came up in tandem later in the set that things really took off. Despite the boost in energy, though, it seemed like Band of Skulls' set never really got out of first gear.
Dev (BMI Stage, 6:50)
Even if you've not heard Dev, you've heard her before. The hook from her song "Booty Bounce" was repurposed by Far East Movement for their earworm "Like A G6." For all her talk of "flyin' like a G6," though, Dev's solo material is far more dedicated to the sort of calculated sex-bomb bait-and-switching that characterizes so many up-and-coming pop stars. Something of a cross between a less sexually threatening Peaches and a less committed Nicki Minaj, Dev moves through lines like "Why all these hoes on my dick?" as though Missy Elliott and Lil' Kim never recorded albums that used hip-hop to reclaim female sexuality, or did it a lot better. That said, though, watching Dev's set, I recalled another bleach-blonde pop creation who played the same stage at Lolla a couple years back. That was Ke$ha, and she went on to take over Top 40 radio. I'm not sure whether Dev will achieve the same ubiquity, but she has as good a chance as any.
Black Sabbath (Bud Light Stage, 8:05)
I'm going to be upfront and say that I didn't linger for the entirety of Black Sabbath's set. What I'm going to assess is the first half of it, up through "Electric Funeral." That they played that song is a testament to the kind of set this was, a tribute to longtime Sabbath fans who wanted to keep them holy one last time before their likely end. Beginning with a "through the decades" retrospective video for an engaged but modest crowd, the 75% original lineup of Ozzy Osbourne, Tony Iommi (who received several supportive chants after his recent battle with leukemia) and Geezer Butler, along with supporting drummer (???), came out to a huge ovation and began with "Black Sabbath." For the first few songs, Ozzy was in rare voice for 2012 (if overcompensating with gimmicky crowd-pumping moves) and the instrumentals were tight, Butler and Iommi rarely missing a beat.
As the set moved on, though, it was clear that this was a late-stage reunion show more than a Black Sabbath show. Despite a strong setlist ("Into The Void," "N.I.B.," the aforementioned "Electric Funeral"), before long the guitars started to lose some of their power. Sabbath have never been loved for being an instrumentally precise, crisp band, but they really needed to keep things moving to cover for Ozzy, whose vocals deteriorated as time went on. Even with breaks after every song, by the time they reached "War Pigs," Ozzy was seriously struggling to stay on beat and hit some of the higher notes, cracking audibly at a couple points. If this was indeed the end of Sabbath, it was a set that at its best moments carried itself with the utter gravity of it being a performance by most of the original lineup of Black Fucking Sabbath. After a while, though, they looked just a little bit too mortal.
Spare observations:
-Partial sets for the day: I caught the tail end of First Aid Kit's day-opening set, which was light and folky but also fairly precious. Before Perry's became too much to handle (more on that in a moment), I saw enough of teenage DJ wunderkind Madeon to figure that he was solid, and that it was going to be way too long before his "Pop Culture" made an appearance to stay. Before Sabbath, DJ Zebo got to close the Playstation stage, and rather than simply spinning a set that wouldn't be too distracting, he employed a fetish-goth burlesque troupe, which led to me being able to cross "woman in a steel codpiece attacks said codpiece with a belt sander to cover another woman in sparks" off my Lolla bucket list.
-I also caught a chunk of Bassnectar closing out Perry's. This was the set that the Perry's crowd wanted, one rife with all the assaultive lights and massive bass drops a raver could ask for. However, though I've been critical of Bassnectar's live show on this site before, it was distressing to see his attempts to branch out into the more hip-hop based areas of his original production, only to watch the crowd visibly lose interest every time there wasn't a massive crescendo or wobble bass to keep them rolling. The vibe of Perry's is definitely more party-aggressive than it's ever been before.
-On that note: Avoid the Perry's water tent at all costs. Not only is it packed because of the dancing and the low-grade amphetamine use, but people were elbowing and shoving their way to the front. There are many other stations that are significantly less messy.
-The food is on point. I'm broke and rationing, but I should be able to say some things about food tomorrow.
Coming tomorrow: DOOMTREE BANGARANG. Later on, Avicii brings the wild dance party to the Bud Light stage, The Weeknd makes the Red Bull stage sexy and creepy and Bloc Party returns.