Music
Monday Afternoon Roundtable: Lollapalooza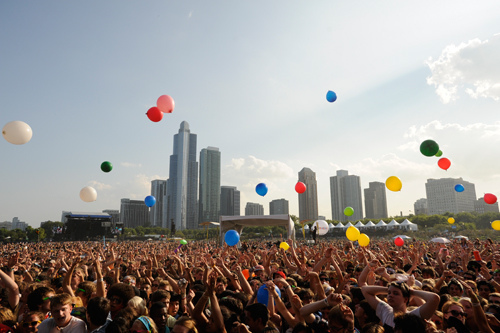 This week, Heave asked its staff:
The Lollapalooza 2012 lineup dropped last week. What act are you most excited to catch?
Cory Clifford
Since I have a tremendous crush on Hamilton Leithauser's voice; I'm so incredibly excited to see The Walkmen!
Amy Dittmeier
He's at the very bottom of the announcement, but I am excited for Madeon. He's from France and is an amazingly talented DJ. This mash-up he did called "Pop Culture" is my ringtone, and every time my phone rings I have the urge to dance.
Johnny Coconate
If the Olympics can get Keith Moon, then there's no reason that Lolla couldn't get Kurt Cobain and Layne Staley.
William Jones
My favorite band at Lollapalooza this year may be The Gaslight Anthem, but it is the announcement of Anamanaguchi I'm most excited about. This chiptune quartet can headline nerdfests like PAX, but at Lolla the band is barely a footnote on the lineup card. Here's hoping Anamanaguchi catches some people by surprise with 8-and-16-bit tunes and an infectious dance party.
Patrick Gill
The Devil Makes Three. They are actually a band from Santa Cruz, my homeland. They are majestically bearded, drinkin', fightin' bluegrass/Americana-playing men, and one lady who is just as tough if not more so. Imagine what happens when farmer's market employees and poetry professors meet Roy Orbison, and everyone has a bottle of whiskey in hand. It's lovely.
John Franklin Dandridge
This is the best Lollapalooza lineup in years. So much to choose from. But when the decision comes down to choose between Black Sabbath or Jack White, it's going to be Jack White all the way. Some may argue that there will be plenty of chances to see Jack White, but this is likely the last time to see Sabbath. True, but freshness trumps nostalgia every time. If White's setlist at SXSW was any indication of what to expect at Lolla, half will be with an all-girl band and half with an all-guy band (how rock and roll is that?!), not to mention that hearing White Stripes songs with a full band will be what fans have been waiting years for.
Dez Mitchell
Lolla? What's that? No, seriously, I've been avoiding Lollapalooza like the plague for the past couple of years because I never felt like the line-up was worth its salt, but this year? Oh my goodness, I'm so excited that I don't even know where to begin! Justice, an electronic act that rarely tours the States? The newly reunited At the Drive-In? Jack White headlining on his lonesome? My head is literally spinning at the diverse selection of musical delicacies on the menu this year. The only crappy thing about it, though, is the fact that you're gonna have a major internal struggle battling out who to see and who to ditch, which brings me to my judgment call: Band of Skulls. This really catchy indie rock trio based out of the UK has been playing on repeat a heck of a lot lately, and it's no wonder why. With raw, distorted guitar riffs wailing, sick beats that pop and Emma Richardsoen on bass, it's a total no-brainer. I'd give my left arm to see the group perform "Friends" live. They just have so much natural energy that I'm curious about how they'll translate that onto the stage. Band of Skulls definitely have the potential to melt the faces off the heads of innocent bystanders, and I'll be there front and center to witness the carnage. Just leave your flannel at home, or I'll be coming for you.
Marissa Morales
I'm all about Bloc Party and Childish Gambino. But honestly, I think At The Drive-In is going to be what sends me over the edge. Yeah, for all the great acts (Wax, Justice, Wale, Frank Ocean) At The Drive-In is going to be it for me. I've heard their live sets thus far have been mediocre, but I honestly don't even care. It's fucking At The Drive-In!
Michael Alexander
I have yet to see one of my favorite artists in concert, the up-and-coming J. Cole. I've been a fan of his since he started his mixtape run from The Warm-Up to Friday Night Lights. There are a ton of acts I would like to check out at Lollapalooza, but J. Cole is the number one act that caught my attention. COLEWORLD!
Shelby Shaw
When was the last time you saw At the Drive-In perform live?
Oh, really?
My point exactly.
Dominick Mayer
Since my long-held wish to be able to call this year's festival Lolla Del Rey won't be coming true (damn you, colossal SNL failure), I'll go with Sigur Ros as my must-see set. Though I have some trepidation about seeing something so beautiful with the same people who were crowd surfing to Arcade Fire two years ago, any small gripes I may have are circumvented by the fact that it's Sigur Ros.