Culture
Lollapalooza 2012: Sunday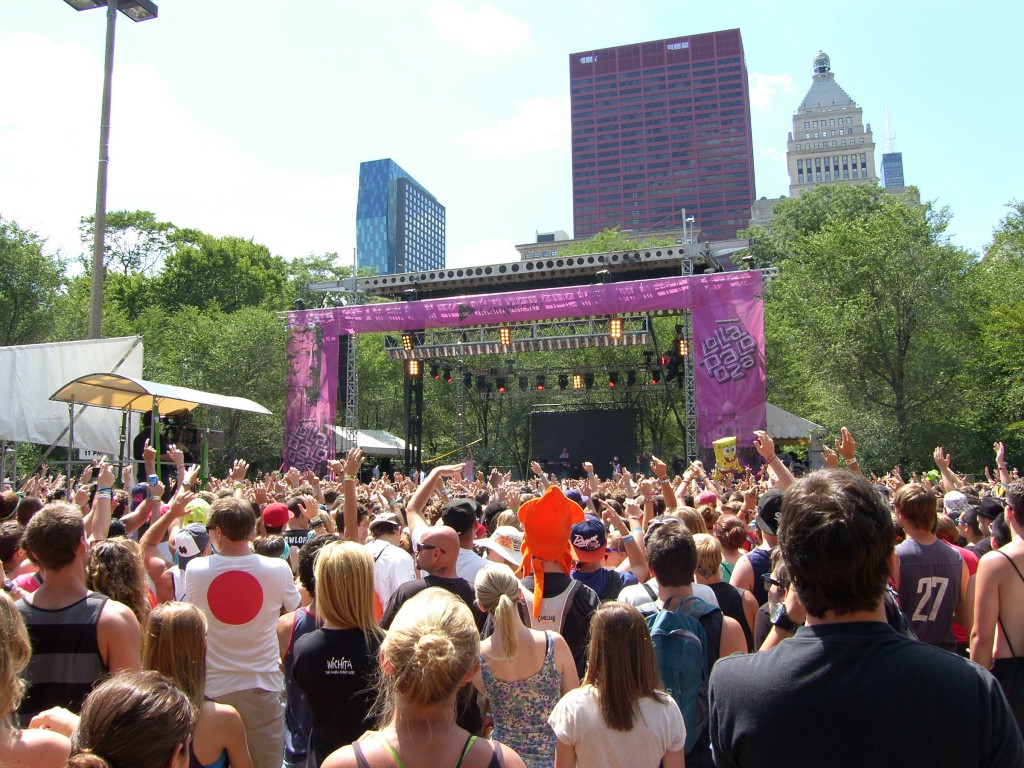 With Lollapalooza 2012 now in the books, it's easier to finally step back from the physical toll and the heat and what have you, and start being sorry it's gone. This is the endless conundrum Lolla presents: It's taxing as hell, until you realize the fun is gone for another year. Sunday was arguably the biggest day of the weekend, with two of the biggest crowds and some of the most anticipated acts. Features editor Dominick Mayer was there to catch as much as possible
(Writer's note: Due to a hospitalized travelling companion and internet problems, the coverage for Sunday got underway a little bit later than expected.)
Macklemore & Ryan Lewis (Google Play Stage, 2:15)
This year's Lollapalooza has featured one of the festival's most robust crops of hip-hop stars in all the years of the Chicago festival. While there wasn't a big-ticket MC on the level of Eminem last year, acts like Childish Gambino and Wale on the lineup prove that Lolla hasn't totally forgotten about a genre that's often been underrepresented at the fest. One of the most exciting acquisitions this year is Macklemore & Ryan Lewis, a heavily buzzed-about tandem (Macklemore appeared on this year's XXL Freshman list) known for their high-energy live show and earnest-yet-party-ready raps.
Their early-day set was perfect for the sizable crowd, moving between the earnest working-man's Americana of "Wings" and the giddy "And We Danced," the latter of which saw Macklemore emerge as an English hair-metal rocker with a ridiculous accent to incite crowd-wide bouncing. Even when slowing down to deliver "Otherside," a Red Hot Chili Peppers-sampling ballad about drug addiction, the energy coming off the stage was infectious. Macklemore & Ryan Lewis' debut The Heist drops this fall, and given the reception for the goofy first single "Thrift Shop" at Lolla, expect to hear a lot from these guys in the very near future.
Sigur Ros (Red Bull Soundstage, 4:00)
A lot of people (myself included) were complaining about Icelandic soundscape creators Sigur Ros being slotted in the middle of the day at Lolla, worried that the impact of their often gentle songs would get lost amongst listless crowds trying to beat the heat. For the first time all weekend, though, the minute they took the stage, with a full instrumental section in tow (about a dozen people onstage, all told), rapt silence immediately fell over the crowd. What ensued was an hour of absolute beauty unlike anything seen at Lollapalooza to that point. Opening with the slowly building "Svefn-n-englar," Sigur Ros' set wisely kept (for the most part) to their larger-sounding tracks, and away from the tranquility of better-known songs like "Staralfur," which many in the crowd around me were hoping for.
By the time they reached the middle section of "Hoppipolla" and its epilogue "Med Blodnasir," the crowd was enraptured. I've very rarely seen a crowd in the palm of a band's collective hand the way Sigur Ros had nearly every audience member on Sunday. The set moved effortlessly from gentle, dreamy waves to thunderous catharsis, with their multimedia display (images of water and fields superimposed over the band's performance shots) adding to the band's surreal presence. By the time they closed with "Popplagio" off the (  ) album, which ended in frontman Jonsi tossing his guitar to the ground, audience and band alike were emotionally spent. The crowd wasn't particularly big for Sigur Ros, which distressingly enough might mean fewer rare acts of this nature in future years. I hope this isn't the case, though, as Sigur Ros' performance was truly something special, something that Lolla might never see again.
At The Drive-In (Red Bull Soundstage, 6:00)
So the legend goes: 11 years ago, at the height of their popularity and in the wake of releasing their instant classic Relationship of Command, Texas-based post-punk-post-everything band At The Drive-In called it quits, the result of drug use, general burnout and the band's yen to move in different directions. Vocalist Cedric Bixler-Zavala and guitarist Omar Rodriguez-Lopez went on to get even bigger and even weirder as The Mars Volta, while backup vocalist Jim Ward would form Sparta. Neither of those bands, though, approached the raw fury of ATDI, nor the breathless wonder of discovery that their music provided. (For all of Volta's time signature-abusing guitar wankery, they have yet to write a song as perfect as "Invalid Litter Dept.") For years, fans have been clamoring for one more tour, one more chance to hear "One Armed Scissor" live. Earlier this year, ATDI simply posted on their website that "This station is now operational," heralding their return (however temporary it might be) to the road.
Was the Lolla set worth all the preamble and hype? The answer is a resounding "yes." I'll address the two issues many have already pointed out right off the bat: Tech issues led to a few awkward stops throughout, and Rodriguez-Lopez could not possibly have been any less interested in being there, barely moving and playing much of the set with his back to the crowd. Setting that aside, from the minute they took the stage to Danzig's "Mother" and identified themselves as "Latin Danzig," ATDI played a blistering hourlong set that not only stands as Lolla's loudest non-electronica set of the weekend by far, but also carried with it the kind of "this is never happening again" aura that Black Sabbath sought so desperately on Friday. Diving right into the one-two punch of "Arcarsenal" and "Pattern Against User" from Relationship of Command, their set saw a balance between that best-known record and older material, like "Napoleon Solo" from in/Casino/out. The near-perfect setlist, combined with Bixler-Zavala's hilarious, unhinged ranting throughout the set, made At The Drive-In's Lolla set every bit the genuine event that fans were hoping for.
Jack White (Red Bull Soundstage, 8:15)
The mythology of Jack White, in addition to the often self-created enigmatic shroud around him, has often been one of the last great guitar gods, a train-hopping, softspoken blues man whose guitar speaks for him, the kind of Route 66 mythology that modern rock has mostly forsaken. When White does things like tour with two bands, one all male and one all female (Los Buzzardos and The Peacocks, respectively), as he is on this current tour, few to no people are phased by this, figuring it's the kind of behavior typical of a wild-haired genius. His festival-closing set added to this myth in much the same way, with few words getting in the way of a relentless 90-plus minutes of guitar rock, put forth in a riot of different styles that took his existing material from all his bands and solo album in new directions without being overly distracting.
When White released his solo debut Blunderbuss earlier this year, fans wondered exactly how he planned to bridge the gap between the gritty garage rock of The White Stripes, the sleazy neo-blues of The Dead Weather, The Raconteurs' alt-rock and the bluegrass and country of his own work. The answer, judging by Sunday's performance, was to blur the lines between all of the above. For instance, "Hotel Yorba" got a full makeover, with twice the country twang and five times the speed. "Dead Leaves and the Dirty Ground" became a piano ballad, while The Dead Weather's "Blue Blood Blues" was infused with brassy soul vocals. The whole set moved at an unbelievable clip; White didn't so much as pause to breathe or address the crowd until over 35 minutes in, and generally subscribed to the notion that the crowd wasn't there to watch him banter, but simply to rock, which he did ably. The dual bands never felt like a gimmick, each adding their own spin on the material (the female band, until the encore, was lighter with more of a bluegrass touch, the male thicker and heavier), and White stood front and center, manipulating his guitar into spastic bursts of power and slowing it down to a hush, often in the same song. If the guitar gods have largely abandoned us, as some say, Jack White seems more than happy to carry the torch.
Other observations:
-Partial sets of the day: There were a few of these, as some ankle and back issues were making it really hard to stay upright for any major length of time. The Walkmen sounded crisper than their last Lolla set two years ago, though I don't know who they pissed off to get put on the Sony stage twice in a row, with all its sound problems. Toro Y Moi improved on their Pitchfork set from last year, with a disco-tinged set that kept the crowd engaged while also still being a bit too precocious to really work beyond a few songs, a general problem with Chazwick Bundick's work. Finally, Miike Snow closed out the Sony stage sans masks, with a ridiculously danceable set that also boasted one of the better small-stage light shows of the weekend. I was reminded a bit of Chromeo's set on the same stage two years ago, which wasn't particularly memorable but a lot of fun nevertheless.
-Homemade Pizza Company came through in the clutch this year, with $3 slices that were pretty delicious. Well done, folks. Also of note: As Grahamwich's famed lobster corndog gets more expensive with every year, the weekend-ending price drops get steeper, going from $10 to $7 because, I'm guessing, most people realized that eating fish when it's a hundred degrees outside feels good to approximately nobody.
-This has been a blast. Heave's festival coverage for the rest of the summer is still getting worked out, but it's highly likely that we're not done just yet. Stay tuned, folks.