Culture
Lollapalooza 2012: Saturday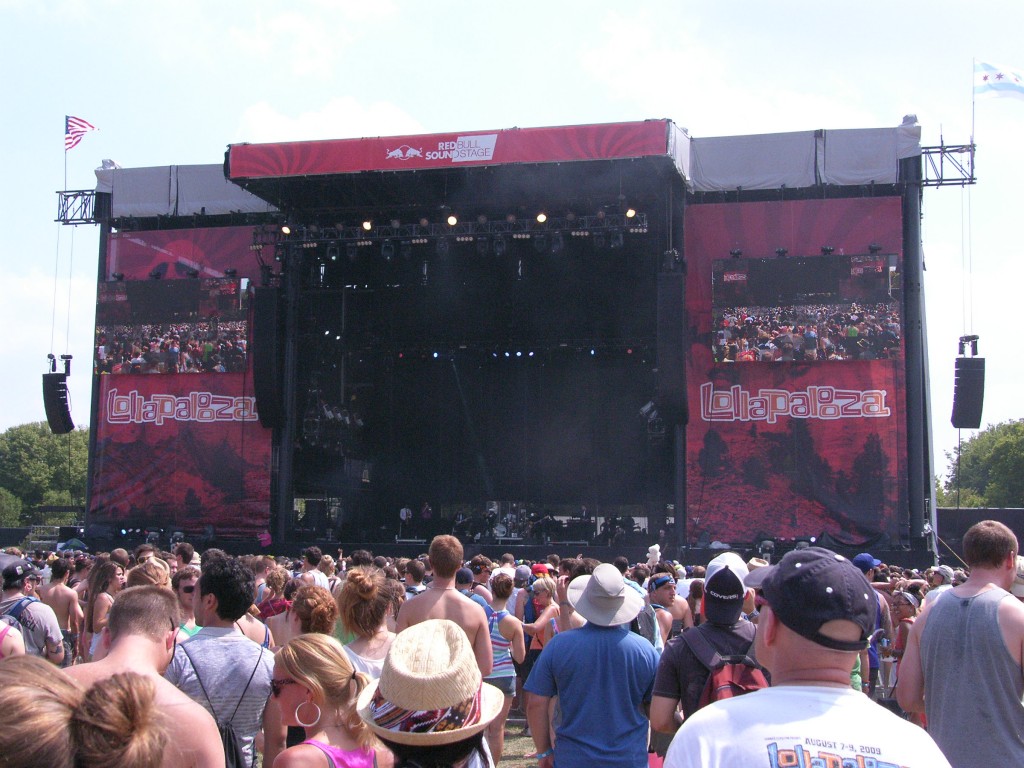 It's impossible to run down Lollapalooza 2012's Saturday without talking about the massive storm that ground the fest to a halt for about three hours in the middle of the day. Serious kudos to the festival staff, though, as they got stages moving and the park reopened with remarkable efficiency in not a lot of time. Our Features editor Dominick Mayer was there for all of it, live-Tweeting at @HEAVEdom and getting in as much music as possible under the circumstances.
Doomtree (Red Bull Soundstage, 12:45)
Minneapolis hip-hop collective Doomtree has seen an increased visibility in recent years. Despite being active for around a decade, it wasn't until P.O.S. and Dessa both started garnering serious critical raves in the past three years (for the records Never Better and A Badly Broken Code, respectively) that the Doomtree crew started selling out group shows. Their shows typically strike a balance between solo material from all seven members (Mike Mictlan, Paper Tiger, Cecil Otter and Lazerbeak rounded out the group, with Sims missing) and group tracks, but since they didn't have their standard two hours or so for Lolla, they focused mostly on material from their recent group release No Kings. It was a high-energy set, with a lot of noise (their gritty production sounded great through a main stage sound system) and a lot of spitfire flow. This was more or less a teaser for their full group set, but it was a fine one.
Aloe Blacc (Red Bull Soundstage, 2:15)
Best known for his song "I Need A Dollar," the theme to the now-cancelled TV series How To Make It In America, soul man Aloe Blacc is pure old-school, a shuffling onstage presence with a voice that carries over even the most casual crowds. He converted quite a few people early in the day Saturday, with a set that wouldn't have been out of place on Soul Train. Blacc even name-checked that program in the introduction to "You Make Me Smile," in which the crowd was encouraged to spread that message to a friend. Given the general chaos of Lolla Saturday, that wasn't a bad sentiment. Blacc moves between soul and R&B, with hints of gospel at points, with minimal effort and a blasting horn section that accentuated his upbeat songs. He even added a few flourishes to them, with a reggae breakdown during "I Need A Dollar" and some squelching funk guitar during "Tonight Downtown." Blacc put on a set that was as unabashedly fun as anything you'd see this weekend.
(Intermission for frightening thunderstorm.)
tUnE-yArDs (Sony Stage, 6:30)
After the storm, Lolla improvised a new schedule, which involved sets going until 10:45, and all the bigger acts getting pushed forward. Bizarro songstress tUnE-yArDs ended up sliding her way to the microphone due to the standing water on the Sony stage, but that hardly stopped her from digging right into "Do You Want To Live?" As the song progressed, her full band emerged, including a saxophone section that underscored much of the set nicely, especially on the twitchy "Bizness." Her vocal looping was also quite impressive, with her building an infectiously catchy wall of noise at the beginning of "Gangsta" by harmonizing with herself. (That's also what finally compelled the talkative crowd to take heed.) The stage's sound issues caused her songs to lose some of their propulsive energy, but for sheer ballsy presence, Merrill Garbus might've won the day.
The Weeknd (Red Bull Soundstage, 7:15)
Abel Tesfaye rocketed to indie popularity in the past year, based on his strong trio of mixtapes (House of Balloons, Thursday and Echoes of Silence) and on his prominent production credit on Drake's Take Care. Now that much of the secrecy that characterized the early part of his rapid rise is gone, Tesfaye has started touring as The Weeknd, and many questioned the plum sub-headlining slot he received at Lolla despite not yet releasing an actual full-length album. Those naysayers were provided with ample fuel by about halfway through his set, when it was clear that he had packed in one of the sparsest late-day crowds of the weekend, many of whom looked like they were strictly there for the Red Hot Chili Peppers' set later in the evening. It didn't help that Tesfaye did little to rise to the occasion. The beauty of The Weeknd's music on record is its disturbing, coke-addled club mysticism that's offset by Tesfaye's voice, crooning seductively over minimal beats. Live, he made the deeply ill-advised choice to bring along a hard-rocking full band that turned his ominously soulful R&B into a fringe sub-subgenre of nu-metal. With riffs that sounded pulled from a Korn album that overpowered Tesfaye, the ostensible star of the show, this was easily one of the weekend's most disappointing sets.
Bloc Party (Sony Stage, 8:00)
After a hiatus following the mixed reception of their electronic-heavy third album Intimacy, Bloc Party have returned, and mercifully it's with a set of new songs that sound a lot more like their phenomenal debut Silent Alarm. Right alongside "So Here We Are" and "This Modern Love," new cut "Octopus" fit in impeccably. What was more thrilling was the amount of love shown in the set to A Weekend In The City, their underrated sophomore album that in past years has largely been marginalized in their sets. Frontman Kele Okereke seemed invigorated by the return to their roots, all limbs flying around in spastic dance as he continually polled the crowd as to whether they were having a good time. They were, despite the shoddy stage sound, jumping along to "Banquet" and "Flux" in kind. Even "Mercury," the lone Intimacy cut, benefitted from their expansion into a more rock-heavy feel. By the sound of it, Bloc Party is back, and it's great to see them again.
Avicii (Bud Light Stage, 9:30)
Swedish mega-producer Avicii had some pretty big shoes to fill at Lolla this year, as the first main stage EDM headliner since Daft Punk's legendary 2007 set. Despite the fact that the North field of Grant Park was reduced to one gigantic mud puddle by this point in the evening, the heavily addled crowd was ready for an hour plus of high-production dance music. Avicii delivered, and did it without the pandering tricks of many other big-name DJs. There were no out-of-left-field dubstep breaks or major pop samples, aside from Avicii's own Gotye remix, which he used to segue into his mega-hit "Levels" near the end of the set. That didn't end the set, which caused a visible letdown in the crowd, but that wasn't what the set was about. This was about the party (which led to a lot of pushing and general obnoxiousness, but such were things), and about the visuals, which were the real show-stealer. Playing atop a giant white head vaguely resembling the monolithic face in Prometheus, Avicii's light show involved a series of projections that changed with each song, imposing eyes and lips and all manner of 3D imagery onto the head. Avicii's set was pure spectacle, and this hardly seemed to disappoint anybody.
Other observations:
-The bit of Neon Indian's set that band mastermind Alan Palomo managed to get out before the storm came was fun, a dose of glitchy dance-pop that appealed well to the same crowd who packed the Passion Pit set on Friday. Palomo also seemed genuinely apologetic when he was halted after four songs, promising to return to Chicago and make the cancellation up to the crowd.
-The storm evacuation was pretty orderly given the amount of people that suddenly had to vacate Grant Park. Enough time was also given that, aside from the people who tried to defiantly wait out the storm in the park, everybody was able to find shelter with ample time to spare. That said, the vibe noticeably changed upon the reopening at 6:00; minimal bag checking probably contributed directly to this.
-Biggest food ripoff of the weekend so far: the chicken tenders from Connie's Pizza, which were soggy, oversized and undercooked popcorn chicken chunks.
Coming tomorrow: Heave's fest wrap-up, with Jack White, Sigur Ros, At The Drive-In and the best and worst of the weekend.