Features
Lollapalooza 2013: Friday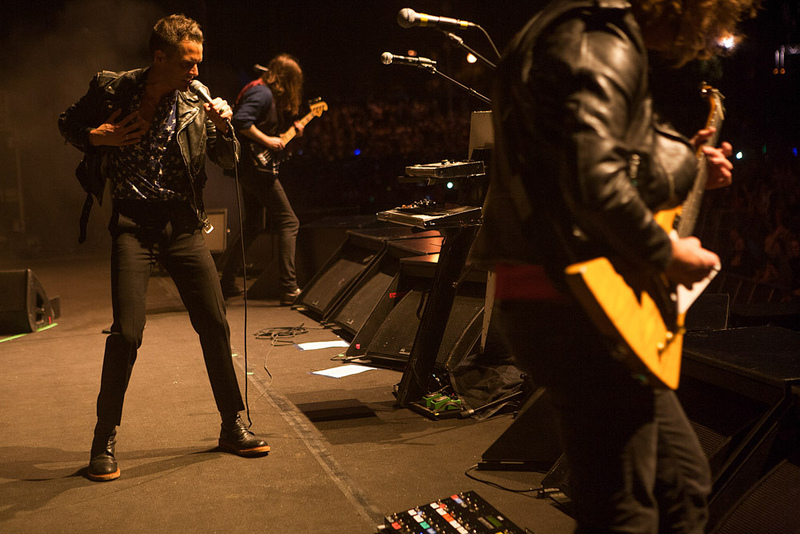 Lollapalooza is here, and the Heave staff couldn't be more excited. Though Friday proved to be a soggy experience, we still caught a bunch of fine acts and bestowed upon them some unique awards. Music editor Amy Dittmeier (AD) was joined by staff writers Marissa Morales (MM) and Jonathan Mondragon (JM) on the wild ride that is a three day festival in Chicago. (Note: Features editor Dominick Suzanne-Mayer (DM) contributed to Friday's coverage as well) Follow Amy and Marissa at @roboticdinos and @MsCatsby, respectfully, for live updates all weekend!
Most anticipated post-Lolla blow up artist: Emeli Sande
Why Emeli Sande hasn't exploded here is beyond me. Sande has a phenomenal voice, and couldn't have been any more adorable while gushing to the crowd about how excited she was to be a part of the festival. She was the first set of the day for me and she killed it. Her voice gave me goosebumps. It's rare to see an artist live, at a festival no less, and have a crystal clear voice. I'm pulling for her to explode in the US this year. The only thing missing from her set was her fun cover of Beyonce's "Crazy in Love." MM
Best appearance of a kazoo in a live set: Icona Pop
These Swedes know how to have a good time, and I have to say I've been a fan for some time. But I was always a bit nervous to see them live. DJs are typically hit or miss, but Icona Pop absolutely delivered. They not only sang but played a handful of other instruments, including a kazoo. The most magical moment of their set was when the rain came down. It was one of those moments you know you'll always remember, dancing in the rain to Icona Pop. We didn't care. We loved it. (I had to!) MM
Most bad-ass frontwoman at Lolla: Alice Glass of Crystal Castles
Oh boy. I'll do my best to keep this brief. This will definitely be in my top three favorite sets of the entire weekend. Alice Glass arrived on stage with a cigarette in one hand and a bottle of Jameson in the other, which I'm fairly certain was gone by the time their set was over. My idol. Glass kept the set incredibly high energy and is a show unto herself. There was no banter with the crowd, and it wasn't necessary. Ethan Kath worked his magic on the side and the pair played a handful  of songs together on his machines. I really can't say enough about this set. If you ever get a chance to see them live, please do. MM
Most Well-Oiled Rock Machine/Best New Drummer: Queens of the Stone Age
Friday's mid-evening set by Palm Desert stoner rock legends Queens of the Stone Age was their first festival show in Chicago in quite some time. Hot off the heels of their first record in six years, this year's fantastic …Like Clockwork, and sporting a new drummer (The Mars Volta's Jon Theodore, specifically worth noting), the band sounded renewed and ready to dominate. Simple stage elements such as their new all-red backline, a massive projector screen projecting British artist Boneface's material for …LC, as well as fitting lighting, made for great enhancements to a near-flawless set. The set drew from both the new material such as the groovy "If I Had A Tail", the driving "I Sat By the Ocean", and explosive single "My God Is The Sun", expertly translated live. Early classics peppered the set such as "No One Knows", "First It Giveth", and "You Think I'm Worth A Dollar, But I Feel Like A Millionaire", along with newer hits like "Sick Sick Sick" and "Burn the Witch", and fan favorites such as "I Think I Lost My Headache" and unstoppable set closer "Song For the Dead." The sound was well-balanced and mixed, and the band's stunning new lineup was a marvel to watch. The enthusiastic and receptive crowd energized the band to deliver one of the best non-headliner sets Lollapalooza has seen. JM
Biggest Surprise (Perry's Category): Flux Pavilion
English dubstep powerhouse Flux Pavilion received the kind of co-sign that money can't buy when two years ago Kanye West and Jay Z used "I Can't Stop" as one of the most memorable samples on Watch The Throne. However, like many of the preeminent dubstep producers right now, Flux has a lot more to offer than huge drops. He also has an impeccable ear for emotionally resonant, euphoric melodies, many of which were on display during his excellent Lolla set. After kicking off with an opening half hour of crowd-pleasing material, including his Childish Gambino collaboration "Do Or Die" and a brief snippet of "Niggas In Paris," his set settled into a gentler (for live dubstep, anyway) rhythm of wobble bass offset by the sort of uplifting melodic progressions that had some in the crowd excitedly telling their friends "This is why we come here!" Even if you can't take the whole live-EDM-as-religious-experience thing as seriously as the denizens of Perry's, Flux Pavilion is more than talented enough to stage a compelling case. DM
Best Stage Production/Best Reunion Lineup/Most Impressive Usage of "Fuckin": Nine Inch Nails
Following in the destructive wake of QotSA, the long-awaited four-years-later reunion of Nine Inch Nails and Lollapalooza was slated to happen. Few minutes after the scheduled start time, singer Trent Rezor took the stage alone, a single synth and his vocals opening new Hesitation Marks track "Copy of A," as each new member in the live band took the stage one-by-one, filling out the instrumentation of the song and tying directly into the Pretty Hate Machine classic "Sanctified," and then into new single "Came Back Haunted." Following the excellent opening, it was clear this stage production was one-of-a-kind, featuring a running theme of LED screens on wheels, lights/lasers aplenty, and dark, atmospheric silhouetted lighting – truly a spectacle to behold. It greatly complemented NIN's choice selection of songs, going as far as switching each member's place onstage/respective instruments after nearly every song. Of particular mention are how perfectly inhuman new drummer Ilan Rubin and new bass/guitar/synth multi-instrumentalist, Telefon Tel Aviv's Josh Eustis fit into the new live band.
The rest of the set featured tracks most NIN fans expected, such as an ever-explosive "March of the Pigs" into the subdued masterpiece "Piggy," the industrial clamor of classics like "Terrible Lie" and "Closer," the creepy-yet-sexy atmosphere of "Me, I'm Not," some instrumental tracks from The Fragile, Broken, and Reznor/Atticus Ross' score for David Fincher's The Girl With the Dragon Tattoo. During tracks "1,000,000," "Piggy," and "The Wretched," Reznor humorously added a great deal of "fuckin'"s (I feel a fuckin' million fuckin' miles away) ("fuckin' hey Pig, fuckin' Pig Pig) and the crowd loved it. The last six songs were single-after-single, everything from "Wish" to "The Hand That Feeds," a particularly bad ass rendition of "Only," (with more instances of the word "fuck") and the crowd-winning closer "Hurt." All in all, the brilliant stage production, perfectly paced setlist, and outstanding new live band made NIN one of the best headliners at Lollapalooza in years. JM
Set that most resembled a David lynch film: Nine Inch Nails
A drawback of being short is that I can never see the stage. I can meander my way through the crowd, shifting my weight and standing on my tip toes craning to see a glimpse of the stage, but unless a kind 6'4″ gentleman plans on carrying me on his shoulders for a hour it will never happen. Luckily, I know I can count on Trent Reznor and Nine Inch Nails to have a fantastic visual display to compensate for my lack of view. I've seen NIN play several times (my first being at Lollapalooza in 2008) and I know what to expect from them – a tight, well put together setlist of hits ("Closer," "Gave Up," etc.) along with new and obscure material (Reznor played material from Hesitation Marks along "Sanctified").
But what really blew me away this time was NIN's visual set. Their stage show started with stark white, blacks, and greys, illuminating the band against the large backdrop of the stage in strange elongated shadows. David Lynch and Trent Reznor have collaborated many times now, most recently for NIN's newest music video for "Came Back Haunted." But never more have I seen his visual influence on the band than their Lolla set. This especially came through during "The Frail," a beautiful instrumental track that is a fan favorite, where brilliant blue light illuminating the back drop as Reznor played the song's simple melody on the piano. I often wonder if Lynch likes to collaborate with Reznor because their creative mind reside in this other dark world, where shades of grey and slashes of red take over the mental color palette. NIN's Lolla set pretty much confirmed my hypothesis. AD
Worth the Wait (Marissa Edition): Lana Del Rey
Disclaimer: Lana was one of the biggest reasons I wanted to attend Lolla this year. Having arrived to her set over an hour early, I expected a fairly decent spot. Little did I realize people had clearly been camping for her all day. While the wait was one of the most uncomfortable, terrifying moments of my life, it was completely worth it when she arrived on stage. She opened with "Cola" and the crowd nearly lost it. The voices of the audience drowned her own out a few times but Del Rey didn't mind a bit. She loved it and consistently complimented the crowd on how "fucking beautiful" we all sounded. She spoke of the short film she worked on, "Tropical," and played a decent amount of tracks from both Born to Die and Paradise.  Her set was lovely, just like her, but I hope whoever decided to put her on a small stage with not a whole lot of room stubbed their toe, because she and her audience needed more space. MM
Most Studied Performance, Predominantly For Better And A Bit For Worse: The Killers
Of all the buzz bands to emerge in the early to mid 2000s, show of hands if you thought The Killers would be among those who stuck around the longest? Granted, their A material was largely expended on their first two records (Hot Fuss and the seriously underrated Sam's Town). But they've stuck around because of a genial presence and because the material from those albums is some of the most arena-ready, crowd-pleasing radio rock that's come out in years. People who don't even listen to The Killers per se know most or all of the words to "Somebody Told Me" or "Mr. Brightside," and from the moment they opened their Lolla headlining set with the latter, the crowd was hooked. (That said, the ambient chatter rose sharply in volume every time the band tried to play anything that wasn't a single.) For the most part, the set was strong, mixing in some more recent material like "Ms. Atomic Bomb" with the songs everybody came to hear.
The inhumanly tan Brandon Flowers also makes for a compelling frontman, even if some of his bits felt a bit stiff and/or over-rehearsed, particularly when he introduced a cover of Frank Sinatra's "My Kind of Town." Their other covers were more interesting, tossing in Tiffany's "I Think We're Alone Now" and Joy Division's "Shadowplay"; New Order's Bernard Sumner joined them for the latter. And as a whole, their set was perfect for a festival headliner. Lots of LED screen theatrics and, eventually, pyrotechnics during "When You Were Young" pushed through a set that was capably played and got people dancing. Plus, there's nothing quite like singing along to "All These Things That I've Done" with tens of thousands of other people. And that's the experience we come to Lollapalooza for, isn't it? DM