Culture
North Coast Music Festival 2012: Sunday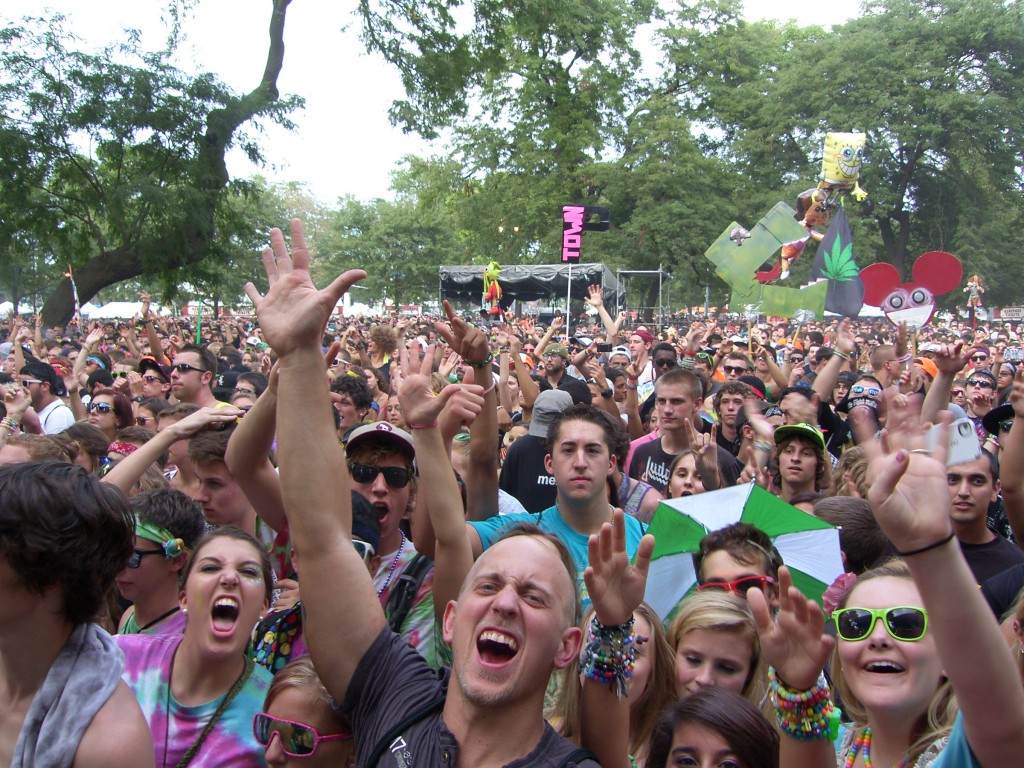 Without too much preamble, I'll get into final superlatives for the closing day of the 2012 North Coast Music Festival. This year's event may have sacrificed some of the gleeful eclecticism of past years in exchange for a ride on the massive wave of EDM culture taking over the American mainstream this year, but it made up for it with a far more crowd-friendly experience than most other Chicago festivals' electronica-heavy offerings this year. Did the last day keep the momentum alive?
Best reprieve: After a weekend full of big-bass electronic music, German house duo Digitalism could not have played at a better time. Unlike many of the artists slipping the occasional house beat into their routines, Jens Moelle and Ismail Tufekci smoothed out some of the harder edges that electro-house DJs often explore in favor of a relaxed, melodic feel for most of their set. (The one notable exception was an excellent remix of M83's "Midnight City," which managed to add a significant amount of stomping bass while losing none of the dreamy delicacy of the original.) Most of their samples are deceptive in their seeming simplicity, the glitch-tinged drum and synth combinations forming into the exact kind of comedown needed at the end of a long weekend of neon and raging. Many thanks to the Based God for that.
Oddest musical combination (uneffective category): British dubstep purveyors Modestep add a couple of conceptually interesting but sonically unsuccessful touches to their live set, beginning with a full band and a frontman (Josh Friend) who croons about how "we're burning with violence" in a reasonable facsimile of late-90s alt-rock. The band aspect of the set, uninteresting but harmless as it is, was often overwhelmed by the second component of their set, which was a DJ bringing the dirty dubstep drops in full force while drowning out most of the band in the process. Though Modestep had a few tricks up their collective sleeve for keeping the crowd invested (drops, a sample of "Fuck You" that utilized aggressive electronic hand-claps, drops, Skrillex's remix of "Levels" with little modification, more drops), the set was little more than the kind of crowd-pleasing setup you'd expect in a club.
Oddest musical combination (effective category): Pretty Lights. While his setlist was heavy on the trip-hop and lighter on some of his more textured material, Derek Smith is one of North Coast's only artists this year to bridge all the scene gaps and draw in every demographic, with easily the weekend's biggest crowd to prove it. The genre-jumping and synchronized top-dollar lighting of his set was a perfect way to send out a weekend full of both.
Best example of the dubstep epidemic: Pretty much everybody that I saw on Sunday. Only three sets I saw all day (Com Truise's relaxed approach, Digitalism and Big Boi, who will be discussed shortly) lacked a pandering moment of wobble bass. I say "pandering" simply because in most sets for artists not involved in that current EDM trend, a wobble-bass drop in the middle of a standard electro or house set feels like a gimmick to pull people in. Despite the tone of my writing on dubstep artists this weekend, I'm truly not against it. It's just getting to a point of excess. Don't believe me? Check out Pitbull's theme from Men In Black 3, which features the most asynchronous drop of them all.
Most detrimental element of an otherwise fantastic set: Big Boi's hype man, whose name I was unable to catch and/or track down. Without him, the North Stage-closing set by the perennially underrated half of Outkast would've been a highlight of the weekend. Sir Lucious Left Foot moved between his solo material and some crowd-pleasing Outkast cuts, from "Elevators" to "Ms. Jackson," which picked up the final-day crowd and got them jumping anew. The energy was strong, with Big Boi slipping into double-time flow periodically and inciting an increasingly huge dance party onstage. However, his hype man not only shouted over some of Boi's most impressive deliveries, but was given the spotlight to deliver some wildly mediocre G-rap of his own. For somebody with bonafide legend status, Antwan Patton requires no hype man. He simply is.
Most disappointing use of $7: The mac & cheese bites, which were far too few and too small for that sort of money.
With this, Heave's festival coverage for summer 2012 has likely come to an end. Sincere thanks are owed to every single one of you who read along. Also, a final disclaimer: Staff Swap Week, in which every regular Heave columnist takes over somebody else's piece, starts tomorrow. Stay tuned!