Culture
Listless: A taste of North Coast 2012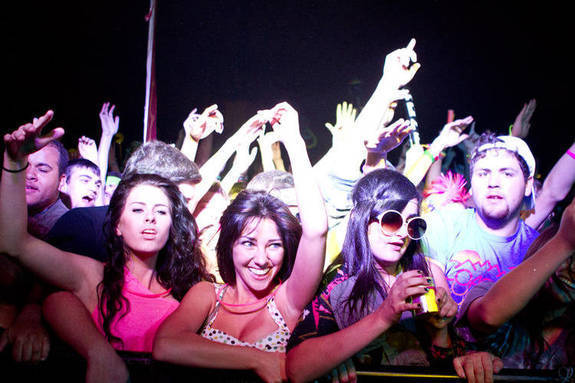 (Cover photo credited to RedEye Chicago.)
Though it's still a minor ways down the road, Chicago's first EDM-heavy music festival, North Coast, recently dropped its lineup for the third installment of the summer-ending Labor Day weekend fest. Featuring their now-signature blend of hip-hop, electronic and jam bands, North Coast's 2012 lineup has a ton of promise, and proves to be arguably their most eclectic to date. With that in mind, the strong-on-paper lineup also begs quite a few questions, questions which we'll be aiming to answer here in this week's Listless. Without further ado:
Top Four Things Of Note About This Year's North Coast Music Festival
1) Which returning headliner will own the weekend?
Of North Coast's four headlining acts this year, three of them have graced the festival before; Pretty Lights and local-based Umphrey's McGee played the inaugural festival in 2010, and STS9 (Sound Tribe Sector 9) appeared last year. Of them, Pretty Lights easily played the most memorable set; closing a side stage before Chemical Brothers, he managed to completely lay waste to Union Park in half the time he'll have at his disposal this year. However, one can't discount the ever-dedicated jam band fanbase. And then there's the real X-factor in North Coast's new headliner addition for this year: Greg Gillis, aka Girl Talk, whose live shows tend to involve one giant, sweaty, often addled mess of humanity jumping around like the largest, most insane house party around.
2) Where'd the spike in hip-hop come from?
North Coast has consistently pulled down strong rap acts every year, don't get me wrong. 2010 saw the legendary De La Soul put on arguably the best set of the weekend, and last year Common staged an old-school Chicago-style hip-hop throwdown, along with Wiz Khalifa's night-ending set on Friday of last year's fest. This year, though, not only do we have Big Boi (of Outkast, if you somehow didn't know), but Minneapolis' Atmosphere, who managed to accomplish the near-impossible at Lollapalooza last year and pull in the jaded Eminem crowd. Speaking of Mr. Mathers, his protégé Yelawolf will be in attendance, as will the immaculately monikered up-and-comer Mr. Muthafuckin' eXquire. It's pleasing to see all of Chicago's big three fests stepping up their rap game this year.
3) Will there be more water fill stations?
Seriously, guys. Please. Please.
4) Who's going to bring around the biggest dance party?
This almost feels like a trick question when talking about a dance-heavy festival, but this year is especially stacked with contenders. There's Dan Deacon, known for putting on one of the best live shows of any currently active touring musician. There's Steve Aoki, whose synth-heavy Euro-style electronica rose to prominence thanks to this year's film Project X, in which Aoki's remix of Kid Cudi's "Pursuit of Happiness" became a definitive symbol of hedonism and hard-partying excess. There's Paul Oakenfold, coming in with the veteran status. And perhaps most notably, Axwell and Steve Angello, two-thirds of the recently defunct Swedish House Mafia, will be playing solo sets. Get ready, and bring shoes made for dancing. For real; I saw a group last year trying to go hard in Ugg boots. That is not proper dancing attire.
(North Coast will be going down the weekend of August 31-September 2. And you'll have the day off work, so come on. Tickets are still available and can be found over here.)