Music
Monday Morning Roundtable: Album concerts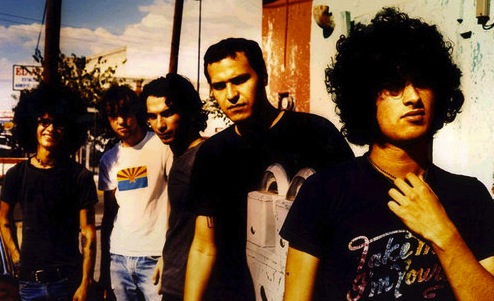 Dominick Mayer: I already missed the boat on a major album-in-its-entirety moment a few year ago, back when Pitchfork was still doing their "Don't Look Back" series and GZA showed up to play Liquid Swords all the way through. Accepting that I missed the live performance of possibly my favorite hip-hop record of all time, there are a few albums I'd love to see live. For one, Cursive's The Ugly Organ, but with the caveats that they get Greta Cohn back on the cello, as well as a full chorus to sing the end of "Staying Alive." Against Me! ripping through the entirety of Searching For A Former Clarity would be awesome as well, but my number one choice has to be At The Drive-In reuniting to play all of Relationship Of Command. Since I'm the guy who's constantly begging Omar and Cedric to stop subjecting the world to increasingly aggravating jazz-prog-metal-samba odysseys and get back to making stunning post-rock, this would just kill two birds with one stone.
Ryan Peters: Let me start out by admitting that I have already read Dominick's response, and that yes, he is absolutely right: hearing At The Drive-In play Relationship of Command start to finish would wipe the taste of the last few Mars Volta albums out of my mouth. For a while, I thought about some classics (in my mind): Stankonia, The Battle of Los Angeles, and OK Computer.
And man, did I linger on OK Computer, especially because deciding in the track sequencing infamously almost drove Thom Yorke insane. But assuming that this opportunity was a one-time thing, I would choose Sunny Day Real Estate's How It Feels To Be Something On. It's my personal favorite album from one of the most criminally underrated bands of the last two decades.
Wes Soltis: I would love to see Arcade Fire play Funeral in its entirety. That album came out my sophomore year of college and I hated it at first. I listened to the first track ("Tunnels") and thought it was dreadful. I'm not alone in that assessment, either. The vast majority of people I've talked with thought that the album wasn't very good at first listen. Funeral is now my favorite album of all time. It grew on me and became a beautiful piece of work that has zero weak tracks. Coupled in with Arcade Fire's renowned live show and you've got a recipe that would be one hell of an experience.
Amy Dittmeier: Normally I would include the Lips in here as well but seeing as they are already out performing The Soft Bulletin this summer I'll omit them. I agree with Dominick, seeing Cursive do The Ugly Organ would be awesome. I feel a lot of the albums I would want to see would end up being the most depressing shows of all time. The Downward Spiral by Nine Inch Nails, The Cost by the Frames…all three of these albums are suicide-inducing. But man, seeing those bands play them live would be amazing.
I think my only non-depressing choice would be Songs for the Deaf by Queens of the Stone Age. Listening to that album time and time again makes me admire how good of a musician Josh Homme is. Everything about it is so well-constructed. The radio vignettes, the way each song takes themes and cues from the other, Homme's voice crooning over loud abrasive guitars. Although Queens are currently playing  their very first album live, I didn't much care for it. They're not the band that they were when they recorded Queens of the Stone Age 10+ years ago. No matter who is in the line-up Songs for the Deaf always fits.