Reviews
Vile meets Eros on 'Jamaica Plain' EP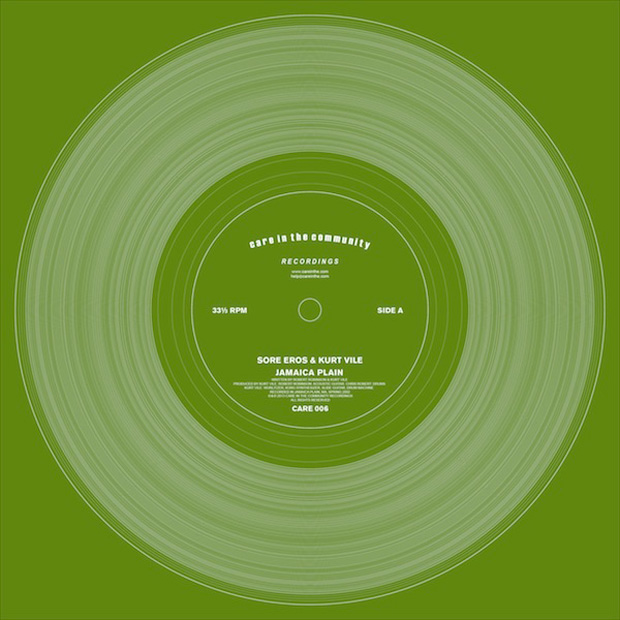 Jamaica Plain EP Kurt Vile & Sore Eros
Release Date: Nov 04, 13
1
2
3
4
5
6
7
8
9
10
Upon hearing of a collaborative EP between Kurt Vile and Sore Eros, 20 year old me (the young man that loved psych-pop bands that tiptoed the line between cheap recording and digital effect pedals) leaped for joy. Kurt Vile's output has been so consistent over the years. He's a name that continues to sell more albums with each release and also consistently reels in the adoring eyes of critics. At times he puts out bonafide classics like Childish Prodigy, Smoke Ring For My Halo, and this year's epic Walkin' On A Pretty Daze. Sore Eros, on the other hand, is a name I hadn't heard in quite a few years, something that's quite a disappointment. Their sophomore album, 2010's Know Touching was a slow-burn, dreamy campfire of an album, that at times met the psyched out measures of Kurt Vile and his former band The War On Drugs.
The collaboration between these two acts being released surprisingly stems from a performance the two had done over ten years ago. Kurt Vile and Sore Eros's frontman Robert Robinson met in 2001, and the following year the friendship blossomed into casual collaborations. Jamaica Plain EP is a perfect historical precursor to Kurt Vile's trademark style. It's an amateurish and hurried release, but it shows some terrific character, and it has an air of wonderfully ambient psychedelia.
The lo-fi slow-burner starts out with the ultimate dreary "Jamaica Plain." The song is an acoustic adventure met by static feedback and a little drummer boy beat. It has a strange cinematic quality to it; like it could soundtrack a drama set in the countryside or be a traumatic scene in a sci-fi film. "Serum" is the closest you'll get to conventional songwriting, but the vocals are distant enough to create a similar feel as "Jamaica Plain," since it's less a sing-a-long and more so an ambiance of vocals, slide guitar, and electronics. The EP ends with "Calling Out of Work," which sounds the most like Kurt Vile out of any of the tracks. This one again, is an instrumental, but the guitar chords in it are pure Vile. The subtle touches of delay-feedback could put this song on par with anything he released early on in his solo career. What's great about this whole EP is the ambient feel you get from it, and how obviously the pair had been influenced by Boards of Canada and possibly Jim O'Rourke's eerier electronic albums.
What Kurt Vile and Robert Robinson did on Jamaica Plain was give a preview into what these two musicians would become. Sore Eros would become a cult act, with a whole bunch of pretty, blissed out psych pop songs. Kurt Vile would become an indie darling, writing about blue collar city and family life, while appealing to Americans of every shape, size, and color with songs like "Freeway" and "Jesus Fever." The EP is very brief, but I sincerely think any one of these songs could soundtrack a film, and furthermore, I really think that the majority of Kurt Vile and Sore Eros jams would translate brilliantly in certain scenes. For any super fans, this is the EP to get. Even if you're not, you can appreciate some interesting ambient noise that predates the style Kurt Vile would gain acclaimed for. This might start a whole new love affair for one of modern rock's most interesting songwriters.