Features
Live Review: Nightlands @ Empty Bottle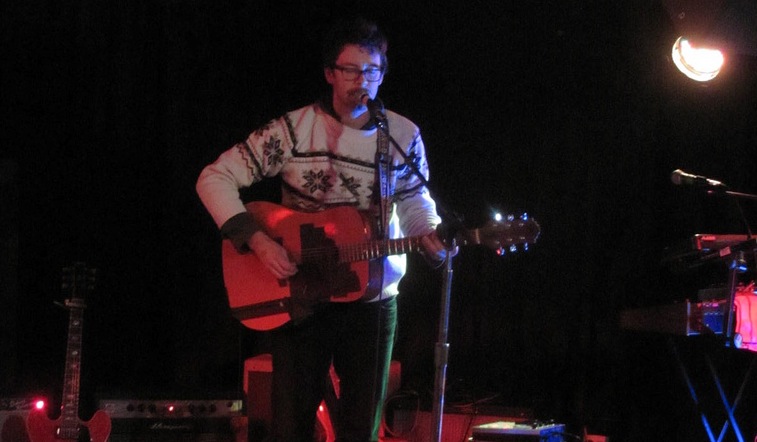 Nightlands at the Empty Bottle, January 27 2011
When was the last time you heard a guitar solo from the stage of the Empty Bottle? Honestly, I'm not sure if I ever had before last night. Dave Hartley could apparently feel the tension in the crowd, and halfway through his set apologized, "Sorry for all of the guitar solos." His jams weren't exactly the Carlos Santana brand, but closer to John Fahey's. So in other words, he didn't really have to apologize to us.
Hartley was performing songs from his latest project for Secretly Canadian, Nightlands. Perhaps better known as the bassist for his full-time band, The War on Drugs, Hartley's new project is less Springsteen-meets-Arcade Fire and more Eno-meets-Fleet Foxes.
Playing just his fourth show, Hartley's Chicago set began with a few songs alone with his acoustic guitar and some drum machine samples. Apparently having already mastered looping effects, Hartley was maintaining a strong vocal presence without any accompaniment, but opening act Houses joined him for the final two thirds of his set anyway. They brought with them a mandolin, louder percussion, and a noisier electric guitar. Live drumming was essential to Suzerain, the highlight of Nightlands' debut full-length, Forget the Mantra. And the additional set of voices enabled even more dynamic harmonies, especially for their chorally exultant closer, 300 Clouds.
The Empty Bottle's stringed Christmas lights softly accented Nightlands' dreamy compositions, but the visual supplements were strongest at Hartley's merch table. Hartley sold his 2010 full-length and a tour-only 7-inch called All the Way, both of which feature cover art by modernist architect Paul Rudolph. Rudolph's art looks like something you'd find in an old LIFE magazine article from the 60s about what they think the future might look like in the year 2000. The wistful ambitiousness of both artists is complementary and strangely enchanting.
Photo by Dylan Peterson.