Features
Riot Fest & Carnival Chicago 2013: Sunday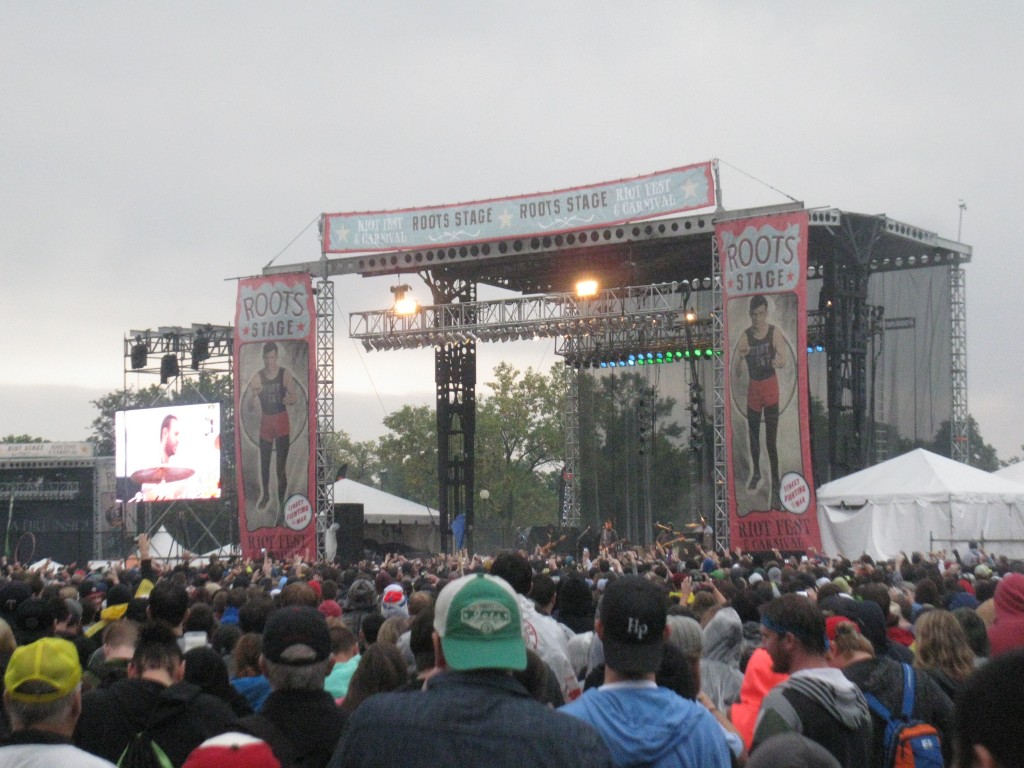 Sorry for the delay on today's coverage. The 2013 edition of Riot Fest & Carnival in Chicago left us exhausted, tinny-eared, and all-around completely and utterly satisfied. Sunday powered on despite being one of the worst weather environments in which to watch live music. It was grey, overcast, and steadily rainy on and off throughout the day. There was much hiding in tents and purchasing trash bags from strangers to fashion ponchos. But we soldiered on, a good call given some of Sunday's offerings. As it's gone all weekend, your coverage team consists of:
AD – Amy Dittmeier
PG – Patrick Gill
NL – Nico Lang
DSM – Dominick Suzanne-Mayer
——
Best Early Comeback: Reggie and the Full Effect
Though James Dewees' opening declaration that "This is our first show in like six years" is just a bit off (Reggie and the Full Effect went on their farewell tour during summer 2008), his band has been missed. Their set wasn't quite long enough to feature some of the weirder sides of Reggie's output, but they got through all their singles, and closed with "Thanks For Staying," one of the band's best bits of songwriting. Dewees was exactly as most fans of the band remember him, moving between pensive songs and incredibly goofy stage banter. The dour weather actually helped, as songs like "Get Well Soon" almost demand a monochromatic setting. Dewees' vocals are definitely a bit more weathered than they were before his extended sabbatical, but the harshness suits Reggie's music well. Here's hoping their upcoming record features more of that. The bathroom jokes, while welcome, are going to age poorly. DSM
Best Beginning of the End (Maybe): Against Me!
Against Me! has lost much of its original lineup by this point, but frontwoman Laura Jane Grace and guitarist James Bowman have soldiered on all the same. Their Riot Fest set was an incredibly well-balanced affair, spanning through their entire discography while also rolling out a few new tracks from the upcoming Transgender Dysphoria Blues. And for some of the terrible grousing about Grace's coming out as transgender last year, which I'd argue is sadly linked to AM!'s brief flirtation with radio rock stardom after the breaking out of "Thrash Unreal," the hyper-supportive Chicago crowd brought a smile to her face throughout the set. She was even a bit more verbose than usual, at least for an Against Me! set. "Black Me Out" and the coming album's title track have been floating around YouTube for months, but both have the propulsive stomp that made the band's early work such an enduring delight. Here's hoping that if Transgender Dysphoria Blues is the last AM! album, as Grace has intimated as of late, it can be a proper swan song for one of the finest punk bands of the new millennium. DSM
Most Befuddling Set (Sadly): Pixies
At first I couldn't tell if the crowd's silence was out of reverence. Maybe I was too far out to hear an excited crowd up front—this became a sad trend in my thinking until I realized the sound was shoddy. An intermittent problem through the weekend with the Roots stage, the vocals especially suffered while the guitars rang clear fairly often. X and Bad Religion seemed to escape unscathed, but not Dinosaur Jr. and Pixies. We kept hearing Pierce the Veil through the pauses, at one point over the stage in front of us. 
Francis, Santiago, and Shattuck had the stage presence of beta fish, each in their own smoky bowl.  Lovering on the drums was the only one who seemed to be into what he was doing. It also seemed like the smoke was heaviest during the opening numbers of the set, which would be an annoyance for press photographers who only have an allotted time for close photos early (intentional or not, it would be frustrating to shoot through).  The floodlight back lighting didn't help either. 
I might have had fewer problems if I hadn't just seen the frenetic ballet of AFI, or if I was closer in, or closer to the center.  Maybe the moisture or rain or weather of any kind wreaked havoc on their equipment? Kim Shattuck, lead singer for The Muffs and bassist for this tour (after the departure of founding member Kim Deal), had the deck stacked against her, but pulled through for the most part.  Deal is a hard act to follow, and through the new Kim's voice was good, it lacked the timbre of the greatest person to come out of Dayton.  Maybe it was a good show for the front flock?  I did hear it getting better, in sound and excitement, but by that time they had lost me. 
But I did duck and weave through the dwindling crowd as it sucked in, to see if the sound would get better. If it did, it was only by a margin. Other bands fared well after the rain. And if I keep having to ask these questions or make these caveats, at what point do I just admit it was a bad set? PG
Set Most Like Fine Wine: AFI
AFI got better with age. Jade and Hunter still whip across the stage in spins, and back and forth at least 27 times, Adam was thunderous. Maybe I had forgotten how great of a frontman Davey can be. From corner to corner of the stage, out into the photo pit, eventually into the crowd—standing on the shoulders and hands of who I can only assume are people who will never leave The Despair Faction.  After tonight, I don't blame them. 
I was wracking my brain at times trying to remember what albums songs were from, and this is coming from someone who has long held the belief that AFI after 2003 is irrelevant. Songs that seemed to lack fury in recording gained it. Davey Havok, with a whimper, and a growl, and a soaring voice, Jade Puget shredding, they were giving out perfect energy yet were thankful to us. Also after "God Called In Sick Today," they can play anything.  Oh, and a rendition of "Just Like Heaven." I was dancing and making fellow staff writers uncomfortable. 
In short these men honed in on a stellar set, and they are at a point in their career where their performance is unstoppable. They could coast, but according to new information about the soon-to-be-released Burials, they want to continuously evolve as songwriters and make music that is truly what they believe in. I guess I forgot about that growing up, not seeing what they can do with material from Sing the Sorrow live. I don't just want the old stuff, I trust them. PG

Best "It's finally here!" moment: The Replacements
To say that The Replacements' show was hotly anticipated was an understatement. As only the band's second show in 22 years, it was the one thing on everyone's minds all day — with bands like Against Me! and AFI even mentioning how excited and honored they were to be playing with the band. Their last show was at Taste of Chicago in 1991, and it was fitting for The Replacements to kick off the U.S. by returning to the Windy City, just three weeks after their Toronto show. Knowing that the packed audience had been waiting decades for this, Paul Westerberg teased our excitement by playing coy the whole set, routinely calling audibles on the band's setlist. After 22 years, they were going to do whatever the fuck they wanted — and they did.
The set itself was close to flawless, despite Westerberg's routine slurring. It was difficult to tell if he was drunk or screwing with us, and if he was under the influence, it was some of the best drunk guitar playing I've ever seen. The Replacements barrelled through their discography, finding their way to just about every song you were dying to hear. Two big hits amongst the massive audience, as packed-in as shows get, were "Alex Chilton" and "Can't Hardly Wait," with nearly everyone mouthing or singing all the words. This wasn't a show for casual listeners, and Westerberg went deep into their catalog for as much payoff as possible, reaching all the way back to "Takin a Ride," off their lesser-known debut album, "Sorry Ma, Forgot to Take Out the Trash."
However, the performance was just as much a thank you to fans as it was a tribute to their own work, and Westerberg routinely took suggestions from the audience. This led to a performance of "Waitress in the Sky," which it felt like the band was always going to play anyway, but it was nice to feel included. Initially, it was a letdown not to hear "Unsatisfied," which many expected the band would close on, as it's a perfect get-out-your-lighters anthem, but even that snub was with a wink and a nudge. By not playing the track, Westerberg left us, you guessed it, unsatisfied — and hungry for more. Instead the band played "IOU." After a two-decade break, this was a statement that they aren't going anywhere for a while. NL
Spare observations:
DSM: Another Riot Fest in the can, and you can't help but marvel a little at how great this festival has become after only two years. Humboldt Park is a beautiful locale for any kind of outdoor gathering, and the trees provided much-needed cover through a brutal Sunday of rain, cold, and general soggy depression.
As partial sets go, I did a lot of hiding during the worst rain, which was from 2:30 to about 4, and a bit more about an hour and a half after that. I caught some of Brand New, whose set was underwhelming not only due to the sound issues that Patrick described above, but also because of how Morrisey-influenced and, frankly, mopey their setlist was. Earlier work like "Sic Transit Gloria…Glory Fades" lost a lot of its ferocious energy because of the band's subdued delivery throughout. It also didn't help that the park, at that time, looked like what a Springsteen album sounds like.
This also concludes Heave's music festival coverage for 2013, and I just want to thank everyone on behalf of myself and the whole Heave staff for coming to us for your coverage. We'll see you next year. For this, anyway. We'll have more articles tomorrow.