Music
Monday Morning Roundtable: 2012's Best Album (So Far)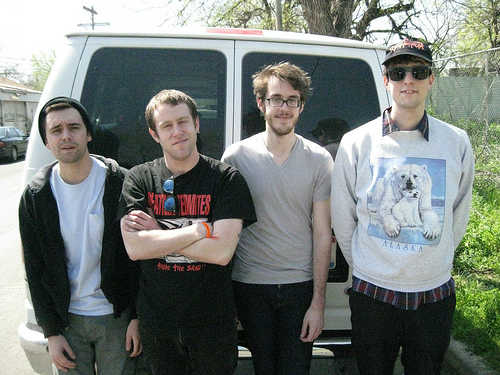 This week, the Heave staff was asked:
It's June now. From this year's early crop of releases, what's your favorite album of 2012?
Ryan Peters
This is a tougher question than I thought it was going to be, especially since the new Japandroids album comes out tomorrow (Spoiler alert: I've already heard the thing, and it is a kick square in your lo-fi punk gonads). But I'll go with something that has already been released: Attack on Memory by Cloud Nothings.
During February's Grammy's telecast, a friend asked me if rock music was dead. If he had spoken more exactly, I think what he meant was, where are all the great, popular rock bands not named The Black Keys? And while it's true that rock and punk don't dominate the airwaves or the digital downloads like they once did, Attack on Memory is a reminder that snarling, nasty rock and punk still exists. You just have to look for it. Recorded in Chicago, the third disc from the Cleveland, Ohio band turns sharply toward speed and feedback, and leaves you with 33 minutes of whip-dick guitars and bruising drums.
Runner-up: Making Mirrors by Gotye. It's what James Blake would sound like if he composed better melodies.
Mark Jaeschke
Grow Up, Dude by You Blew It! Literally one of the most relatable albums I've had the pleasure of listening to the last few years. A fresh approach to the emo revival scene. Must hear tracks: "Terry vs. Tori," "The Fifties" and "A Noble Black Eye."
Cory Clifford
Yikes! There have been so many awesome releases so far! The album I've probably listened to the most is the self-titled debut from The Tough Shits. It's the perfect amount of 60s garage rock, 70s powerpop and the garage punk sound of today. For anyone that hasn't listened to it, you really ought to check out this awesome debut on Burger Records. (Editor's note: That can be found over here.)
Marissa Morales
I waited for it for so long that it would feel wrong to not say Chiddy Bang's Breakfast. I've loved the Philadelphia duo for a long time, and while many of the tracks come from mixed tapes they've released, it's nice to see them with a real album out. They even sampled one of my current favorite groups in Icona Pop. It's just a great album.
Meghan Bongartz
Now That's What I Call Music! 248264 42. It's great for making me feel really old because I can remember the first one.
In seriousness, I've just realized that I haven't really listened to many new albums in their entirety this year. I enjoyed Beach House's Bloom, but I don't expect it to be my favorite for the year. Unless I continue to not listen to things for the next seven months.
Michael Alexander
Ab-Soul's Control System. A member of the TDE crew, Ab-Soul demonstrates his ability to allow the the listener to share his experiences of hard work, heartbreak and the seemingly endless journey to find himself. I literally need to hear a track or two each day, whether it's "Book of Soul" or "Illuminate." Setting the example of what an album should be, Control System tops my hierarchy for albums of 2012.
Dominick Mayer
Attack on Memory. I can't say a lot that Ryan didn't already (also that the new Japandroids is really great), so I'll just say that I haven't had an album give me that kind of a purely exhilarating jolt since Titus Andronicus' The Monitor came out over two years ago. Honorable mention: Sleigh Bells' Reign of Terror, because they made an album that's a faithful companion piece to Treats, and feels sort of like the apocalyptic comedown from all that album's insane bombast.