Music
Underrated Classics: Black Tambourine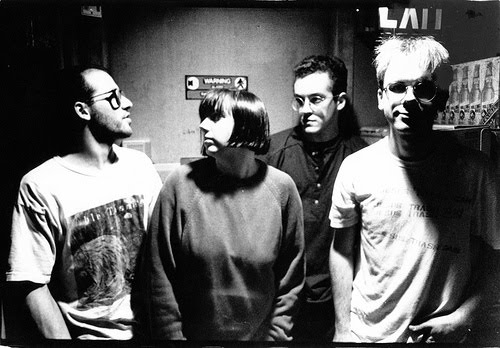 Around 2008/2009, there was a very interesting sound coming out of America's garage rock scene. There were three bands in particular that all had similarly lo-fi recordings filled with wall-of-sound reverb, hints of post-punk and twee, and brazenly distorted guitars. These three bands were Vivian Girls, Crystal Stilts, and Dum Dum Girls. Sure, they each had their own stylistic identity (Vivians were more twee, Stilts were more psychedelic and Dum Dum Girls sounded wonderfully Chrissie Hynde-like), but they all exuded an abrasive-yet-beautiful sound that would be recycled, mashed up and thrown out periodically in the following years. But perhaps most interesting of all is that this style of indie pop had been done once before, a decade and a half before these bands got the ball rolling. That pioneering band is Black Tambourine.
Black Tambourine was based in Washington, D.C,. and were one of many American bands that followed the influence of Scottish noise pop legends The Jesus and Mary Chain. Formed in the late 80s, the band consisted of vocalist Pam Berry, Velocity Girl members Archie Moore and Brian Nelson, and Slumberland Records founder and owner Mike Schulman. Intended as a side project, the band predated the shoegaze phenomenon that would follow, with a unique sound mixture of Spectorian pop, twee, JAMC noise and lush dreaminess.
Despite being one of the first bands on what has now become one of indie rock's biggest labels, Slumberland Records, Black Tambourine never got to release a proper album or single. All that we were left with from them was two EPs: 1991's By Tomorrow and 1992's Throw Aggi Off The Bridge. Later there was a compilation that would feature the songs off of those two EPs plus a few more called Compelete Recordings. My subject for this week is that magnificent compilation.
Released in 1999, Complete Recordings (as I previously mentioned) consists of the songs off Black Tambourine's pair of EPs, plus a few tracks from early demos. It starts off with the rumbling, beautiful and angst-filled track "For Ex-Lovers Only." Originally the second track off Throw Aggi Off The Bridge, the song features rhythmic bass, pounding drums, a wash of feedback and Pam Berry's vocals harmoniously begging "Please don't cry/I'd like to die/Just turn around/And say goodbye."
The song sets the tempo for the rest of the album's collection of sorrowful tunes. Throughout the album this same formula is used, and the songs get sadder (yet catchier) as the album goes on. On "Black Car," Berry laments "I watch you, but you don't see me," while on "By Tomorrow" she sings: "By tomorrow, if you don't leave her, I'm a ghost." The three peaks of the album are met with their cover of Love's "Can't Explain," their most recognized song "Throw Aggi Off The Bridge," and my personal favorite "Drown." "Drown" is a sweet ballad that has a roadside diner sound that gets caressed, then eaten apart by fuzz and feedback.
As the album closes, we're hit with a very interesting instrumental track entitled "Pam's Tan," that has extensive use of rhythmic looping that's so captivating it would make Kevin Shields jealous. Complete Recordings as a compilation allows each track to complement the others with every fade.
Despite having an incredibly lush noise pop sound from which bands like Smashing Pumpkins, The Verve, My Bloody Valentine and Slowdive would reap great success, Black Tambourine unfortunately never made it past being a side project. Archie Moore and Brian Nelson would gain a large college following with Velocity Girl after their debut on Sub Pop, including a brief but important video rotation of their single "Crazy Town." Pam Berry continued to sing for similar-sounding bands in following years before co-founding indie pop zine Chickfactor. As for Mike Schulman, he continues to run Slumberland Records to this day.
There wasn't a whole lot for Black Tambourine to bounce off during their heyday, but I am still very surprised that their compilation never found a huge following upon its release. Since then, Slumberland has released a second compilation of the band in 2010, aptly titled Black Tambourine. At first, the band had not intended to play together again due to members living in various locations, but since February, after an announcement on Kickstarter by Mike Schulman himself, Black Tambourine are back with shows and a Slumberland release of four Ramones covers entitled OneTwoThreeFour. Though it's safe to say that Complete Recordings is an underrated classic for now, after influencing increasingly popular bands of today, and coming back with shows and a new EP, both of Black Tambourine's compilations could become independent mainstays for years to come.