Music
Underrated Classics: The Aislers Set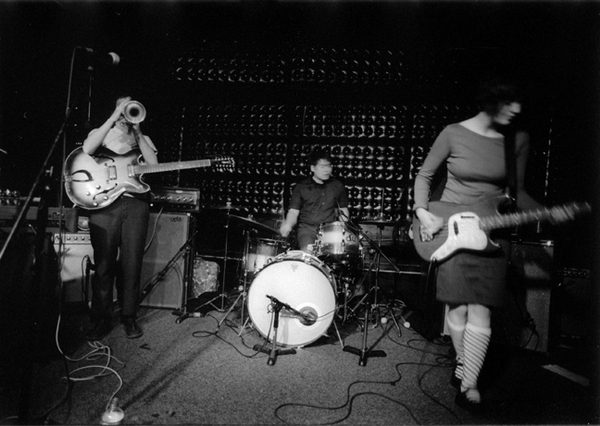 Each week in Underrated Classics, Cory Clifford digs deeper into the annals of music history to recommend essential unsung acts that have yet to even find a sustained cult appeal.
Slumberland Records, we meet again. Last spring we featured the "O.G." Slumberland band, Black Tambourine, and this week we're taking a look at the vivaciously retro second album from San Fran-rockers, The Aislers Set. Fourteen songs of Belle and Sebastian collaborating with The Bangles in an attempt to modernize the tenacity of merseybeat, come at you with a necessary amount of spring reverb on The Aislers Set's 2000 album, The Last Match. Having hinted on this sound on both frontwoman Amy Linton's first band Henry's Dress, as well as their debut album Terrible Things Happen, The Aislers Set penned brilliant tracks for The Last Match, and performed them tightly with just enough looseness to get your toes tappin' and your hips shakin'.
The album opens with the best song Susanna Hoffs never wrote, with the stadium-sized rocker "The Way To Market Station." The opener has big drums, earworm riffs and bright-and-shiny yet edgy female harmonies. Keeping the party going is the second song "Hit The Snow." Though "Hit The Snow" is just as fun as the previous track, it's poetic lines like "I found where my faith lies/wrapped up in a small novella/been taped by a hundred pictures of you," are what really grab your ear on this winter-wonderland tune. "Chicago New York" follows, and it's the first on the album to feature vocals by lead guitarist, Wyatt Cusick. "Chicago New York" tells a very beautiful story of heartache and air-travel, between Chi-Town and The Big Apple. The song has a Belle and Sebastian feel to it, and is a very soothing and pretty gem.
The album picks up again with "One Half Laughing" which rocks hard in the verses, then crescendos brilliantly into a chorus of "la-la"s. "Been Hiding" follows, and it has the exciting noisiness of Henry's Dress, but the tightness of Black Tambourine and the harmony stylings of Marine Girls. "Balloon Song" oddly enough reminds me of Nena's "99 Red Balloons," and it makes me cheese-ly "Carlton dance" just as easily. Wyatt sings again on "Lonely Side of Town," a bubblegum yet slightly biting tune. The title track picks up next, and features some of Amy Linton's best vocals. The melody, and vocal delivery are the stars on the song, but the drums, and horn section are easily notable as well. "Christmas Song" picks up the winter-wonderland feel of "Hit The Snow," but with more psychedelia and horn sections, and plays as a great side-2 instrumental.
"The Walk" comes next, and starts out with a drone-y-ness that recalls the Easy Rider soundtrack, until the chorus comes with vocal melodies and keys that recall '66 Zombies singles. We then have the surf-y, almost Jesus and Mary Chain-like track, "The Red Door." The song's a three-minute twee-punk concert-staple that's built around a terrific guitar riff, pounding drums and a Mysterian-esque organ.

"Fairn Chairnt" has a super fun Monkees-like chorus, and "We Give Up" is the only upbeat song that Wyatt Cusick sings on, and both him and Amy harmonize terrifically with "I know it's wrong but what can I say/cause I'm gonna do it anyway."
The final track, is the epic and beautiful "Bang Bang Bang." "Bang Bang Bang" features some of Amy's prettiest vocals, and has a transcendental psychedelic pop-feel that simultaneously recalls Mercury Rev's Deserter's Songs and The Millenium's sunshine masterpiece, Begin. The song's a perfect closer to the fun album, as it changes just enough in three minutes to peak your interest, but keep your grounded in bliss.
The Last Match perfectly recaptures the excitement of the 60s, something people in the late-90s and early-2000s searched for in numerous aspects of popular culture. It got great reviews from the press, and the album was supported with an Aislers Set tour backing Sleater Kinney. Yet with brilliant vocals, songwriting and musicianship, somehow Slumberland's psych-pop group barely maintained a cult-following in the underground. Interestingly enough, as many bands (i.e. Elephant 6 recording collective, Brian Jonestown Massacre), were doing similar sounds, it seems that none had or ever reached a point of originality that The Aislers Set had from the start, and capitalized on perfectly with The Last Match.
In recent years, as Slumberland's popularity has grown, so have somewhat-forgotten bands like The Aislers Set. The album has since received a legendary status in twee scenes in England, but still floats around in obscurity stateside. The Aislers Set released one more album, How I Learned To Write Backwards in 2003 before going on hiatus due to Cusick moving to Sweden. In 2010, the band released a new single entitled "Cold Christmas" which showed a lot of promise for a potential reunion. Luckily, if you were at Chickfactor magazine's (owned by Black Tambourine singer Pam Berry) 20th anniversary gig or in Scandinavia last fall (for a short tour), you got to see The Aislers Set rock out to tunes like "The Way To Market Station" and "The Red Door". Though new material isn't certain, fortunately The Aislers Set have three brilliant albums, of which The Last Match truly stands out. It's a masterpiece that bewitches its era's love for the 60s, and fits firmly in one's ear with both familiarity and an odd sense of paradoxical singularity.