Music
Underrated Classics: caUSE co-MOTION!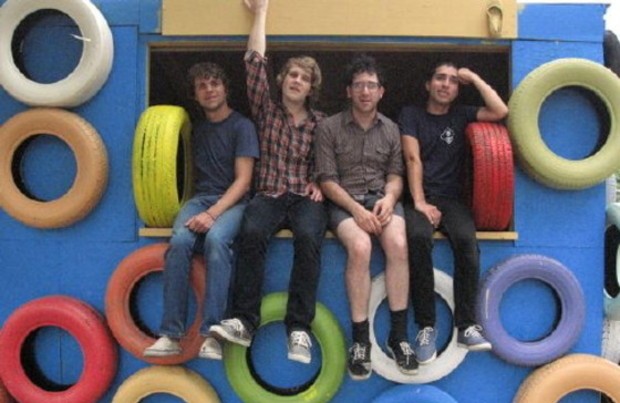 How soon is too soon for a record to be considered a classic? I remember just a short while back when a bunch of friends of mine were constantly referring to Kanye West's 2010 album, My Beautiful Dark Twisted Fantasy as an instant-classic, or a timeless album. And while I definitely like that album a lot; as I've listened to it recently, it already sounds kind of dated, and really hasn't aged as well as I had expected (the same goes for Animal Collective's "classic album," Merriweather Post Pavilion.) There is definitely a subjectiveness to referring something as "classic", but in my opinion, an album is a classic as long as it ages well in its listenability. One of the best things about a genre of music I'm into, twee pop, is that since it's style and delivery is usually very consistent (fairly lo-fi recordings, jangly guitars, sounding like bands off of NME's C86 compilation.) So for a genre of music that has mostly been making very similar sounding variations of 80s indie pop for the past 25-30 years, it's very easy for EVERY album to seem like a classic. But sometimes the albums that end up taking twee pop into a totally different direction, aren't just the ones that stand out in the ears of the genre's followers, but to outsiders as well. An album that did just that is caUSE co-MOTION!'s 2008 compilation, It's Time! Singles & EPs 2005-2008.
caUSE co-MOTION! clearly set out to (and successfully did so) combine the 60s-demo-like production of Television Personalities, the fast punk energy of early-Wire & The Raincoats, and the jingle-jangle of more positive-edged post-punk bands like the Pastels and Orange Juice. Often times the guitars have a very impressive spiraling guitar-play, that sounds like if Roger McGuinn and David Crosby were full of distortion and speedy-tremolo picking. The drumming and bass-playing has a very 77 gated sound, and the vocals are like an American Dan Treacy. After the band had released a few solid self-released 7-inches, two stunning EPs on limited-release indie pop label What's Your Rupture?, and one terrific EP on the effervescent Slumberland Records; Slumberland offered to do a comprehensive collection of all the caUSE co-Motion recordings thus far.
The compilation plays the songs in order from the beginning of their career with their split with bands Jowe Head and No Men to their then-most recent EP on Slumberland, I Lie Awake. The album opens with the song off their aforementioned split, the dissonant-pop song, "Only Fades Away."

The song serves as a great intro to what type of band you're about to listen to, but it's merely the tip of the iceberg. "Baby Don't Do It," "This Just Won't Last," and "This Time Next Year," showcase their aforementioned dueling guitar-play, and "Take A Look" wears its Jesus and Mary Chain influence well on its sleeve. The album reaches its height with three tracks off of their 2008 EP Who's Gonna Care?. Specifically starting with dreamy & energetic song, "Say What You Feel." These three songs introduce the versatility in production that these guys won't shy away from on later EPs.
The last three tracks on the compilation are off of caUSE co's first EP with Slumberland. The production on "I Lie Awake" and "You Don't Say" show a definite recording improvement, but it's closer "Cry For Attention" that gets, well…all the attention. Definitely one of the band's strongest tracks; it's the closest caUSE co-MOTION gets to ballad-territory. Constantly changing, and minor chord-filled, "Cry For Attention" is an objective hate-ballad that cries lines like "you play to audience with a disguise," all before an upbeat, pounding-drum outro.
Aside from releasing one more EP on Slumberland, 2009's Because Because Because, not a whole has been heard of from caUSE co-MOTION lately. After thoroughly researching, I've found that the New York City band still plays the occasional show, but there isn't much information about another release any time soon. It really is quite a shame, because the 14-track, 21 minute long compilation is a wonderful introduction to such an impressive twee-punk band. Slumberland will continue to be a label that releases unsung pop classics, and caUSE co-MOTION is no exception to their impassioned collection. Since they're still a fairly new band, I'm not quite sure how much of an influence they might have had yet, but there are some bands (The Art Museums in particular), that have a very similar TV Personalities-meets-punk rock style. There is one young band that might not have been influenced by caUSE co-MOTION directly but has that similar twee punk-spirit, and they're Slumberland's latest to show pop preciousness, English Singles.
All in all, caUSE co-MOTION still have the potential to be a bigger, more popular band(though I don't know how popular considering twee's legacy of bands). They're a band I definitely would like to see more of (live or otherwise,) and It's Time! is the perfect introduction to their spazzy-pop. Compilations of short careers can seem somewhat redundant at times, but if there's one awesome compilation of still-working band's early work, this is one to get. It's Time! is the perfect showcase of an accomplished band that still has more room and drive to conquer more parts of the indie rock universe.