Features
SXSW Music 2012: Thursday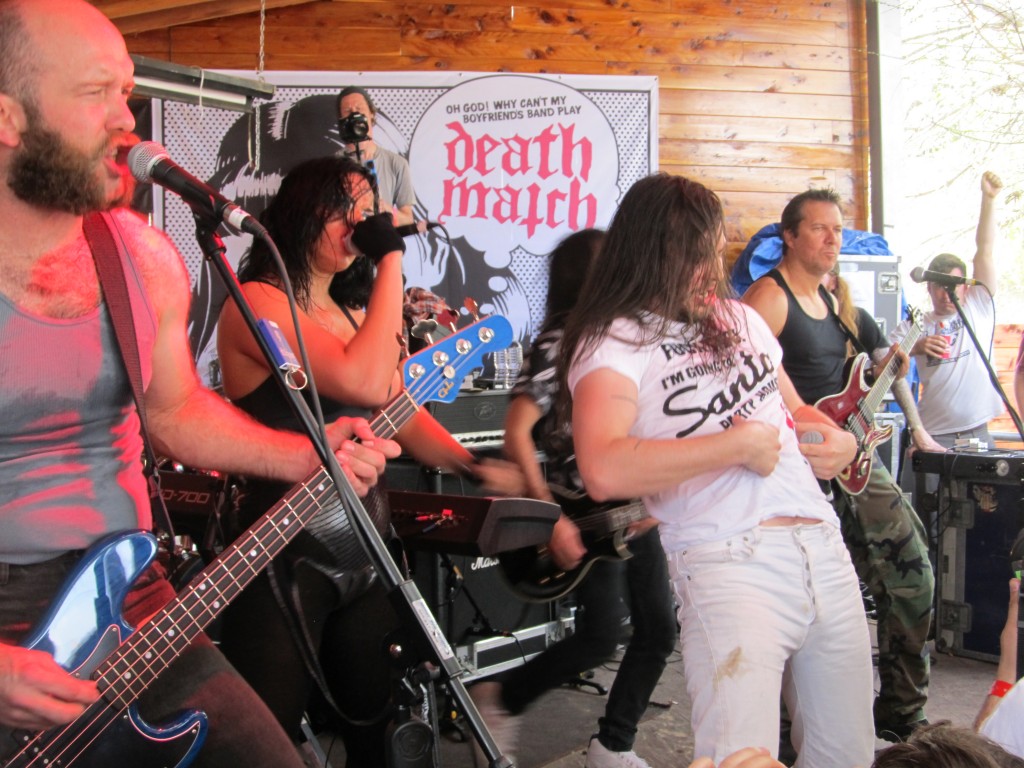 For our second day of dispatches from SXMusic, Amy and Dominick tackle Say Anything, Thrasher's skate jam and more.
Dominick Mayer:
SXSW Music has taught me a harsh lesson in schedule planning, namely the one where ten straight days is far too overzealous. (Related: I'll no longer be part of the dispatches after Friday's, because I've been harshly reminded that there's a real world where Lone Star and constant music don't flow freely.) Yesterday, I got to do the immortal dance of not getting into my meticulously planned showcases; namely, one featuring Big KRIT and Kendrick Lamar. Disappointing? Si. It helps that Lamar will be at this year's Pitchfork, but for a venue the colossal size of Stage on 6th to sell out was surprising to say the least. I also attempted to track down a new friend's showcase in the south part of the city, and failed. Furthermore, my evening-ending plan was to meet with Amy at Buffalo Billiards and catch Say Anything's headlining set. Then, I sat down to relax, and the next thing I knew a bartender was nicely informing me that I'd have to stay awake or leave. Yes, indeed, I did in fact fall asleep in a bar.
What did I accomplish, then, you ask? A bit more than I've suggested. I got out to the Thrasher/Converse Death Match at Scoot Inn, on the near east side of Austin, for the afternoon. With two stages (one in the inn, a larger one out behind it), there was plenty to see, and if you got bored you could go watch a skate jam. I arrived in time to catch Titus Andronicus, one of the bands at this year's SXSW who seem to be playing every show everywhere. It was a treat to see a now-clean-shaven Patrick Stickles debuting a lot of new material; with the exception of "No Future Part Three: Escape From No Future," the 30-minute set was strictly a test run. Their upcoming third LP sounds like it's going to take a step back from the grandiosity of The Monitor; so far, the more stripped-down approach sounds excellent.
Deerhoof was solid, but their brand of angular math-rock isn't quite my cup of tea (I could say the same for a lot of their Polyvinyl associates). They make quite a bit of noise for the time-signature spasms on display, which made the set a lot more palatable. My big surprise for the day, though, was Thee Oh Sees. Good word has followed them for some time, and their live show didn't disappoint. Frontman/guitarist John Dwyer brings a feral, relentless energy to the sets, fusing their loud, dirty rock with some effective flourishes of psych guitar that don't get too showy. His ability to match vocal harmonies with keyboardist Brigid Dawson was remarkably impressive, and the band as a whole were tight, dynamic and incredibly fun to watch.
Speaking of fun, stage closer Andrew W.K. bought his I Get Wet tenth anniversary tour to SXSW, and the Death Match was just one stop. Getting through about half of that album in his distressingly short time slot, WK lived up to his reputation as the king of party metal. I really can't say too much about his set that you haven't likely already imagined. Relentless energy? Check. Surprising chops on the piano? Check. A crowd that went apeshit and hurled beer, sweat and whatever else have you in every direction? Quadruple check. His live show was every bit as fun as I'd always hoped it would be, and a perfect cap to a great afternoon. Also, the best part of a day that ended with falling asleep in a bar.
Amy Dittmeier:
I, unlike Dominick, rallied forth on Thursday and stayed out very late, trudging through the never-ending drunk people after Say Anything's set to get home a hour later. But more on that in a bit. Dominick may have gotten more sleep than I did, but the music I found on Thursday was well worth the lack of z's.
The day started with the Let's Get Messy party at 512 Bar. Taking over both floors, some of my favorite Chicago businesses like Audiotree, 4Ohm, and Wine From the Moon handpicked some of their favorite bands for their showcase. I had just seen Archie Powell & the Exports at Heave's own showcase just the other day but I honestly can't get enough of this band. Their infectious energy blasts right through you, making even the most hungover of journalists (i.e. me) wake up and get moving. They're one of my top Chicago bands because of this. Crazy power pop rock music in the harsh winter is the best remedy to avoid hibernation, and seeing them in a breezy 75 degrees only enhanced this feeling. Enemy Planes took the stage after Archie as a last minute replacement for JC Brooks and the Uptown Sound. Though I don't know much about these guys, I know they definitely caught my attention. Their music reminded me a lot of early Silversun Pickups, with lots of distortion and frantic guitars. They're on my "to download" list when I get back home for sure.
Five hours, a buffalo blue cheese burger, and a documentary later, I found myself back at 512 Bar to see Young Magic. I met Michael, the percussionist, sometimes guitarist, and backing vocalist for the band, yesterday when I was taking a break from the action in the convention center. We've covered Young Magic on Heave before, but I haven't really gotten a chance to dive into them or their newest album Melt. Seeing them perform live was the best formal introduction possible. Young Magic's music ebb and flows like the ocean, pulling you in with their delicate sounds and pushing back with their wall of percussion. It's a very chill style of music, one that if I wasn't more awake at 10 pm would be better suited for lounging midday with a good book. But for some reason it worked for me, and got me into a nice groove before setting out to my next show.
I've never seen Say Anything perform live, despite owning all of their albums save for their new one that just came out this week (that treat is waiting for me when I get back). I wasn't really sure what the crowd would be like – 20-something rockers that were pumping Say Anything in high school, bros who just really dug their dirty songs, enthusiasts of the 00s indie music. Buffalo Billiards had all three. Ohio's Lovedrug warmed up the crowd nicely. I've never seen these guys before and I thought they made a nice opener to Say Anything. They were more subdued but still lived in the same musical vein. But none of it could have compared to the raw power Max Bemis and his band  gave the crowd. The band played songs spanning their discography, from new tracks from Anarchy, My Dear (which made me want to listen to that album even more), "The Church Channel," and "Wow, I Can Get Sexual Too" (which turned into a really fun sing-along). The best part was, the whole band seemed like they were having so much fun. Bemis has had so many problems in the past that if I did see them when I was in college I bet the experience would have been completely different. But seeing Say Anything be so into the crowd and playing their hearts out in an intimate setting, it was one of the best shows I've ever seen. Minus the douche bag I later saw slam a kid to the ground when he attempted to start a mosh pit. That part was just weird.