Culture
SXSW Music 2012: Wednesday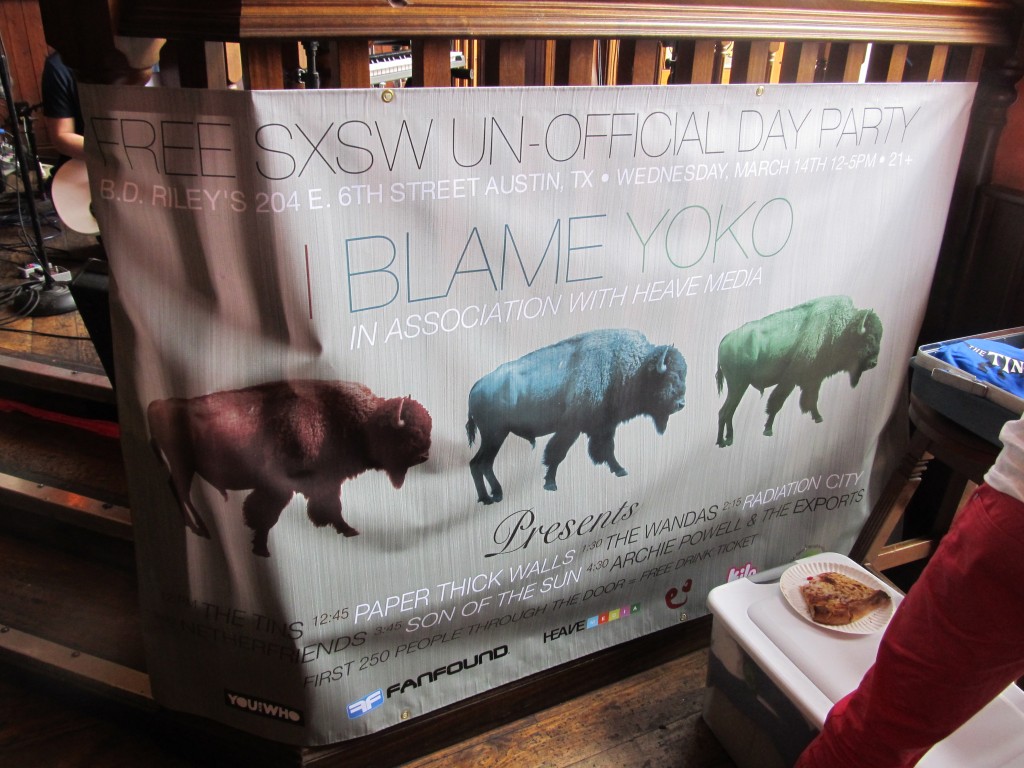 For Heave's SXMusic coverage from Austin, we've decided to forego traditional show reviews, as the sheer chaos that descends upon 6th Street and the surrounding downtown area can't be quantified by any means known to man. So, Amy Dittmeier and Dominick Mayer will be posting dispatches from SXSW every day until we wrap this whole damned thing up on Sunday. Stay tuned.
If you're curious about random observations through the day as well, follow Amy and Dominick at @roboticdinos and @HEAVEdom, as well as @HEAVEmedia for all your other Twitter needs.
Dominick Mayer:
This is my first year doing music, as I strictly did Film for eight days last year, which ended in taking a flight home with an ear infection. (Pro tip: Don't ever do that. Ever.) So far, I've come to the conclusion that Austin may break my body for a second year before it's through. But we'll see about that later.
First of all, and I'm sure Amy will be talking a little bit more about this, all of the thanks in this world and most others are owed to everybody who came out to our showcase which we co-sponsored with I Blame Yoko at B.D. Riley's. Archie Powell and the Exports, Netherfriends, Son of the Sun and all the others who came to join us were great, and given that Heave is a labor of love for everybody who writes here, seeing a room packed with people was the coolest thing. I was in and out of B.D. Riley's for various reasons, but seriously, thank you all.
Also in the afternoon, while trying to do work, I happened upon Math The Band at The Aquarium. On my list of "bands way, way more people should be listening to," MTB rank incredibly high. The Providence, RI two-piece of Kevin Steinhauser (guitars/vox) and Justine Mainville (synth/vox/floor tom) make an absurd deal of noise while playing some of the most unabashedly uptempo chip-rock I've ever heard. They're currently opening for Andrew W.K. on his I Get Wet anniversary tour, and that couldn't be a more perfect opener for a man who embodied party rock before it was an empty buzzword. Just look into MTB's "Tour De Friends" and if you're not wildly thrashing within a minute, you might want to go to a doctor and get tested for a physical inability to enjoy fun.
One of the most entertaining parts of SXMusic is the way in which every single inhabitable space becomes a venue. Loft 718 is on the second floor of a sushi restaurant, and it was there (and at Barcelona later last night as well) that I caught Chicago DJ Chrissy Murderbot, one of the finest purveyors of house, footwork and pretty much anything else you can think of that gets all four on the floor. Murderbot brings the huge bass like few others, and it's always a blast to watch him rattle walls. It helped that both Loft 718 and Barcelona are fantastic rooms for dance music, especially the latter, which is just a huge, narrow basement. After the Barcelona set, I headed for home, trying to get one legitimate night of sleep in the week and counting I've been here.
Amy Dittmeier:
As Dominick said above, Heave had the privilege of co-sponsoring a showcase yesterday with the fantastic people at I Blame Yoko. This is the first time we've done a showcase at SXSW and I was really happy we got the chance we got to work on it with our friends. Several phone calls and I don't even know how many emails prepping for all of this, and the end result was fantastic. It was so crazy to see bands like Son of the Sun, who were one of my first interviews way back when I started writing for Heave, play a showcase that we put together just a short three years later. I felt like the I Blame Yoko/Heavemedia showcase was an amalgamation of the people I love working with, the bands I truly love and support, and all the time and effort I've put into the site for the past couple of months preparing for our trip to SXSW. I'm honestly humbled by the experience and am raring to continue doing events like this, so definitely keep your eye out for more I Blame Yoko and Heave collaborations.
Running the showcase took up most of my time on Wednesday, but I did get to catch Bleubird and Ceshi at the Fake Four showcase at 512 Bar. Ceshi is one of the co-founders of Fake Four, an indie label that boasts Astronautalis and Busdriver as two of their artists, and it was cool to see the talent behind the label's drive. Bleubird is an artist that I've heard a lot about and the showcase was my first time actually seeing him. He's more of a storyteller than an MC, using his gift of gab to create an endless flow of poetry backed by a steady beat. "Giehe 1977" is a song of his that really caught my attention, which talks about his relationship with his grandfather back in Italy. Bleubird sings this with all of his heart, blurring the lines between personal narrative and hip hop. His collaboration with Ceshi on stage too was a treat. Their voices mix so well together, each man pushing the other on musically and complementing each other as they go back and forth.  Such a great find to close the night with. That and several Lone Stars.