Reviews
Archie Powell is angry, but you'll probably still like him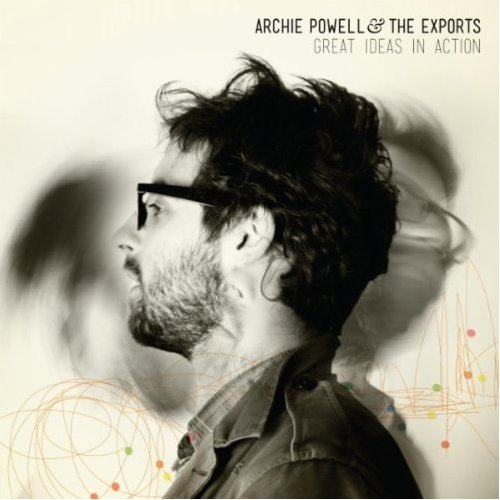 Great Ideas in Action Archie Powell & the Exports
Release Date: May 01, 12
1
2
3
4
5
6
7
8
9
10
The name Archie Powell would fit embossed on a mailbox you might see on a Leave it to Beaver rerun. It's got a ring to it that implies American delinquency, the type punishable by wrist slaps and an early bedtime. Great Ideas In Action is the Chicago-based Archie Powell and the Exports second full-length album. The record is built of tongue-in-cheek cynicism that musically, sounds more like a good times party album than any sort of condemnation of post-collegiate anxiety, ennui, or helplessness.
The music on Great Ideas is steeped in straightforward rock – frantic verses, big hooks, and melodic solos. Each song follows a similar pattern though. The formula follows as such: rapid-fire vocals packed with lyrical charm that end in long vocal phrases spilling into the chorus. This formula gives the album a distinct and coherent sound for sure, but there aren't any moments that are really surprising, no points really divergent from the rest of the album. You could find all you need to know about the Exports after listening to one or two songs.
"You Might Be Cruel (Or I Might Be Dumb)" is the albums biggest departure. The softer track's pipe organs and backing vocals sound church choir elegiac. It reflects the cynicism of Powell's lyrics. It's not defeat, but a weary anthem.
Songs with titles like "Crazy Pills" and "Job Fair" represent the state of the indentured student- an underemployed group that's becoming increasingly okay with being underemployed. That's all thanks to little yellow pills that unlike our parents little blue pills, don't let you fuck more, but let you give a fuck less. Its Powell's ability to identify with this ever growing group that is the albums greatest accomplishment.
His view is cynical and angry, and rightly so. But while a good party and a sing along is always fun, and can take the edge off things, it would be great to hear the Exporters music challenge the status quo, not just Powell's lyrics.