Music
Live review: Korallreven @ Schubas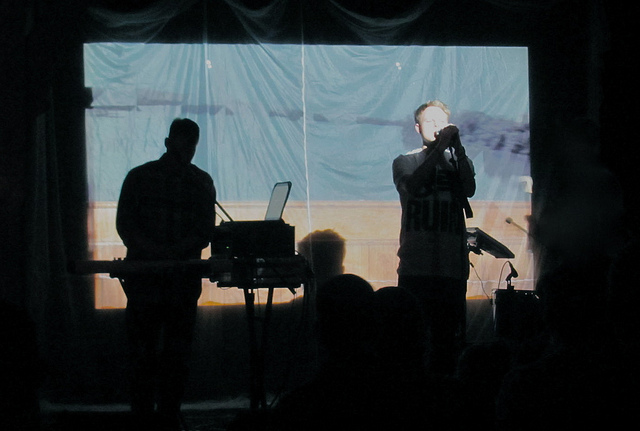 I walked along the beach of Lake Michigan yesterday afternoon. It was nearly 70 degrees in Chicago on March 6th. Maybe it's a sign of the end times, but I enjoyed the warmth anyway. It was a lovely preamble to Korallreven's short but blissful set at Schubas. The Swedish duo's music is inspired by the bright tropics of Samoa, so appropriately, their presence in Chicago brought us soothing rays of light.
But in a small, dark, half-full Schubas, Korallreven sounds slightly out of place. That's not a knock against Schubas or the band, because the performance was shimmery and dreamy. But I want to see this band play on a hill in Samoa, in the middle of the day. Either that, or in my own dreams, where I can't tell the difference between my physical presence and the vibrating waves that make up my abstract thoughts. This music is a little too epic for a typical concert venue. I enjoy it most when I'm drifting into slumber while reclining on my living room couch with my dog beside me. At Schubas, the most comfortable audience members looked like those who were sitting at the tables against the side walls.
Before and after Korallreven's set, How To Dress Well played a rare DJ set. Tom Krell debuted a couple of his new songs here, which was a surprising treat given his upcoming full-length probably won't release until late summer. The new tracks are very Drake-friendly.
Young Magic opened, who are pretty much a Yeasayer-lite. But their visual projections were wonderful. They mirrored, or double-mirrored, footage from Planet Earth. As a big nature documentary fan myself, this alone was reason enough to keep my eyes glued to the stage.
All three acts are bubbling with potential, but none close to their full strides yet. Young Magic needs to kick up their energy a little bit, How To Dress Well should not sit when he's DJing, and Korallreven might do well to actually slow down their live stuff–the dreamier the better. But for a freakishly warm Tuesday night in March, this was an oddly ideal event for the night out in Chicago. The patios and outdoor seating won't be available in this town for a couple more months, but Korallreven held me over.