Interviews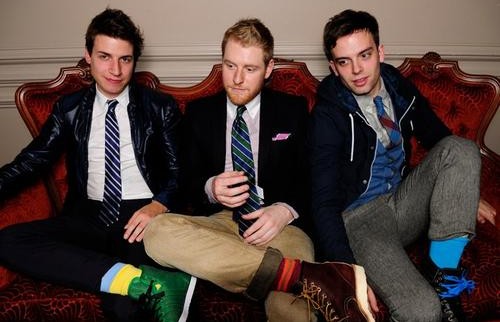 A constant presence in the local music scene here in Chicago, Gemini Club have carved out a niche for whipping crowds into an excited, dancing blur in no time flat. This, combined with their notable prowess as a live act, has gained them recognition, as did their 2009 EP Future Tidings. At this year's North Coast Music Festival, Heave got a chance to talk with the trio about their tech setup, some of their more unconventional show venues and more.
Heave: I've read a lot about your live show setup, and how it allows you to improvise as you go. What went into that idea, and can you talk a bit about it?
Dan Brunelle: It's something that I really, really care about. We use Ableton Live, but we really try and commit to it in a way I think a lot of bands don't. We process everything that we do through our laptops, so the guitar, my vocals, Tom's vocals, everything. It allows us to do things that you would only hear a DJ be able to do, but we can do it on an actual human being.
From glitch effects to the looping, our gear list is like…we have a couple of boutique-y controllers, Gordon uses an APC-40 for all of his launches, everything that he does. We only push play once, and there's nothing lined up ahead of time, so every sample, every bit of audio you hear is actually performed and launched and controlled in pretty small segments. We've been using a lot of touch screens; the iPad is a great, great controller. It's something that I'm passionate about, and that we're really passionate about.
Your name seems to be appearing constantly on local lineups. Any venues you haven't hit yet that you really want to?
Tom Gavin: The Aragon Ballroom and the Riviera Theatre. Other than that, I think we've been everywhere…
Gordon Bramli: We haven't played Subterranean yet.
Dan: Or the Beat Kitchen. I'd really like to play Subterranean, I like the venue.
Tom: And we haven't played the Double Door. Which is weird, because we've played Debonair like four times now.
Gordon: We're always playing across the street.
It almost sounds like you've missed the small venue part and jumped right to the bigger places.
Tom: (laughing) No, not true! When we first started, we really wanted to play the Hideout. I don't know why that was the chosen venue, but we were just hell-bent on playing there. We played a ton of small gigs. One time we played Weeds, over on Clybourn and North Avenue, we played in somebody's house, in their living room…
Gordon: We played in a kitchen.
Tom: I think we've been in more than one kitchen.
Gordon: (laughs) I know one of the kitchens was bigger than the other.
Some kitchens are superior to others?
Tom: For musical purposes, indeed.
A lot of your stuff is really danceable. What's some other music you guys typically get down with?
Dan: What's weird is that Gordon, he's like the dance music man, but really, lately I haven't been listening to much. I really love that SBTRKT record, love James Blake. I think that Little Dragon record is really good. I love Tokyo Police Club.
Tom: I can't get over the LCD record [This Is Happening]. LCD is a huge influence. And I can't get over Teen Dream by Beach House. It's so good.
Dan: The thing is, with us is we want to be a band, and we want to make good songs. Everything else is really secondary with us. We're not your standard producer and DJ, where it's mostly about production chops. We like noise, we like dirt, we like things coming off as raw and unpolished, you know? That's something that, as an electronic band, we think is really important. I feel like technology's getting to a point where you're performing in the moment but it feels electronic, and that's what we're really about, trying to push it off the grid.
Your EP [Future Tidings] was received really well. Any plans for a full-length?
Tom: We're in the studio right now, actually. At present we have four, five new songs in the works, and we'll be releasing a new EP in February. That's our target date.
Dan: We're thinking Valentine's Day. The difficult thing about being in this band is that we play live a lot, and we switch things up a lot, and we're always tweaking what we're doing. So if we have a show, we take around a week to set up the show, so we're not recording. And when you have a heavy live schedule like we have, it's hard to record.
Tom: The new material is great. It's a little more live instrumental. Gemini Club is all about danceable music, with a heavy focus on melody and a keen focus on production. With dance, it's so easy to do the same things and sound like a lot of others.
What do you have planned for the rest of this year, into next year?
Dan: We're trying to do some out-of-town gigs, and we're headed to Springfield, we have a gig in the works in Miami…
Gordon: South By Southwest.
Dan: Yeah, we're going back, it'll be our third year down there. Really, the focus is on getting in the studio.
Gordon: We've gotta make a record.
Tom: (laughing) We have to make a record.
You can find more about Gemini Club at their FM page, or follow them on Twitter at @GeminiClub.