Interviews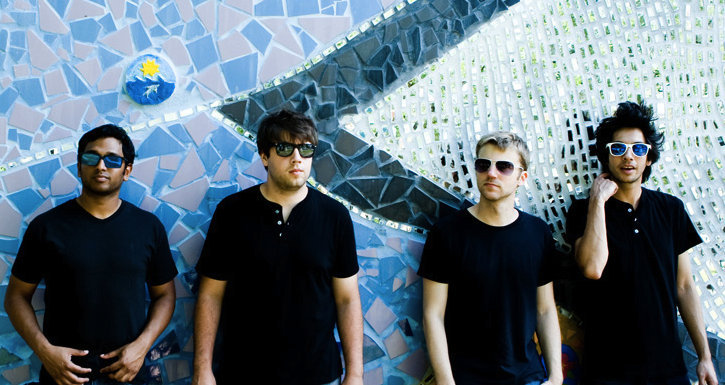 Chicago-based electro-psych-rockers Loyal Divide have been gaining traction recently on the strength of their atmospheric, catchy-yet-dreamy songs. In advance of their debut full-length Bodice Ripper coming out October 4th, bassist Siddarth "Sid" Chittajallu and guitarist Jonathan "Noto" Notowitigdo took some time out of their North Coast Music Festival weekend to talk to Heave about Bodice Ripper, their work as a hip-hop backing band and more.
Heave: Bodice Ripper [your full-length debut] has been in the works for a while now. Can you talk about the making-of process a little bit?
Sid: Yeah, we had some limitations, because we did it all on our own. We couldn't do all of the rhythm at one time, it was all deliberately done onto a click with sample bass and what not. It took a year or so to produce. Actually, more like two years. The song structures were done a long time ago. And then Adam [Johnson], our lead singer and the producer of our album, he lives in Columbus, Ohio, so we had to do stuff that way. Luckily, it was all electronic.
Noto: Yeah, I think the distance had a little something to do with the amount of time it took to get all of the songs complete and to our liking. It may have taken that long anyway, because all of us are very nitpicky and have a kind of quality control thing with each song, getting a cohesive sound through a whole album. That's something we'd never done before.
Sid: Yeah, that distance related to it and added time to everything. If I could just go to your house, Noto, which is down the street, and just get it done right away in one night…whereas, instead, we had to listen to it and kind of come back a few days later, go that route and then say "Actually, we don't want to do it like that."
Noto: The classic "making your own album" kind of deal.
How did you guys get together with Kilo Records?
Sid: I think it was a friend of a friend. They'd heard about us a while ago, and we had a mutual friend who started liking our music. Then Blake Witsman and Miles Benjamin, they heard that we were releasing an album, and that we had nobody backing it, so they took the opportunity to help us release it, because they have a pretty small but tight roster.
Noto: Psychedelic rock, that's their niche in Chicago.
Sid: Yeah, I feel like they're up to big things in the future.
The video you put together for "Vision Vision" is really distinctive. How did that come about?
Sid: My best friend from high school, Max Bohichik, is in BB Gun, and he went to film school at Syracuse, moved to New York. This is at the beginning of BB Gun, when they hadn't worked with Enrique Iglesias or Mike Posner, all these huge, huge names, so we just went up to New York one day and spent like $80 on…
Noto: Food and tape. And eels!
Sid: We actually didn't use the eels in the video, but it was just a really happy accident, where we all dressed in black and contrasted that with the white tape, and we made a video. It was a very, very happy accident.
Noto: And that's all in real time.
Sid: There's no animation. We're just in suits doing that, it's kind of crazy.
Noto: There is one scene when the background is animated, where he duplicates our bodies at the end, and there's hundreds of them. That's still us, though, just on a loop.
You've been around Chicago all weekend doing a lot of backing band stuff [for Ill Legit and BBU]. How did that get set up?
Noto: Actually, with Ill Legit, with Justin [Bell], our practice spot is right underneath where he lives, so we met him through that. He's awesome, he's a great MC and a great producer and he's been putting out mixtapes. So, he wanted us to be his backing band, for his show at the House of Blues. We said yeah, and he's actually played live with us a few times on "Vision Vision," so he's used to playing with us.
And then, the BBU thing is totally through Blake [Witsman], so we got in touch with them through Kilo, which is a very hilarious, interesting deal.
Sid: We only ended up playing like two songs.
Last one: If money was no object and you could put together any stage setup you wanted, what would that look like?
Noto: Wow, good question.
Sid: I've never thought about that, really. I guess I've always been impressed with Stop Making Sense, the way it was constructed. Something like that, but more conducive to our electronic style. It was perfect the way that it rolled out.
Noto: That's kind of a loaded question right there. That's equivalent to asking if you believe in God. (laughs)
Sid: (laughing) I could probably speak more about that then about your question.
You can find more about Loyal Divide here, or by following them on Twitter at @LoyalDivide.