Culture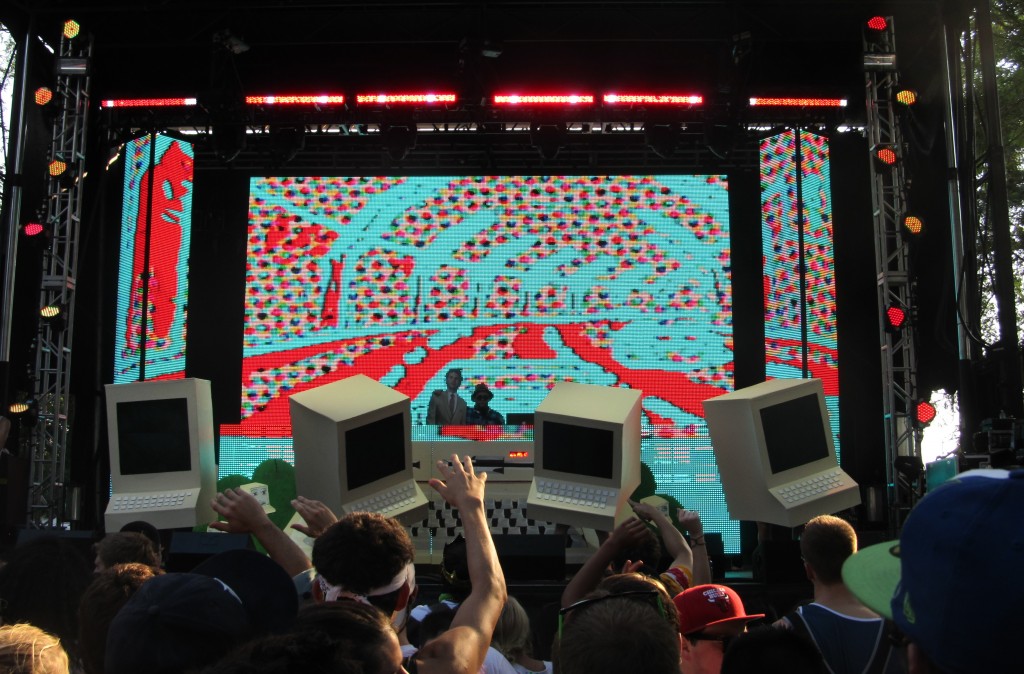 Welcome to Heave's coverage of Chicago's last big-time music festival for the summer, North Coast, taking place in Union Park all weekend long. This year is an EDM-heavy affair, but the question is, how did the first day stack up? Follow Heave all weekend long for ongoing coverage, and our Twitter at @HEAVEmedia for live updates.
The Hood Internet (Red Bull Grove Stage, 4:30-5:30)
Local mashup tandem The Hood Internet appeared in truncated form (sort of) at North Coast, with Steve Sleeve holding it down while ABX made his presence felt in the form of a cardboard cutout. If you've been to any DJ venue around Chicago with some kind of regularity, odds are you've witnessed HI's brand of indie-friendly, Top 40 hip-hop-heavy dance music, but the biggest surprise of his set was how much else was going on. Dancing computers, a massive Macintosh run seemingly by floppy disks and crowd energy and an impressive video show (especially considering how early in the day it was) came together impeccably. Plus, who doesn't enjoy a mashup of Usher's "OMG" with Sleigh Bells' "Kids"? (Side note: A new drinking game to be played at clubs involving "spot the Sleigh Bells sample" really should be instituted.) At the set's start, a decent handful of people were nodding their heads, but by its end, a huge crowd was going wild. Plus, who doesn't
James Zabiela (Red Bull Grove, 5:30-6:30)
Zabiela, over from the UK, is quite the live presence. Though perhaps not as flashy as others at the festival, he's known primarily for his technical prowess, and to that end he didn't disappoint, following Hood Internet's dance party with a hard set of house beats that dramatically increased the volume of violent fist-pumping among those in attendance. Kicking off with a lengthy remix of Daft Punk's "Derezzed" from the Tron:Legacy soundtrack, Zabiela's set was a good time, but the real treat was the occasional camera shot of him at work; the man moves at ridiculous speeds, and at one point even broke forth to mix a beat drop on his iPad like some bizarre modern update of the keytar solo.
SBTRKT (North Coast Stage, 6:30-7:30)
Aaron Jerome's masked alter-ego SBTRKT's set recalled Flying Lotus at last year's North Coast, at least insofar as here were two DJs putting on sets involving some serious genre-bending, before a crowd mostly there to just ride a wave of bass, and killing it in the process. (There's also the Pitchfork-friendly EDM connection, but that's an arbitrary qualifier.) Though not quite as twitchy and spaced-out as FlyLo, SBTRKT was also a disciplined, pleasantly restrained set in the midst of a day full of bass assaults. Incorporating bits of trance, reggaeton and smooth R&B lines into dark, sultry grooves, this was fascinating stuff, made more so by the ease with which he'd occasionally segue into a brief dubstep break or bass drop before pulling back again. Not a lot of North Coast's lineup this year is exactly known for subtlety, so SBTRKT was an excellent reprieve.
Wolfgang Gartner (North Coast Stage, 7:30-8:30)
Speaking of no subtlety: Wolfgang Gartner, who has a new record dropping later this month, absolutely laid waste to the North Coast stage in a way that nobody following him (more on that in a minute) would be able to approach. Thankfully, despite the populist nature of Gartner's electro attack, there was no pandering with a dubstep break here or an overdose of synths there. This was just pure, four-on-the-floor bass for an hour straight. From a towering stage riser, Gartner worked the crowd into a jumping frenzy, filling what was by halfway through his set a humid night sky with a pure sonic assault. Excellent stuff from one of the most entertaining American DJs currently spinning.
David Guetta (North Coast Stage, 8:30-10:00)
It's a shame that I had to leave a bit early, because apparently I missed the most charming moment of electro mega-producer Guetta's set. Upon heading out, he apparently ran back onstage to spin for an extra two minutes, realizing he had more time. The problem is that I'd be curious to see just how many people cared. This was a limp set, especially after Gartner's, and a reminder that Guetta without his host of guest stars is mostly just a '90s electro DJ. All the elements were in play: the bass builds that last way too long, the flagrant gesturing from the stage in Christ-esque poses, the monotonous thudding. I really don't mean to be a hater, as Guetta at his trashiest is sometimes fun ("Where Them Girls At?" was a set highlight), but a set like this really isn't going to alter the common perception that Guetta's a Tiesto understudy, at least on these shores. When you then consider that Tiesto these days sounds like a facsimile of himself, Guetta's a Xerox of a Xerox.
Spare observations:
-The festival has improved by leaps and bounds since last year. The food and drinks are more plentiful, as are the port-a-potties, but the really notable change is in the sound quality. Last year it felt like too much of the budget was put into the primary main stage, whereas this year the improvements are across the board. By using Pitchfork's setup but slightly tilting the grove stage sideways, a lot of the audio bleeding that tends to plague that earlier festival is not to be seen, at least so far.
-The only gripe I have is the continued lack of water stations. For an EDM-heavy show, where you know hard drugs are being taken by people who occasionally don't know that you can't go hard for six straight hours, there still isn't enough in the way of cooling-off areas.
-On a semi-related note: The amount of beer koozies being given out for hydroponic plant growing equipment is hysterical.
-The footlong corn dog has made a return appearance. Rejoice and be merry!
-Kudos to North Coast for easily pulling down the best beer vendors of this year's three big music festivals. Given that Pitchfork only had Heineken to offer, and finding not-Bud Light at Lolla involved way too much effort, having Magic Hat and Dos Equis on tap makes North Coast the winner.