Interviews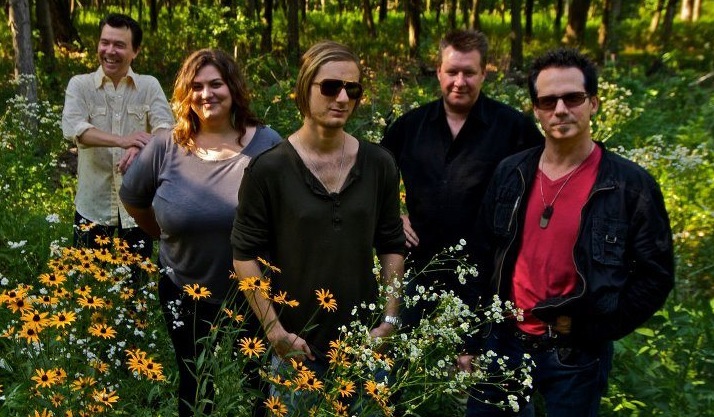 Originally a music promoter and manager, Michael Berg brought his talents and hard work to the other side of the stage when he formed his own group, Van Ghost, in 2007. And after enlisting a veteran outfit to back him, their blend of indie folk and rock music has built a following across the States in the last few years. HEAVE had a chat with Michael Berg before Van Ghost's performance at the North Coast Music Festival.
HEAVE: You played at the first ever North Coast Music Festival last summer. How has the band evolved in the past year?
Michael Berg: The band is more stripped down as we don't really have pedal steel or keys anymore. We are just doing a straight forward rock thing.  In addition to that we're writing more songs, and writing together which differed from the past. As far as coming back to the 2nd year of North Coast, lots is different for the band and this has been our best summer ever. It wouldn't feel right to end the summer in any other place!
HEAVE: From your perspective, how has the festival evolved this second year?
Michael: My perspective is different since I am on the team of organizers that produces the event. But in that regard there are more art installs and infrastructure being added. We are going all out on making this an event and not just a concert or regular festival. Since the majority of the fest is during the day we had to do stuff that worked in day light. In addition to an increase in size for our stretch sheet installations by Funktion Forms and the Chicago Reader Living Arts Gallery expanded by 100% which now has 20 of the Midwest's sickest Graffiti artists… You might just see more pop art, the Funktopuss (a the boombox-sporting octopus), stilt-walkers and more curious characters roaming around festival grounds. The addition of cutting edge vendors such as All Saints clothing, a custom Grassroots NCMF flat brim, and a much evolved NCMF merchandise line by our partner Sandy who owns international clothing company DLR will create a much improved shopping experience no matter what your style is. We've also secured state of art video projections, lasers, sound and lights. It's gonna be something you want to spend time just walking around for a while aside from whatever music is happening. Musically we have added a few rock bands like Of Montreal and Gogol Bordello while still maintaining our roots of electronic, hip hop and jam bands as well.
HEAVE: What was the biggest challenge you found making the transition from promoter/manager to leading your own band?
Michael: The biggest and only real challenge is finding enough time to dedicate to each of the crafts successfully as they both take mad TLC. Putting on shows especially a fest this size is a full time job and being a songwriter is as well. I always seem to pull it all off in the nick of time but trying to not let my workload affect my various relationships in my life is the biggest challenge for sure. That goes for personal and business relationships. There is only so much time in the day and I have to prioritize sometimes. When you care equally about everything you do and have your feet in many doors, it's tough to say one thing is more important than another at any given time.
HEAVE: How do you think your progress would be different had you not had the behind-the-scenes experiences?
Michael: This is nothing more than an excuse but I'd hope be a better musician if I had more time to dedicate to that and that alone. But the time I've spent building relationships and studying the intricacies of this industry has offered us an upper hand in the progression and growth of our fan base. Understanding the balance of how to push the band promo wise and when to focus on the art has surely helped and not hurt us. No matter what facet of the industry you are on including the fan side the most important thing are the songs and material though. So for now that's my focus is mastering the craft of songwriting. I have a LONG way to go but am happy to be along for the ride.
HEAVE: Where do you draw inspiration for songs from?
Michael: I draw inspiration from everywhere. Literally.  Especially other peoples music that I am blessed to connect with. Another lyric from a different artists song might trigger a thought that leads to a whole new concept for a song or just a lyric for me. Again, relationships are an ocean of content. Other peoples and my own. Movies, a homeless person begging for change, a girl with amazing style laughing with her headphones on walking down the street, a dude with hipster glasses reading a book on the train etc. Another thing is as a promoter or performer… large crowds of people losing their shit, arms flailing and dancing their worries away. I will always be a music fan first and foremost so knowing that energy and passion and seeing it from a different vantage point is inspirational beyond belief, especially if it s during a Van Ghost show. I embrace that catharsis and know it so well. I'm constantly jotting ideas and lyrics onto the notepad on my phone as soon as the idea comes to me. If not, I risk losing it to the abyss of bullshit that fills my brain every day. I also get inspiration from our producer Justin. When he likes a song I wrote, it makes me want to write 20 more that day. It is inspirational just to be involved with someone of his caliber.
HEAVE: Do you have a set creative process, as far as how you write, record, songs, or does your process change?
Michael: Pretty simple actually. It always starts in a room solo and nothing but a computer and an acoustic guitar. Sometimes I'll sing a melody into my cell phone and figure out the chords later but for the most part I make up a chord progression and then singing just comes out. The lyrics are secondary to the melody but always present themselves based off the vibe of the song. Then come vocal harmonies. I record a simple demo of it and send it off to the band, our label and producer. You can't win 'em all but when people reply with excitement it feels good.
HEAVE: You guys have toured a lot over the last few years. What are a couple of your fondest memories from the road?
Michael: Traveling in a tour bus at times (and not a van) has been amazing. It really affects the whole vibe of the tour or run. You are healthier from eating and sleeping more comfortably. It makes the whole festival experience different as well because you have your own little apartment/office everywhere you go.  Being on tour with Derek Trucks was cool when we did it because we had the privilege of rolling into towns we had never played before and showcasing for eager fans. All my greatest memories from touring the past few years have been at festivals… Jam Cruise, Rothbury/Electric Forest, Summer Camp, Bear Creek, Hoxeyville, and of course North Coast! It's been fun for me to make the transition from business only to artist and seeing the reactions from people who only knew me not as an artist. Sometimes it throws them for a loop which deep down kinda feels good and is a subtle form of flattery.
HEAVE: Where do you want Van Ghost to be a year from now?
Michael: We just want to keep growing at the rate we have from last summer to this summer. If that happens musically and fan base wise we will all be very satisfied. We aren't looking for overnight success and respect the community surrounding this project too much to be in any rush. A song on the radio, would be a big win but with the ever changing landscape of how unimportant that really is, who knows anyways. To have people just owning our music on their iPods and computers which they can download for free by signing up for our email list at http://vanghost.fanbridge.com would be the greatest accomplishment possible.
Berg and Van Ghost play the North Coast Music Festival Sunday, September 4 at 4:30 on the North Coast Stage.